About Haifa Carina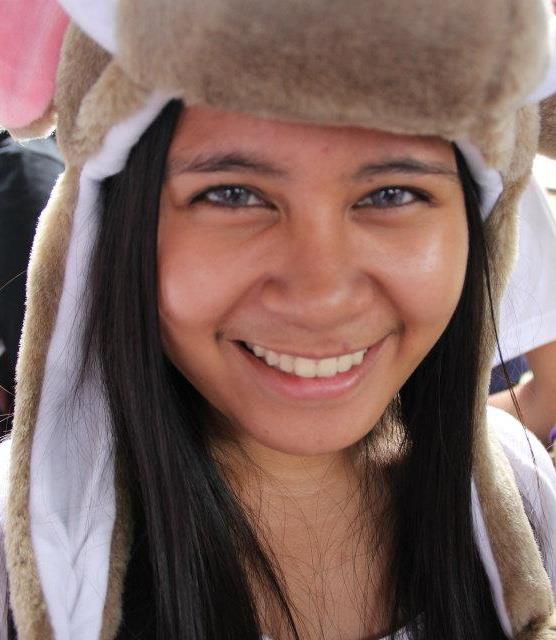 Hi! I'm Haifa Carina
from the Philippines.
iOS developer. Events Organizer.
Adventurer. Ponderer. Dreamer.
I am real.
I like green!
I give hugs!
I love challenge.
I hate leeches.
I want to travel the world!
I wish I could teleport.
I need you to be real.
I will build my underground house.
I was always impulsive.
I feel restless inside.
I think I can do anything.
I say "Life is short, enjoy all the way!"
Email Me: haifa@baluyos.net
Facebook: haifacarina
Twitter: @haifacarina
Instagram: @haifacarina
Are you a developer in the Philippines? Join us at Developers Connect (DevCon)!
http://devcon.ph/

Sunday, 01 January 2012 12:04
Thank you 2011 for giving me the most ironic year of my life. While the first half of my year focused on moving forward from the life of a student to that of a young professional, the second half highlighted my drive to know the story of my late biological father. You were an amazing year!

Bye, bye 2011! Hello 2012!
Saturday, 31 December 2011 15:00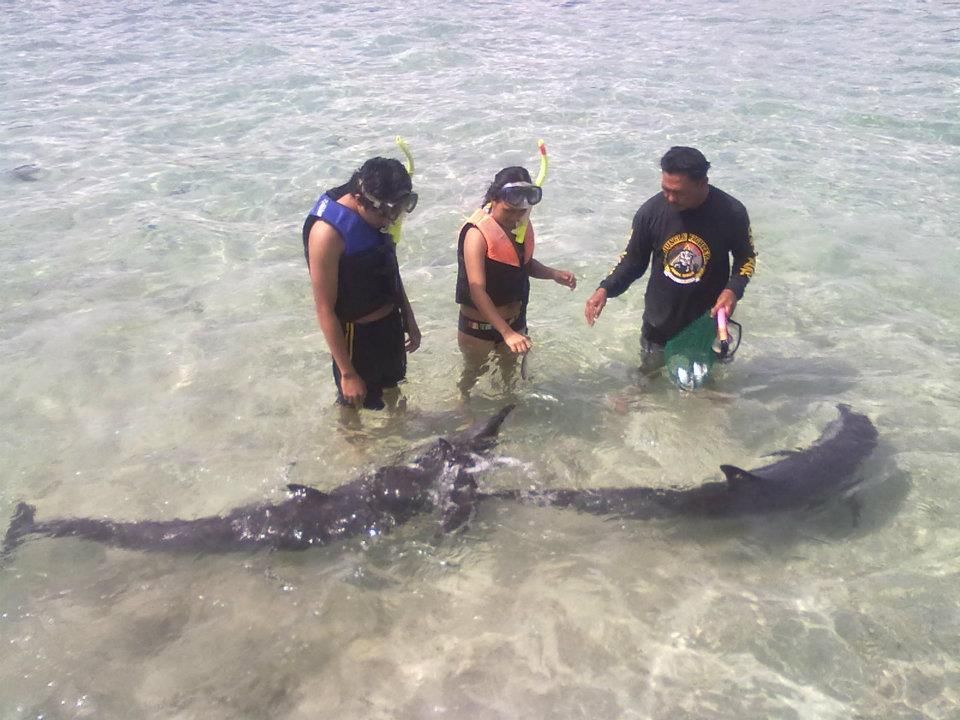 Feeding the dolphins
30 December 2011, Franz and I went to see, swim, feed and play with dolphins at Dolphin Island - Misamis Occidental Aquamarine Park (MOAP). This is no doubt my best trip of 2011!

MOAP is located Sinacaban, Misamis Occidental. Entrance fee was only PhP 10.00. There were also plenty of guests when we arrived. We then headed straight to the part where we would ride a boat to Dolphin Island.  Roundtrip fare and entrance fee to Dolphin Island is only PhP 300. We paid another PhP 300 to swim and play with dolphins then PhP 100 for the lifevest.

Since we arrived with many other guests, Kuya Dario suggested we start with snorkeling first since there were still plenty wanting to swim with dolphins. He introduced Kuya Fernando as our guide. The scene underwater was like paradise! The different schools of fishes were busy going to different directions. They're so colorful and beautiful! I felt like watching Finding Nemo live. Then there were giant clams I want to hold but I still don't know how to swim. Then, Kuya Fernando gave us dead fishes to feed the fishes. As Franz called it, cannibalism.  I think the fish we were feeding them were the small fishes we see in the market. The snorkeling experience was just too awesome I want to do it again!

Then the most awaited part, SWIMMING WITH THE DOLPHINS! Weee! Just as others say, dolphins are very playful creatures. We just walked in the water and there they were surrounding us already. At the part where the water level is deeper, we were able to swim and play with them, laugh with them, fed them, hug them, and listen to the dolphin sound (more like a dolphin squeek) I only hear at movies. Oh, Dolphins.. i so love you already. >.<

After the swimming with the dolphins, Kuya Dario said we could swim at the mini white island just few meters away from the dolphin pen. We ran, roll, spin and lay. For a moment, we even played Survivor. Franz and I played there like we owned the island because no one else went there. Most of them stayed near the cottage. There were also a portion in the island where waves crash against each other from different directions and we stayed there to see how tough we were sitting still against the fighting waves. We went back after feeling a sort of sunburn already.

We stayed at their cafeteria, ate and waited for the our boat ride. When we were about to leave, Franz noticed the dolphins went near the two of us as if to say goodbye. Awwww.. T____T Dolphins, you're so sweet. I'll miss you all so much! >.<
Water is murky due to last night's rain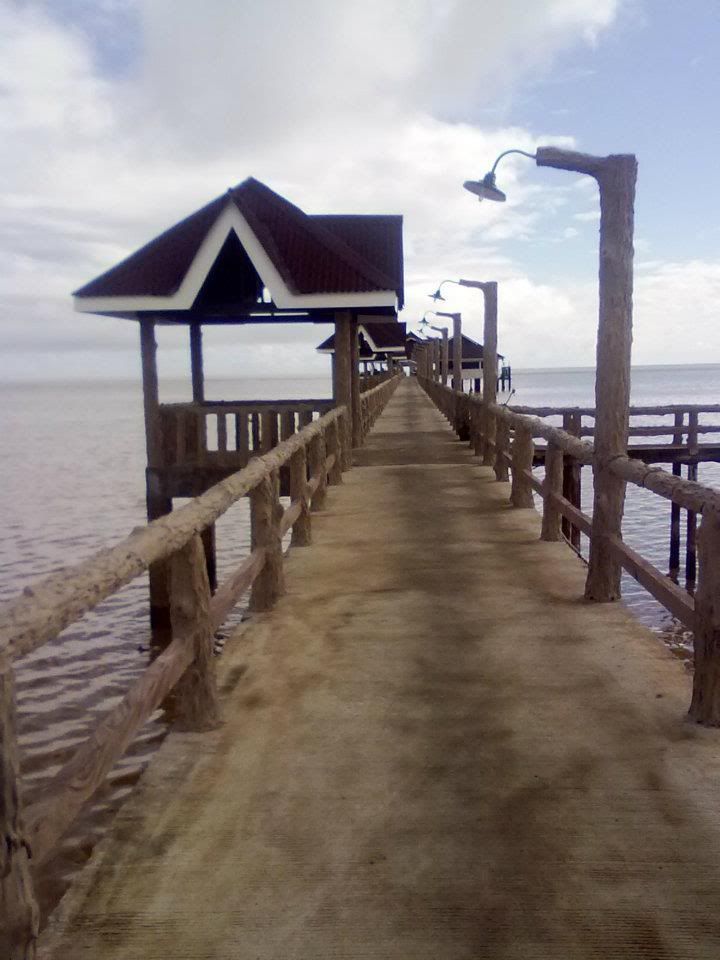 At the boat with other Dolphin island guests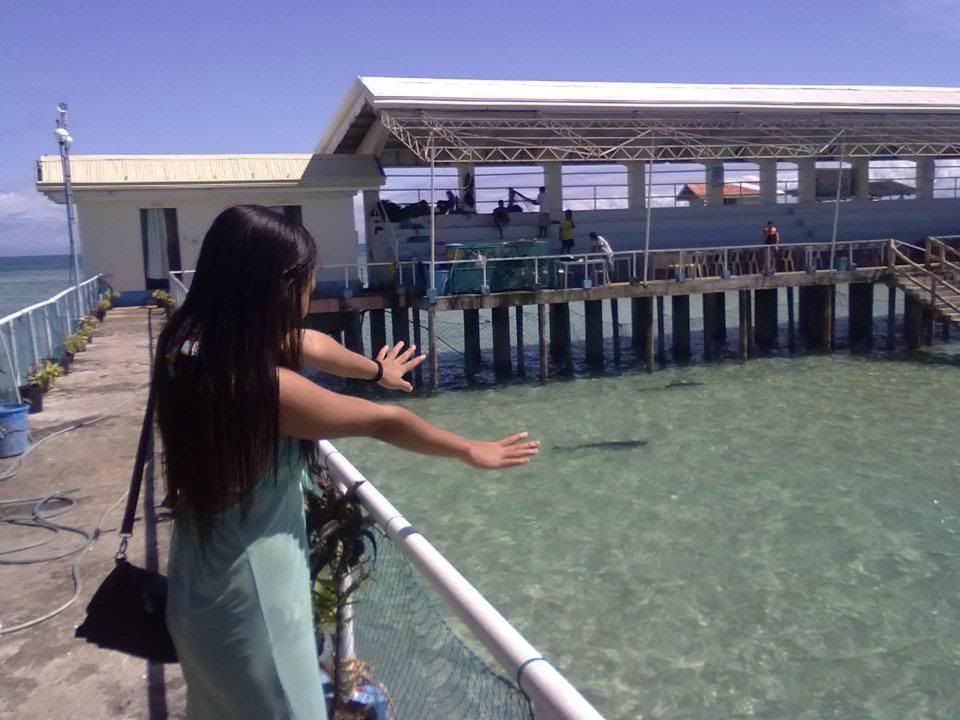 Dolphins! I'm coming!!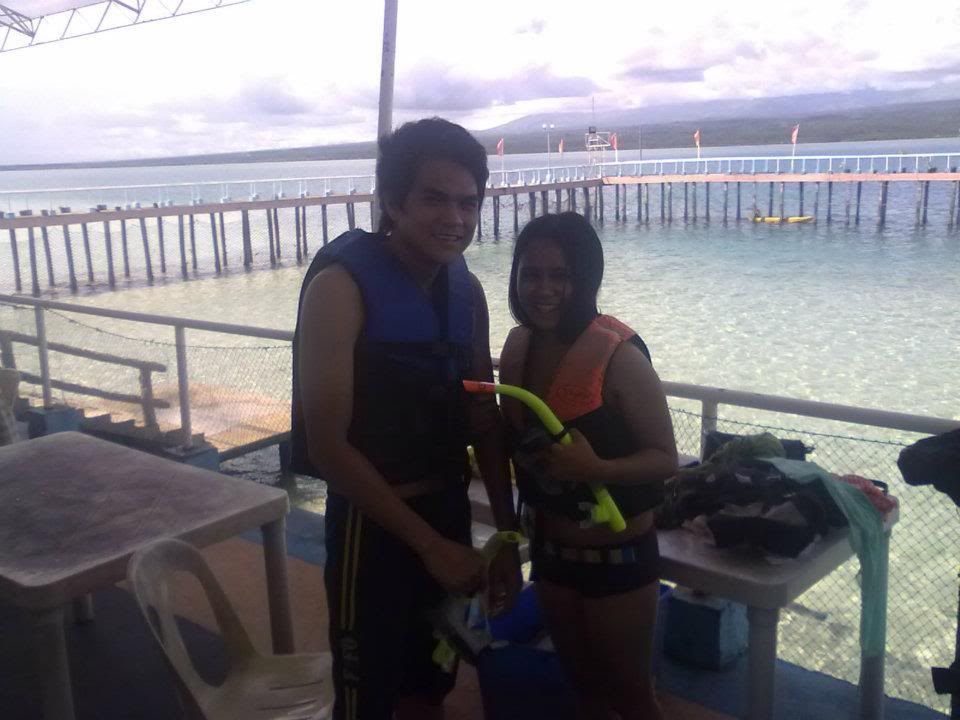 Meet moi bibi :P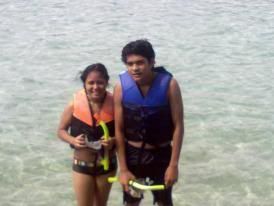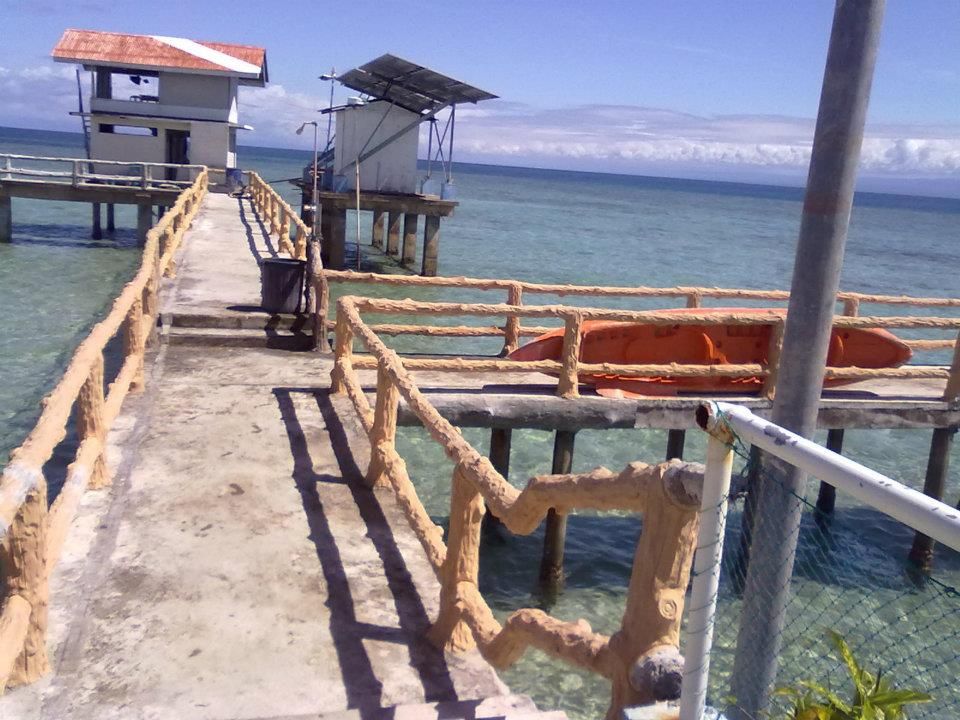 The mini white island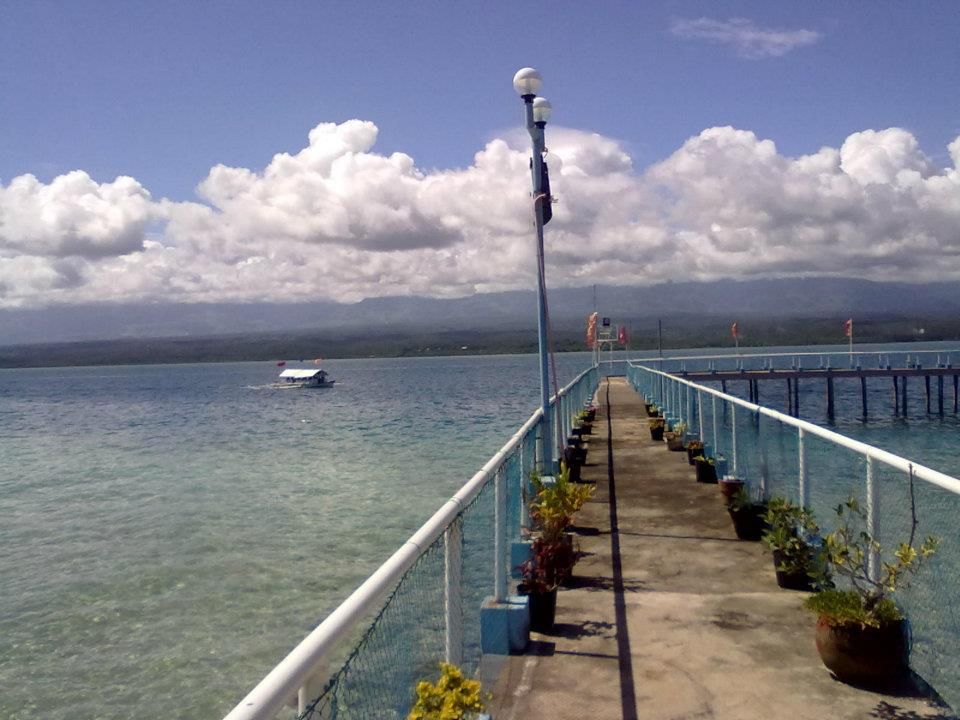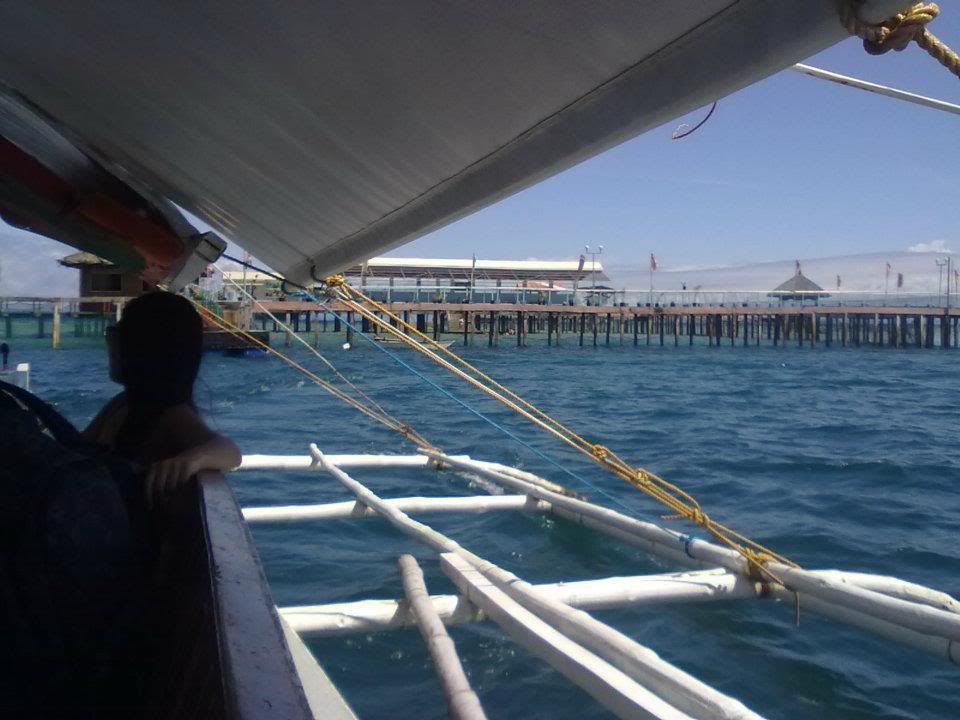 Bye bye Dolphin Island
P.S. For more detailed and informative blog on the Dolphin Island experience, I recommend Sir Jojo Ayson's blog post about it.
Saturday, 31 December 2011 11:30
Two days before the 2011 Christmas, my adventurer feet took me to Waig Resort at Maramag Bukidnon! I was super excited with the spiral slides but when we got there, they were not operational. Too bad. But I still had fun jumping at the diving platform and their sisig was delicious! Waig Resort was still a nice place to unwind with the fresh air and the mountain view.
Monday, 26 December 2011 01:52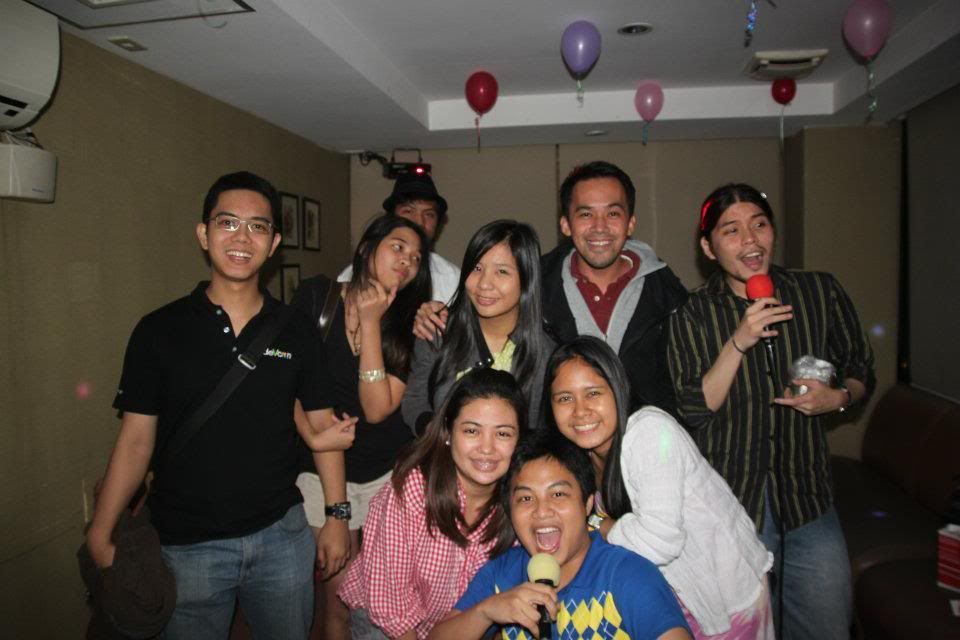 I had another fun night last December 17, 2011 with my favorite crowd! This time it's the DevCon Christmas Party for members and volunteers. We had dinner at Gerry's Grill at Greenbelt 3 then proceeded to Centerstage, Makati for videoke.

The guys present during dinner were Ms. Joed, Franz, Sir Jonathan, Bryan, Nelvin, Jeric and his girlfriend, Lope, Jodi, Marica, Terence, John and Mina. Paul and Ernie catched up at Centerstage.

Consider me a newbie at alcoholic beverages that's why I'd like to take note of these stuffs. We had San Mig Pale Pilsen (too bitter, not moi type) at Gerry's Grill then Screw Driver (weird name), Tequila Sunrise, Margarita Frozen (+1!) and San Mig Light at Centerstage.

I arrived home past 3AM already. Going home late is okay as long as I'm with them because it will always be more than worth it. Saya much nila kasama. Naks naman. HAHAHA.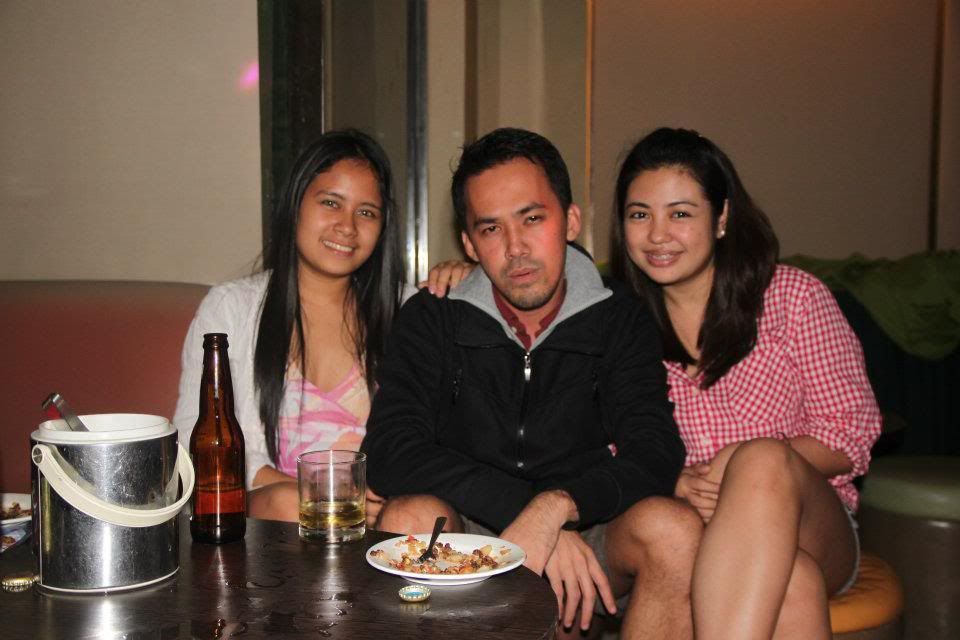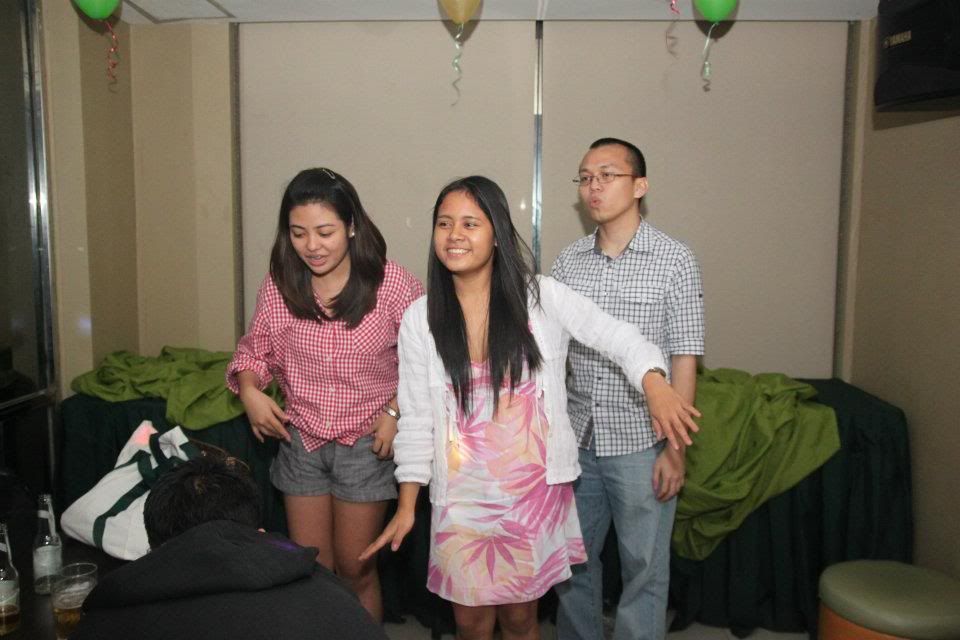 DevCon guys are awesome. Amen! :P
Photos by Jodi Herrera
Thursday, 15 December 2011 16:09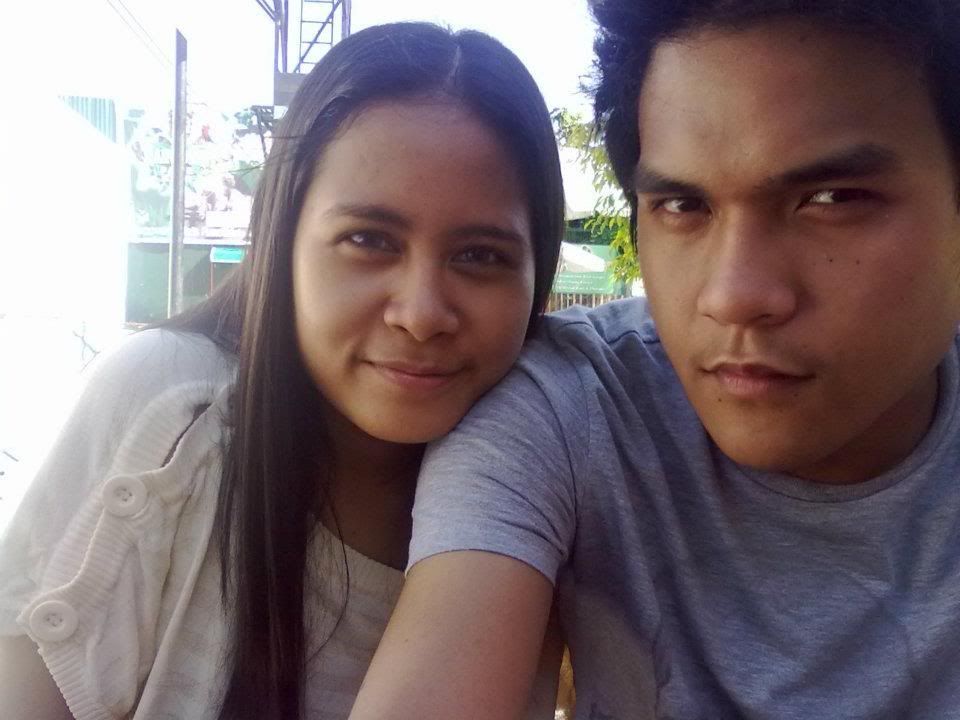 Awesome birthday celebration is awesome! We have conquered the 8 obstacles of Jungle Adventure of Rainforest Park Cebu! I flew the first flight to Cebu last December 14, 2011 to celebrate Franz's 20th birthday. Then flew back the last flight the same day back to Manila. A friend said the person must be very special to have me fly miles away then back for a birthday occasion. Indeed, he is very special.

I brought Decadence cake from Goodies N' Sweets then we celebrated the traditional way. Placed the birthday candle on the birthday cake. Lit the birthday candle. Sang the classic birthday song (like retards). Blew the birthday candle for a birthday wish. Ate the birthday cake. The end!

LOL. Glad the celebration didn't end that way. We forgot to take a picture of him, the cake and the candle. Lucky, we only ate half of the mini cake. So we did the blowing of the candle scene again. He lit the candle. He blew the candle. Lit the candle. Blew the candle. It was repeated again and again until we got a decent shot. HAHAHA.   

We went to Asiatown IT Park to find a place to eat. Beautiful place. Then we went to another place because he said he wants to eat pizza. Across the street where we landed was the Rainforest Park Cebu. He said his friend said its nice there. So we checked the place. Then, we found the… *drumroll* the awesome Jungle Adventure obstacles!

Can't contain the excitement after watching the breathtaking challenges. A must try. It was now or never! Franz was also very game so there we go! Trying to win over height scare at the same time walking along ropes was really really fun! The challenges we conquered were Cargo Net, Zip Zag, Burma Bridge, Earthquake Bridge, Deep Bucket, Wall Climbing, Catwalk Bridge and the Vines (the scariest).

We took a rest for awhile then did walked our way to show me where his office was located. We went back home to rest. Cha and Nikko were sleeping. Later on, Robert arrived. We all had dinner together. But before that, while Cha and Nikko left to buy food, Franz and Robert were having a hilarious argument on how to cook rice. After dinner, Franz accompanied me to the airport for my flight back to Manila.

Awesome and fun birthday celebration. XD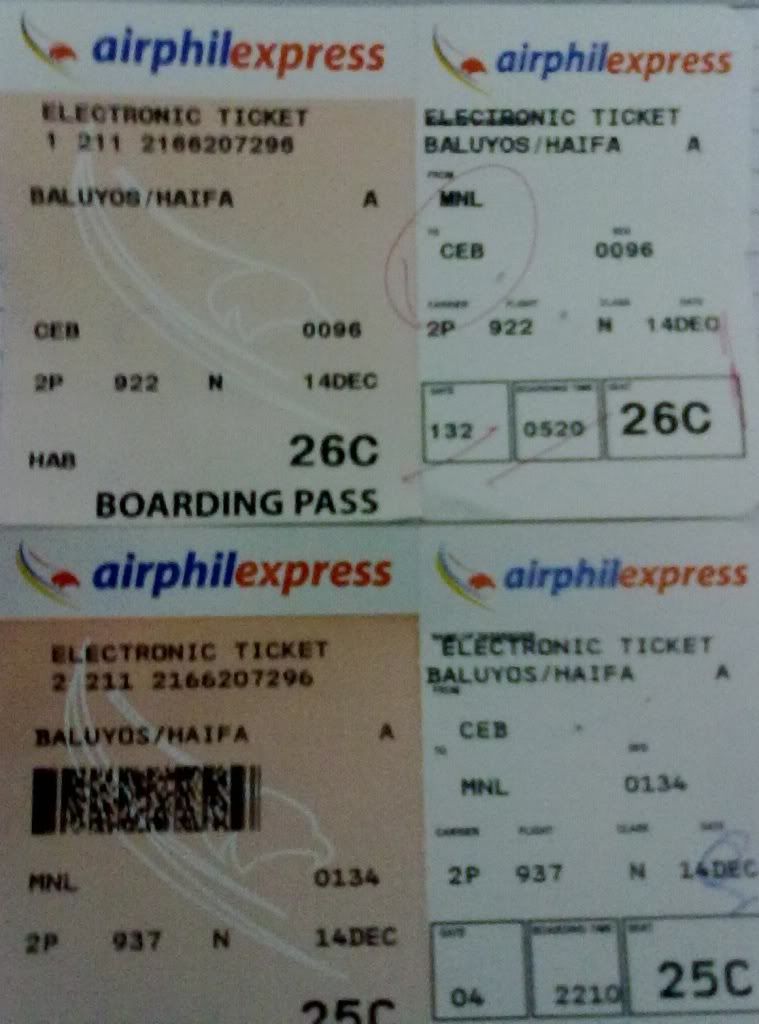 Boarding Pass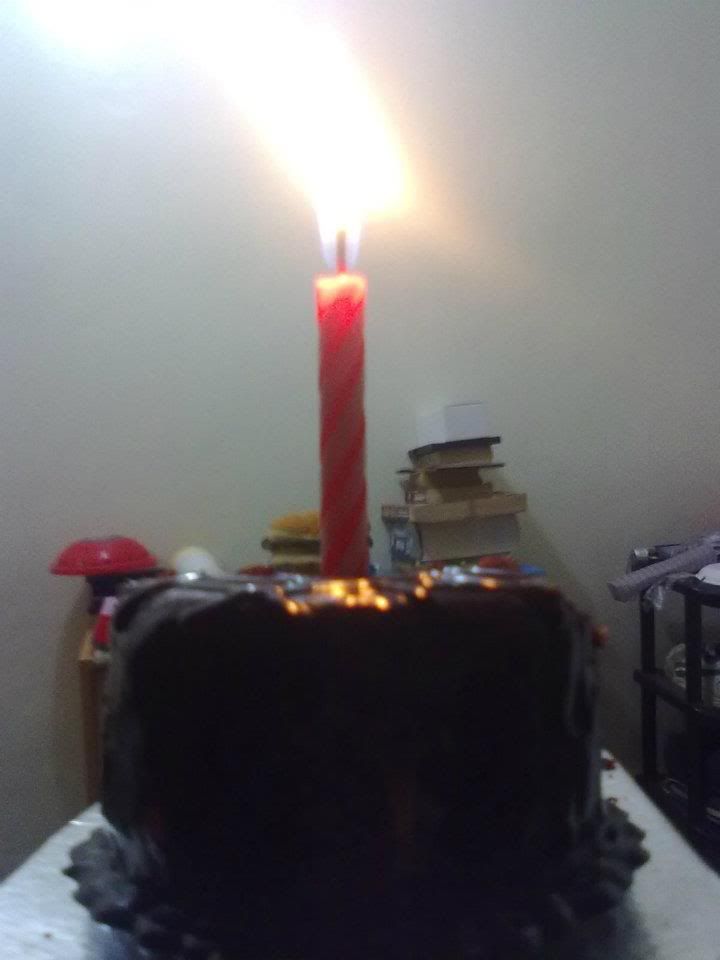 Ze Birthday Cake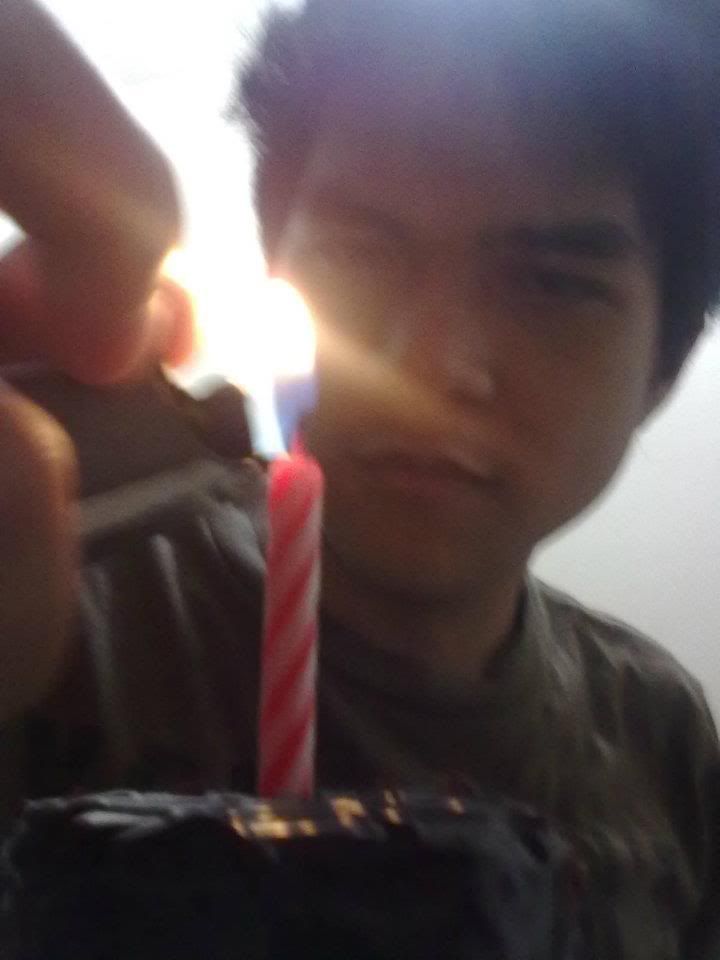 Lights his birthday candle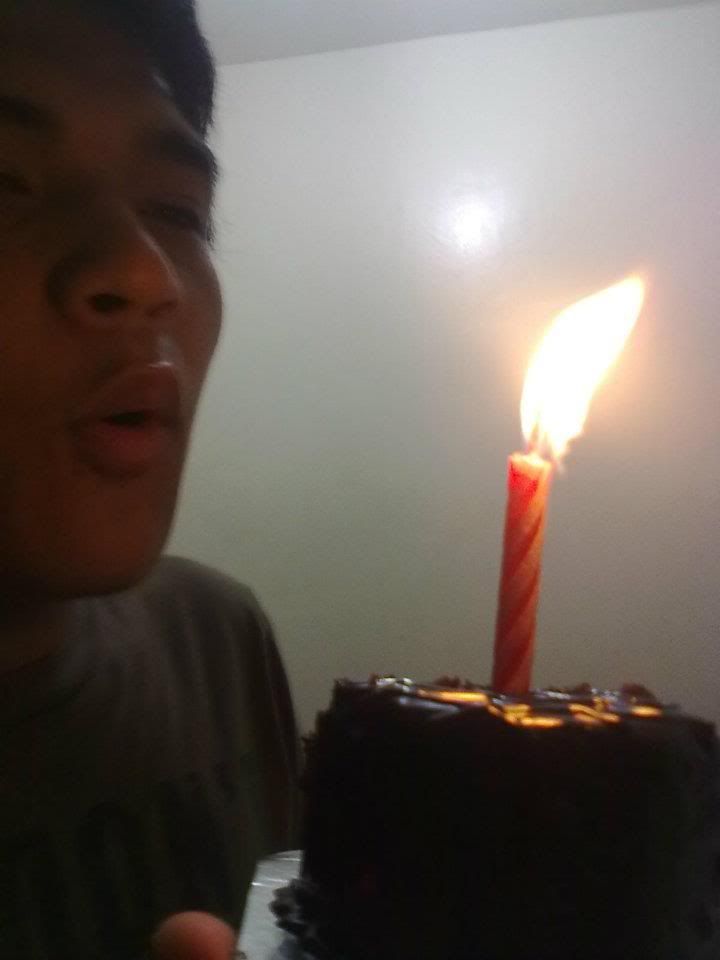 Blows his birthday candle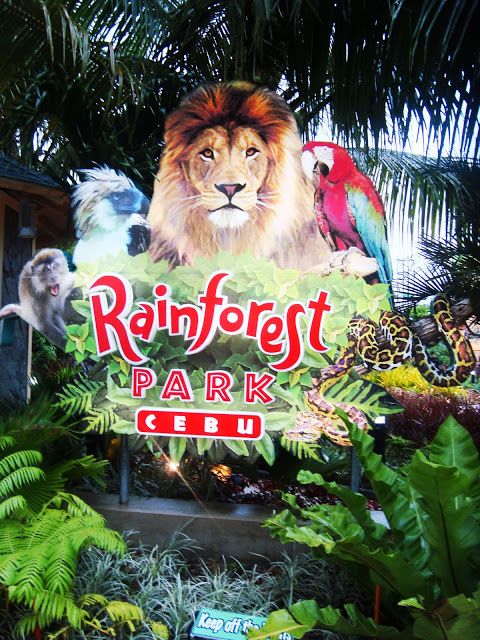 Photo taken from Rainforest Park Cebu
Before the Jungle Adventure Challenges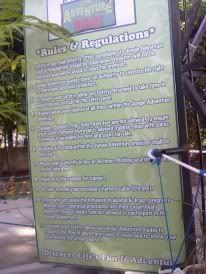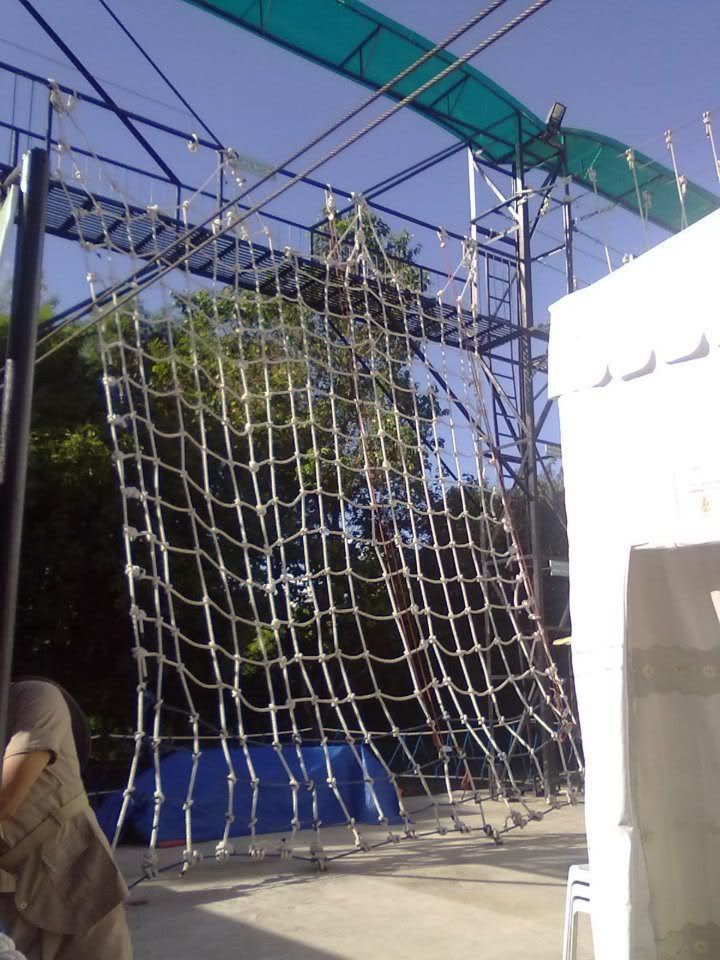 Cargo Net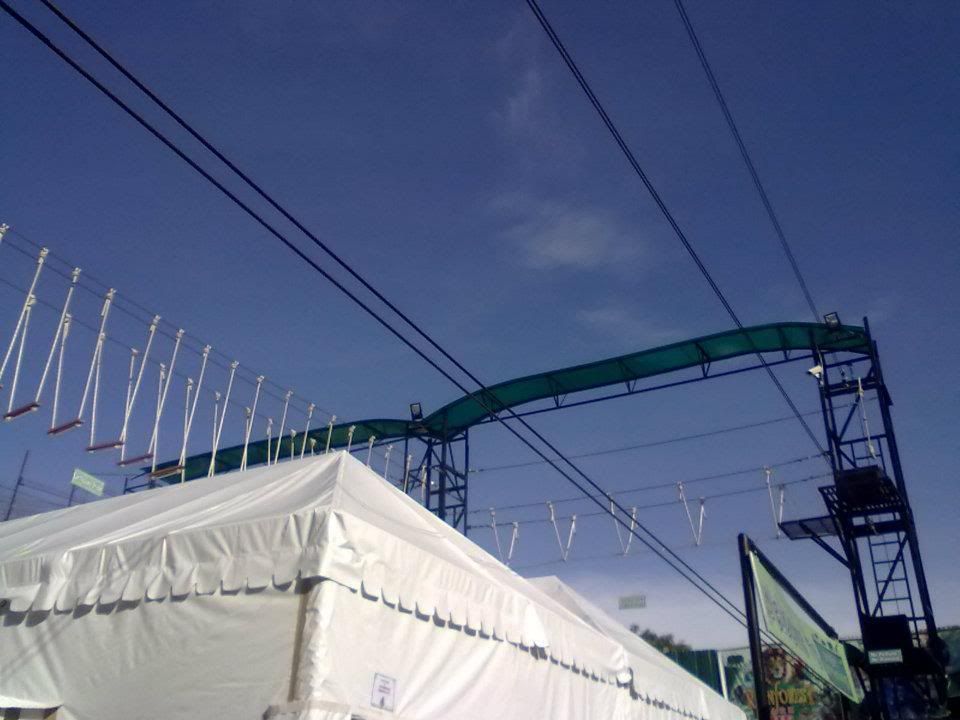 Burma Bridge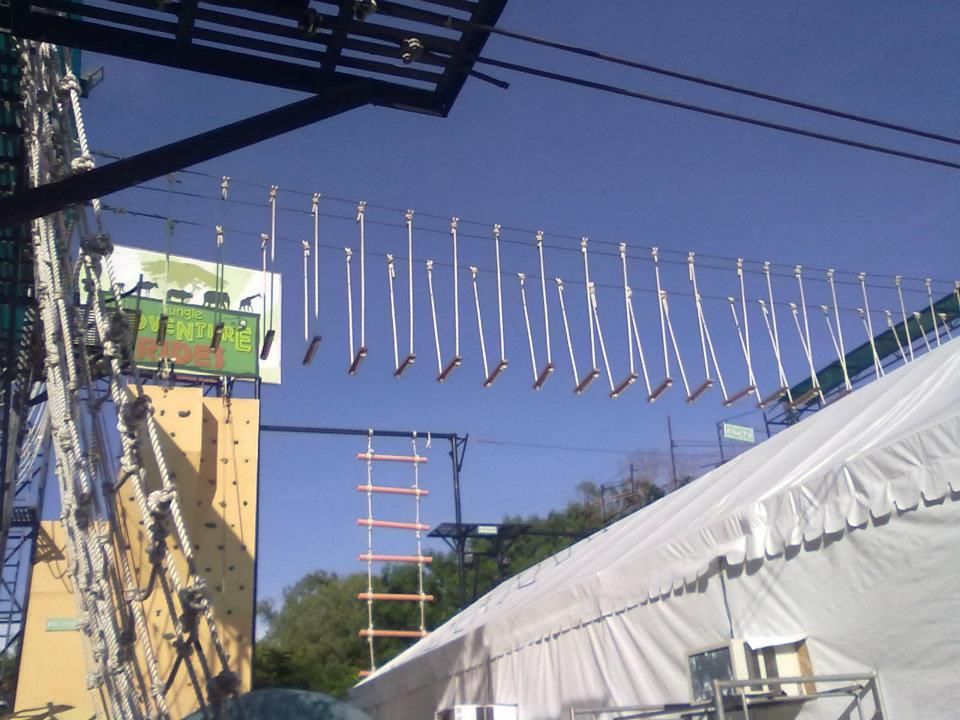 Earthquake Bridge and Wall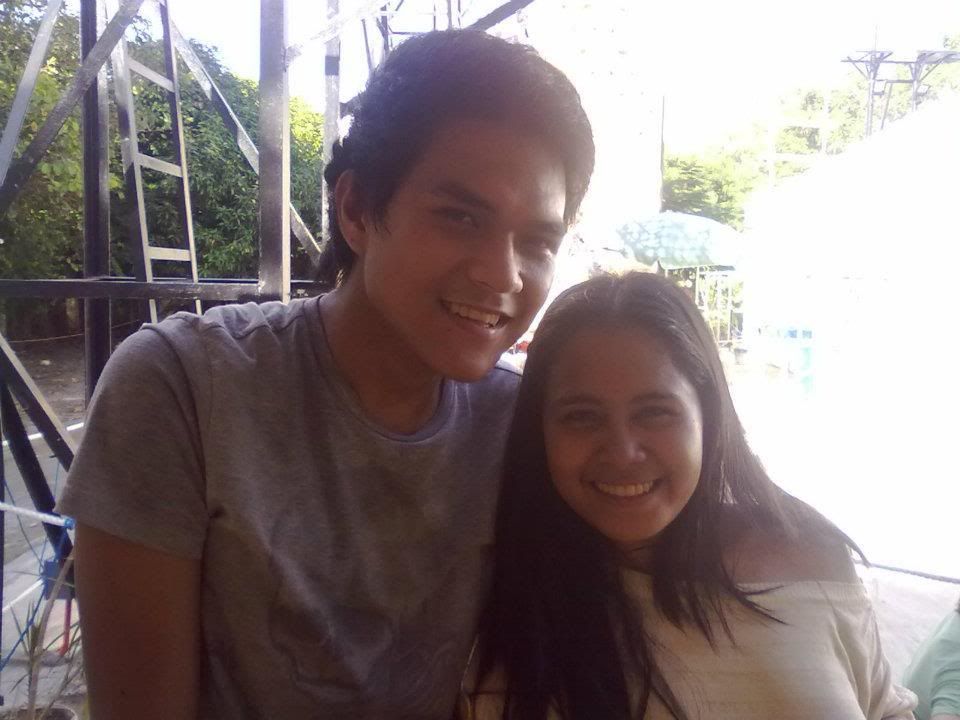 Haggard Look After Completing the Obstacles
Tuesday, 13 December 2011 14:15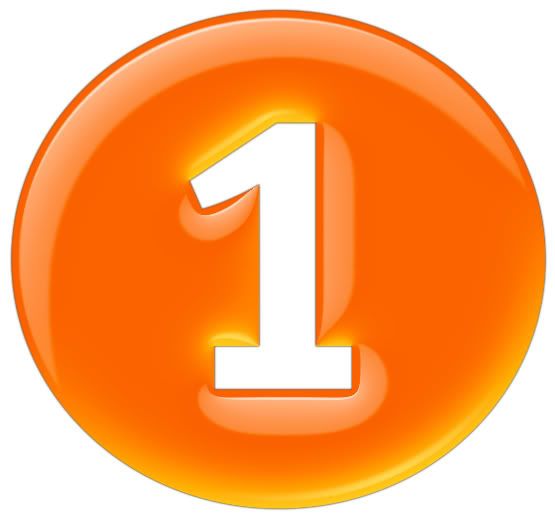 I may be able to enumerate a lot of special things about you but everything seems to be senseless now because all that really matters to me is that I love you. I choose to believe that I own nothing in this world but my time.  And with the time given with us being together, I hope you feel special because you are.
Monday, 12 December 2011 13:32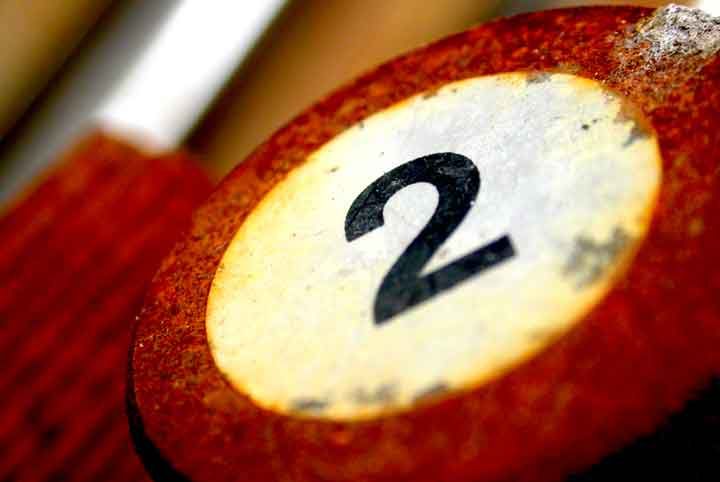 I can't help but look forward talking to you during the day and night. The morning wouldn't feel complete without the morning greeting. During the busy hours of work, a simple thought of you could already make me smile… much more when I'm already talking to you. Your good night always gives me a nice sleep. I may have become dependent. I don't care. All I know is that the time of the day when I'm really happy is when you're part of it.
Sunday, 11 December 2011 14:25
Your confidence is something I find sexy. You know what you're good at and knows how to highlight it. You have your own strong opinion and cannot be easily influenced by others. Nice is an adjective that doesn't suit you. You're far more interesting than that.
Saturday, 10 December 2011 05:52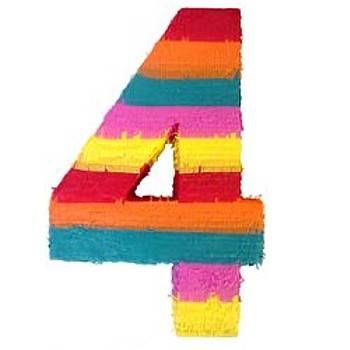 Your extraordinary hobby in music is one of the astonishing thing I found about you. You know a lot of old school songs even the super local ones (ex. Laguna or Baleleng). You know a lot of underground music but are as good as the mainstream ones or even better. I'm really glad I've known you. You expanded my horizon by introducing me to these kind of stuffs. By the way, thank you for creating a playlist from your large collection of music and sending them to me. I love 'em especially the first playlist you sent me.     


Saturday, 10 December 2011 04:56
Mr. Rommel Andong of HP Philippines
The Devopsdays Manila 2011 last December 2, 2011 (Friday) at Makati Palace Hotel was the first event I took part after being officially inducted as a DevCon member the night before. The place was jam-packed! No doubt a big success.

Sir Winston Damarillo, the DevCon Founder gave the opening remarks while Mr. Lee Thompson, Consulting Architect of DTO Solutions, Inc. gave the keynote speech. Mr. Rommel Andong, HP Enterprise Architect of HP gave a talk on Applications Modernization and Mr. Martin Lee gave a talk on Collaborative Application Lifecycle Management. For the break out sessions, there were HTML5 by HP, Smart Cloud by IBM and Devops by Morphlabs.

There were lotsa giveaways during the event from the generous partners (IBM, HP, Morphlabs, Accenture, Microsoft, Globe and Exist) and prize sponsors(Dell, Nokia, SourcePad, Financial Times, SolidHosting.PH and Orange&Bronze). iPad 2 and two Nokia cellphones were also raffled for that event. Lucky to those who won.

So what did I do during the event? Awesome merchandise girl! LOL. Yeah, I was at the merchandise booth with Marica outside the session hall selling Devopsdays shirts and DevCon pholoshirts for fundraising. 

After the event was the afterparty at National Sports Grill at Greenbelt 3. Food, iced tea and beers were free for all. Aside from chatting with interesting people, I learned how to play billiards! Thank you Terence and Peter!

Another awesome event by DevCon! Congratulations to  DevCon and thank you for all the attendees! May you all attend more of DevCon events. All DevCon activities are fun, interesting and beneficial.
Sir Winston Damarillo, Founder of DevCon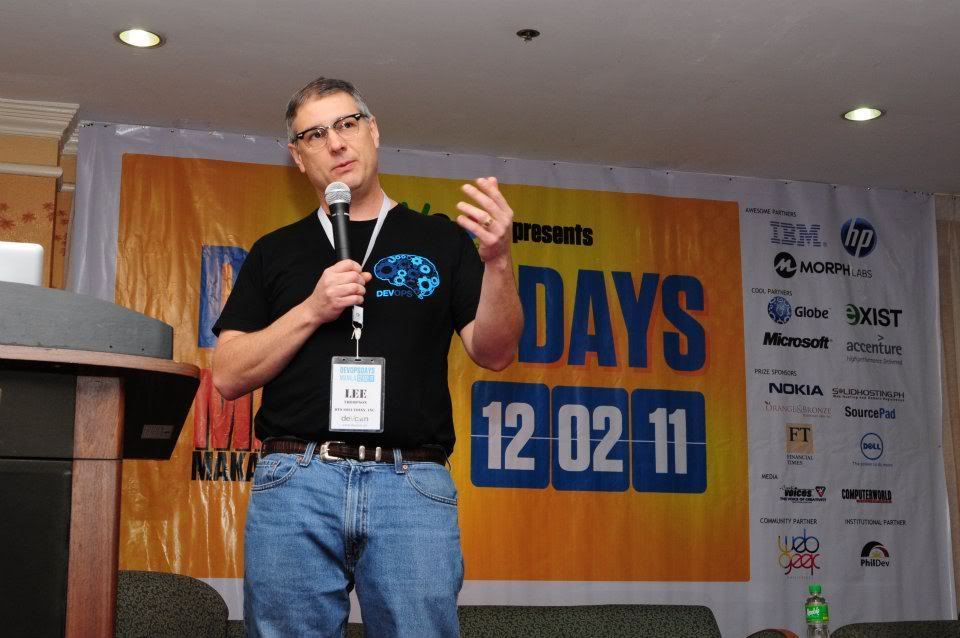 Mr. Lee Thompson, Consulting Architect of DTO Solutions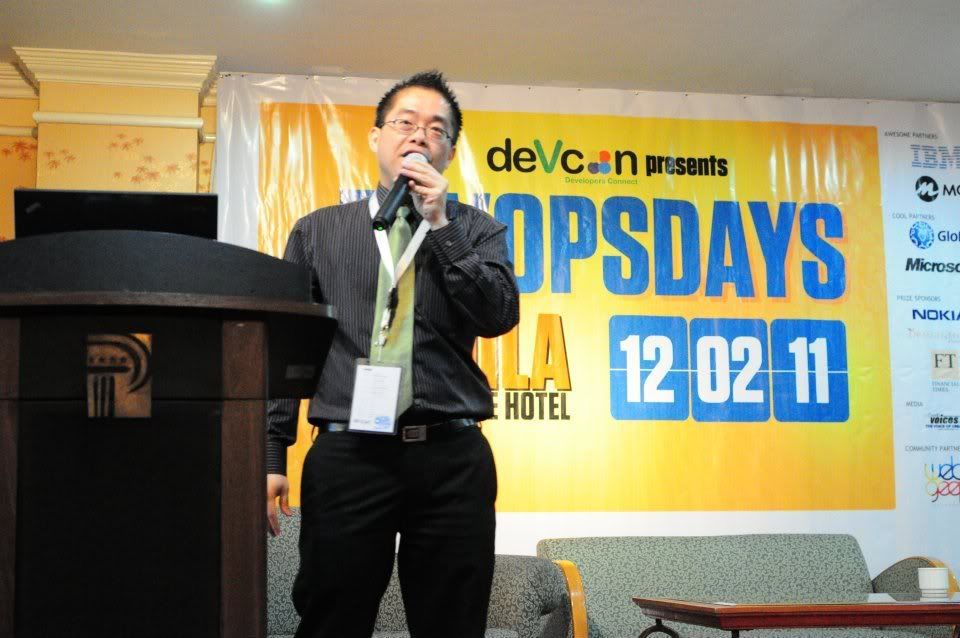 Mr. Martin Lee giving a talk on Collaborative Application Lifecycle Management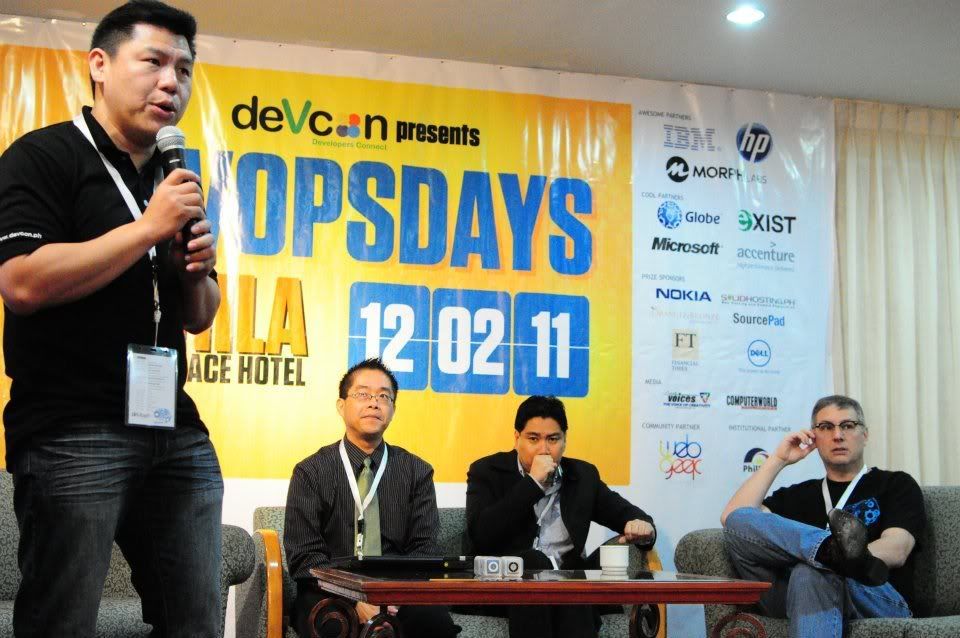 Panel Discussion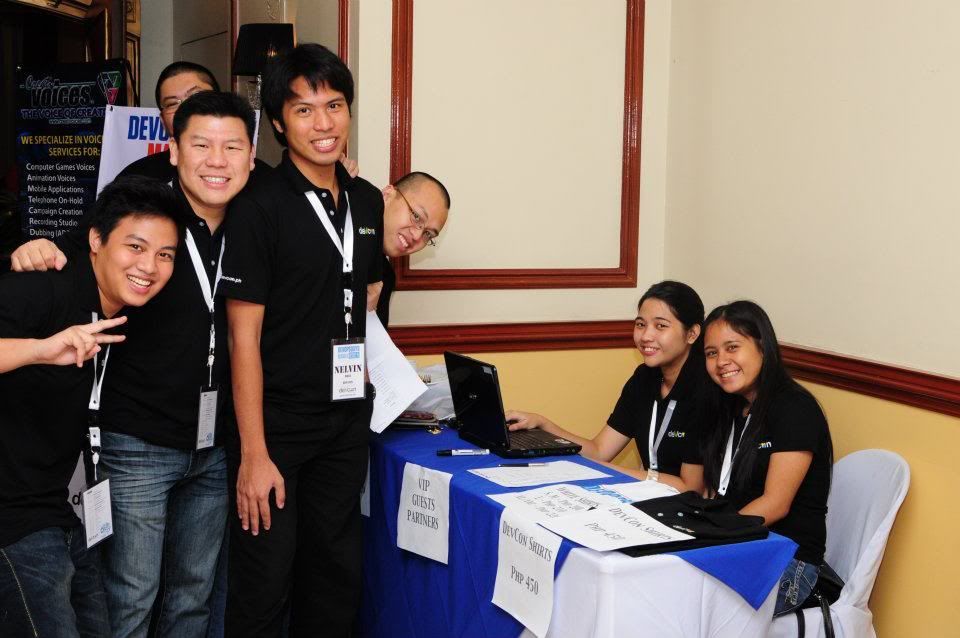 Merchandise Booth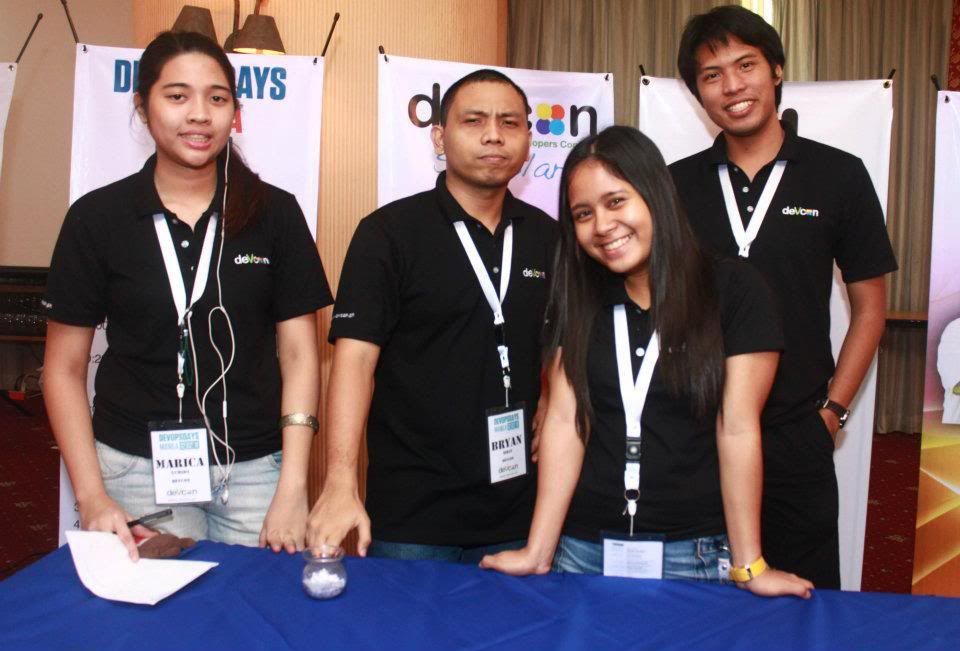 DevCon Booth during the open spaces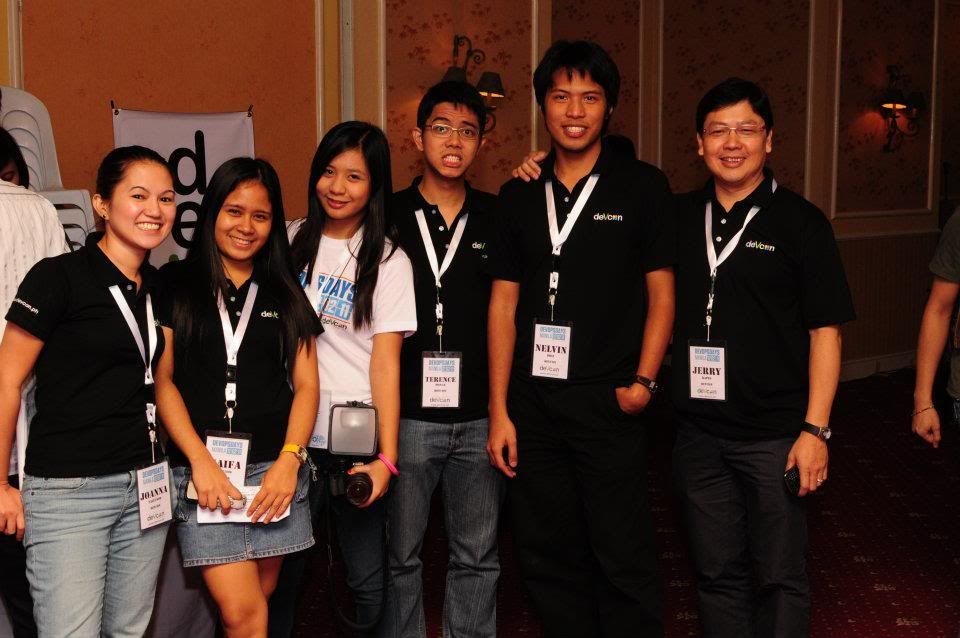 DevCon Members (L-R wearing black): Joanna, Haifa, Terence, Nelvin and Sir Gerry. DevCon volunteer (wearing white): Jodi Herrera
Photo credits to Jodi Herrera and Fonsy Dillera. Photos can be found at DevCon Philippines
<< Start < Prev 1 2

3

4 5 6 7 8 9 Next > End >>


Page 3 of 9