About Haifa Carina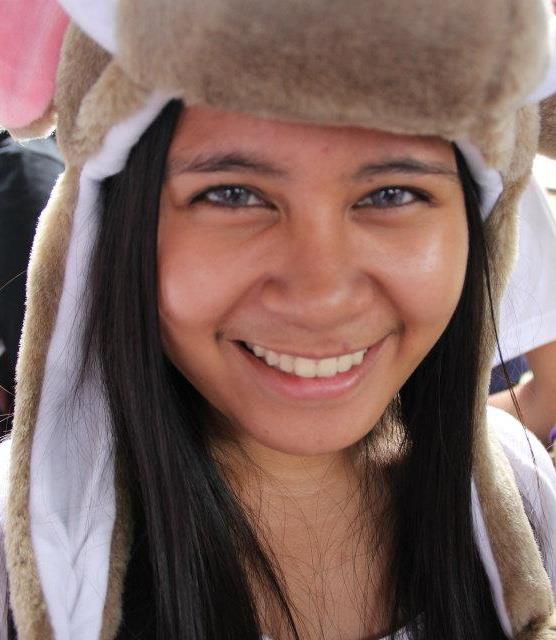 Hi! I'm Haifa Carina
from the Philippines.
iOS developer. Events Organizer.
Adventurer. Ponderer. Dreamer.
I am real.
I like green!
I give hugs!
I love challenge.
I hate leeches.
I want to travel the world!
I wish I could teleport.
I need you to be real.
I will build my underground house.
I was always impulsive.
I feel restless inside.
I think I can do anything.
I say "Life is short, enjoy all the way!"
Email Me: haifa@baluyos.net
Facebook: haifacarina
Twitter: @haifacarina
Instagram: @haifacarina
Are you a developer in the Philippines? Join us at Developers Connect (DevCon)!
http://devcon.ph/

Thursday, 25 August 2011 03:32
I was with PHP User Groups Philippines (PHPUGPH) guys last night on a Beer, Booze and Blackboarding session. Sir Jonathan invited me over. So there I was, the only girl, with seven guy developers. It was my first time to join such gathering. Overwhelming night. I didn't expect to learn so much in less than two and a half hours of plain chitchat.
There was this guy named Chris (IT solutions company owner) whose ideas I find very interesting and are in line with my current beliefs.
IDEAS OVER SECURITY
He said that when you have an idea and believes in it, go for it. While others argue that its not how Filipino brain works with the general assumption that Filipinos usually would choose financial security over the risk of going for an idea. He chose not to accept the idea. So do I! All success in this country started with an idea that went materialized.
GO OPEN-SOURCE
He said that when developing something, he would share the code. That would be his way of helping others improve by sharing his source code. I currently do the same thing while i'm developing Objective C projects. I want to help others improve by sharing my code that's why I'm so diligent with posting my tutorials and sharing my source code.
YOUNG PEOPLE HANG OUT WITH YOUNG PEOPLE
Not a new idea but how he said it was funny. 'I don't talk with old people. They're not COOL.' HAHAHAHAHAHA. With this, he shared the best people to talk with to close a deal are project managers because they're young (like us) and loves to party.
There were more topics discussed on the table like e-commerce, porn and Filipino culture. I had a great time talking and listening to them. Then 12 midnight arrived, the Cinderella must go home as Sir Jonathan put it. So Sir Jonathan and I left the group and he drove me home.
They say when you're young, you're very idealistic and anything is possible. When you grow older, you learn to be realistic. It may or may not be the case. I love being young and idealistic. It's all that matters to me.
Friday, 19 August 2011 12:30
It has been my long dream since high school to move out and live on my own.
It would be the kind of life where I pay for my house/apartment/pad, buy or cook my own food and go home late whenever I want. The picture seemed so perfect to me who dreamed of independence most of her life until I realized someone else must be dreaming of my place right now.
Currently at 20 years old, I live in Metro Manila and works in Makati as a software developer. I stay in an average-sized apartment with my father and two big brothers. I couldn't be that much independent with my decisions and actions as I wanted to while with them but there's one thing I know.. I'm happy living with them.
During weekdays, I usually arrive home between 8PM and 10PM. Most of the time, I cook our dinner. We have our nightly chitchat while I cook, my father watching tv, my big brother play with his cats and my big big brother sitting in the dining table talking about any kind of investments or make fun of anything he could think of. My father would give comments or advice according to his 60 years experience in life. My big brother would usually comment with 'very nonsense' and a very animated facial expression.
After dinner and washing the dishes, I would go upstairs to our room (I share room with big brother and my big big brother is at the other room) and find my two brothers talking about 'Ikariam (game)' , 'Kororo', 'war' and 'alliance'. I hear those four words like every night. While they were talking about the game and the cats chasing each other in the room, I'd be either surfing the net or reading a book. When they've finished their war discussion, they'd eventually tell me to join them in their game so that I can relate. And every night I ignore their invitation. I don't find it interesting. That's just about it at home.
It's fun at home because I have three guys to talk to about anything sensible or nonsense. It's fun at home because I have three guys to laugh at or with. It's fun at home because I have three thoughtful guys who cares for me.  I'm happy at home because I won't get that when I move out and live on my own.
Thursday, 11 August 2011 00:07
I sure am having serious fun at TOPS Toastmasters Club.
It was my third meeting when I got my first role at TOPS - time keeper. Every speech has time allotment and it is the duty of the time keeper to inform the speaker about it. So I was given a box with green, yellow and red light bulb. I light up GREEN to inform the speaker he's achieved the minimum time; YELLOW means he has 30seconds/1minute left; and RED when the speaker has consumed the maximum time.
Being the first timer on the task, it went.. quite good? Joke! haha. I messed up more than a couple of times. I can't help but get absorbed to the speaker and forget about the time. Good thing, Emerson was beside me the whole duration. He taught and guided me all the way. Then at the near end of the meeting, I was to report about the speakers who were in time, under time or overtime.
At first, I was scared to go upfront not knowing what to say. "I'll just read some names and numbers and I'm done", I thought. Then there goes the evaluation part.. evaluator after evaluator say how important or powerful introduction is. Then I remembered TM Jenny said earlier in her presentation, "Time is money." So I decided to use it for my introduction. After all, what was there to lose? I fairly knew I'm not a good speaker but I was confident enough that I could do better than reading my records.
How did it go? Uhmmm.. it was perfect! haha. PERFECTLY ME, that is. I'm happy for that experience. When I came back to my seat, Mr. Abet told me I should give my IceBreaker (Project 1) Speech. Without second thoughts, I said YES. And yes, I am giving my speech next meeting. I'm excited and more excited what to share. Now I'm enjoying speaking in front of a crowd more than ever.
Saturday, 06 August 2011 23:09
Last August 6, 2011, Make It Happen (MIH) Creative Consulting organized a whole day seminar entitled "NICE & EASY: Get Your Business Online In An Hour" which took place at 6750 Ayala Ave., Makati City. The seminar targeted the novice or non-IT people to inform them how to set-up business/hobby websites using today's major Content Management Systems (Drupal, Joomla and Wordpress) and Microsoft tools (IIS and WebMatrix).
Mr. Jonathan Richie Yap hosted the event while his wife, Ms. Katherine S. Yap, the MIH Creative Consulting General Manager, gave the introductory remarks. The morning session speakers were Jhondie Abenaza and Daniel Honrade Jr.. Mr. Abenaza, Founder and Director of Engineering for IMASHUPS, gave a his presentation on Transforming Joomla! Sites Into Online StoreFronts while Mr. Honrade, Lead Drupal Themer of Promet Solutions, Inc. gave a talk on Going Drupal to Spruce Up your E-Commerce Sites.
In the afternoon, Mr. Shinozaki Isamu, a Microsoft Most Valuable Professional, was about to gave a demonstration on how to deploy PHP on IIS7 but was cancelled due to technical difficulties with regards to his laptop and other configuration. Nonetheless, he discussed the overview and the major steps of the demo added with humor for which he got the audience's full attention. Mr. Jairus Bondoc, President and CEO of NMG Resources, Inc., shared his presentation on Turning WordPress Blogs Into Social Media Magnets. The last speaker was Eduardo Lorenzo Jr., also a Microsoft Most Valuable Professional, gave a dynamic presentation and demo on Using WebMatrix to Create, Customize and Publish Websites for Free. In between presentations, raffles were drawn giving away gift certificates, coupons and shirts from sponsors.
The event concluded at 6:00 PM with the claiming of certificates and give aways. Overall, the NICE & EASY seminar was considerably a success with the above average evaluation of the participants and the actual number particpants exceeding more than half of the expected.
Tuesday, 19 July 2011 14:41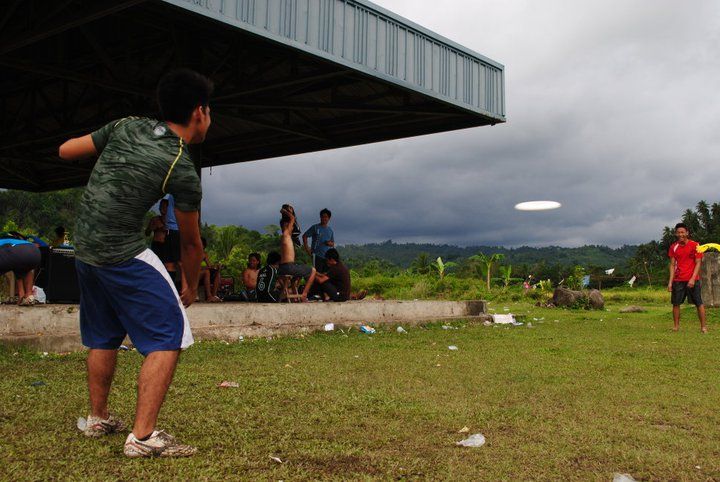 Last July 18 (Monday), I attended the Philippine Ultimate Association (PUA) Beginner's Night together with college friends Kim, Julian and Lope. The PUA Beginner's Night is scheduled every Monday, 8PM - 10PM at Meralco baseball field, Ortigas.
I was surprised to see a lot of players and beginners too! There were at least 15 beginners with us. So I assume Ultimate's becoming a hit sport.
At one side of the field, all beginners were gathered and each was provided with a disc. Towie (maybe the coach superior), started with the teaching of the backhand and forehand grips and stances. Towie also taught  us how to throw the disc which requires a lot of flicking of the wrist. He said the disc must be thrown horizontally.
After the orientation, we were grouped into five teams. Each team has an assigned coach. As for my team, our coach was named Sugar. Sugar was a guy. My other three team members were Shandel, Elric and Kyle.We passed around the disc as Sugar compliments if we did good and shares suggestions on what to improve. Then he told us to play with the disc as we try to get used on throwing and catching.
Sugar asked if it was my first time. I told him it was my 2nd. The first time I played Ultimate was back in Cagayan de Oro with Kim and other wall climbing friends (all guys). These guys had incredible stamina and I had to struggle for air most of the time to keep up and finish the game.
Back to Sugar. He said I don't seem like a beginner. (Woot! haha) While playing throw and catch with Shandel and Elric, Kim's team was busy listening to their coach who was explaining to them the rules of the game. After their discussion, I invited Kim to join us.
Overall, it was one heaven of fun and calorie-burning night! I felt good after producing so much sweat. But I felt great when I could chase and catch the disc above my head! I feel so tall! Now, I have something to look forward to on my Monday nights!
Reference:
PUA Website: http://www.philippineultimate.org
Tuesday, 07 June 2011 20:54
I was walking along Valero street early this evening when some tall guy with braces in blue long sleeves blocked my way and said 'Hi'.
When he already had my attention, he asked for my name. I paused and looked at his face. I was doubtful and just want to ignore him but his ID sling says UNICEF, so I guess the guy was safe to talk to. I assumed he's about to sell me some medicine. Then I responded with my name.
'Hi Haifa. Actually, this is for 26 years old and above. You look very young kasi. How old are you na ba?'. I told him my age. Then he replied, 'Ahh..okay. Add mo nlng kami sa Facebook, Unicef Philippines. Thank you.'
If you ask me what he was promoting, I have no idea. He didn't mention. But I'm adding UNICEF Philippines in Facebook because he successfully got my attention for 10 seconds there.
Thursday, 02 June 2011 11:59
"We could argue that none of this [programming issues] matters since the Earth is just going to get cooked in the future by the Sun as it burns its fuel and expands, destroying our planet, but... this gives us something to do while we wait." -Rory Blyth from Stackoverflow.

Funny and interesting. I found this comment while Googling for a comparison on PhoneGap and Titanium. I though it'd be worth sharing. XD

Source: http://stackoverflow.com/questions/1482586/comparison-between-corona-phonegap-titanium
Wednesday, 01 June 2011 11:59
I feel like a retarded person smiling and laughing while alone walking myself home. I don't think its funny but.. I still did laugh.
On my first day, I was informed of my role as an iPhone developer. My first three weeks on my first job, I studied and learned programming in Objective-C. I was already enjoying objective-c programming until I was told of the new task. The fourth week, I was then tasked to study and learn Sencha Touch, a mobile web application framework using JavaScript and HTML5. That was a real headache there! I was having difficulty with insufficient Sencha documentation and examples. Then another thing to study was to incorporate Paypal transactions. But I managed through. I finished the task THIS NIGHT and applied a little Magis to it.
Then later THIS NIGHT, I showed Sir Jai and David my output. After that, both were deliberating as to what's the best language to use for the future project. Maybe I should just develop with objective-C or stick with HTML5 and JavaScript. Then, they have decided to make me study and learn PhoneGap. It's still JavaScript and HTML5 but the code will be compiled to run on iPhone and Android phones.
So there.. 3 weeks to learn objective-c and 8 days to learn Sencha and Paypal integration. Then PhoneGap challenge on queue. I won't be surprised if they will have me study Titanium after a week. haha. Anyhoo, I can't see where I'm going at this (I hope my bosses do) but I think it's AMAZING. Now I feel like a genius. NYAHAHAHA
Monday, 30 May 2011 02:34
There will always be things in the past you would never want to let go of. Sometimes you wish you still have them with you. I miss my XCEL/QITC team.
Dobie, Dani, Dave, Jossie, Joie and Matt were among the special people I treasure so much. We faced every challenge side by side and they never left me alone on my own. Being their leader wasn't easy. But knowing they're always there by my side gave me the courage to face every challenge and stand strong for them. :)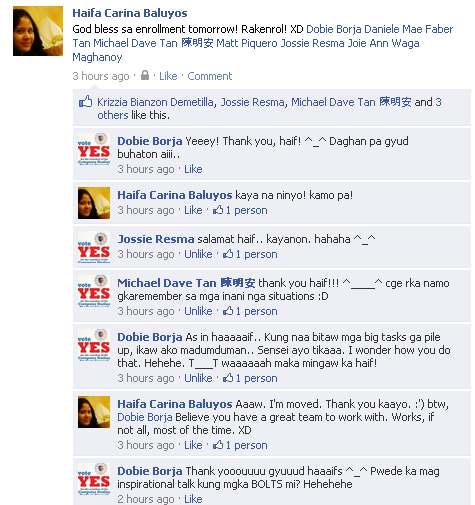 Saturday, 28 May 2011 08:36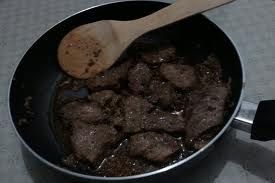 SUCCESS! For the first time, they (my overly nonsense family) finally found my cooking delicious. Before this, when I ask how does my cooking taste, I'd get the overused,"okay lang".
Anyhoo, let's call this Blue Marlin Adobo. --,)
I wonder how many failed and "okay lang" recipes I'd make until I receive another cooking compliment. XD
Monday, 16 May 2011 00:49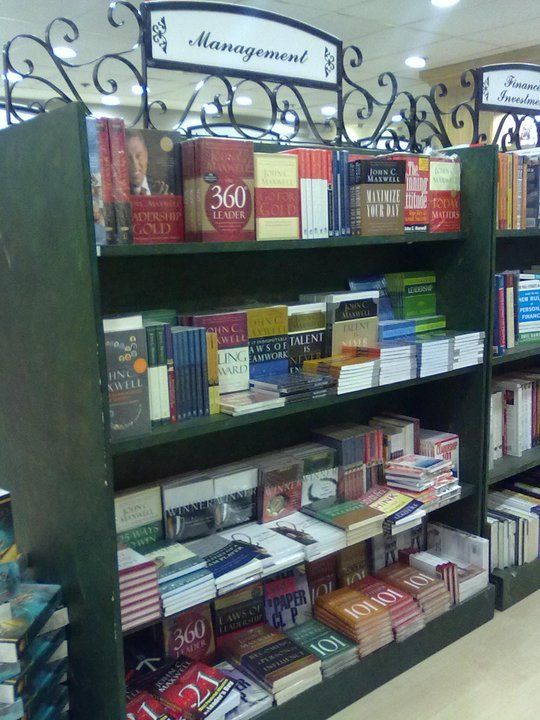 I just made a big WOW after seeing this bookshelf earlier at National Bookstore, Shangri-La. I want to read them ALL!!
I can spend my everyday for a month just to be with these books. By the way, I'm not the person who wants to OWN Maxwell books. I just want to read them. So spending hours at the store reading is good with me. Borrowing books is better. But owning them is best.
Why do I love Maxwell books? Easy. I love his compilation of stories and how he shares them. I find them really interesting. :)
OT: This was the day (15 May 2011) when I just arrived home in the afternoon from Batangas from our company outing. Then, at night, Laboy treated us to dinner at Sango! and movie, Thor. Great start of the week!
<< Start < Prev 1 2 3 4 5

6

7 8 9 Next > End >>


Page 6 of 9