About Haifa Carina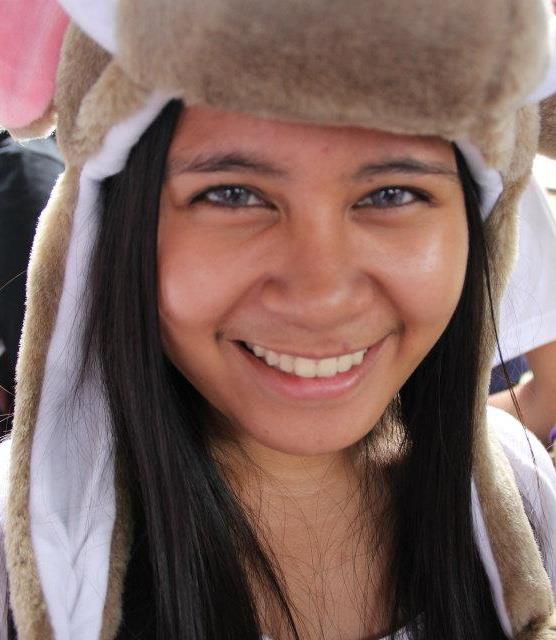 Hi! I'm Haifa Carina
from the Philippines.
iOS developer. Events Organizer.
Adventurer. Ponderer. Dreamer.
I am real.
I like green!
I give hugs!
I love challenge.
I hate leeches.
I want to travel the world!
I wish I could teleport.
I need you to be real.
I will build my underground house.
I was always impulsive.
I feel restless inside.
I think I can do anything.
I say "Life is short, enjoy all the way!"
Email Me: haifa@baluyos.net
Facebook: haifacarina
Twitter: @haifacarina
Instagram: @haifacarina
Are you a developer in the Philippines? Join us at Developers Connect (DevCon)!
http://devcon.ph/

Tuesday, 29 March 2011 23:34
I remember Atty. Lesley Cordero once said that during the bar exam, they were advised to never leave blank items. So for the items she didn't know the answer, she wrote there Hail Mary's and Our Father prayers. As for me, I filled mine with 'So help me God', 'It's a beautiful night' (last-song syndrome), and different kinds of smiley faces. haha.
That 4-hour exam was something I'll never forget. I find it difficult, yes. TOO MANY THEORIES! T_T Data structures and algorithms. But it was fun. You really have to do REAL THINKING. I did my best. I'm satisfied. Pass or not, I'll continue with my wonderful life! XD
Also, I had dinner with Sir Jonathan Yap and his wife, Ma'am Kat at HK Choi, SM Megamall. We picked up Aldrich after then they dropped me off the apartment. I had a great day! Tomorrow, I'll be seeing someone special. Looking forward to it!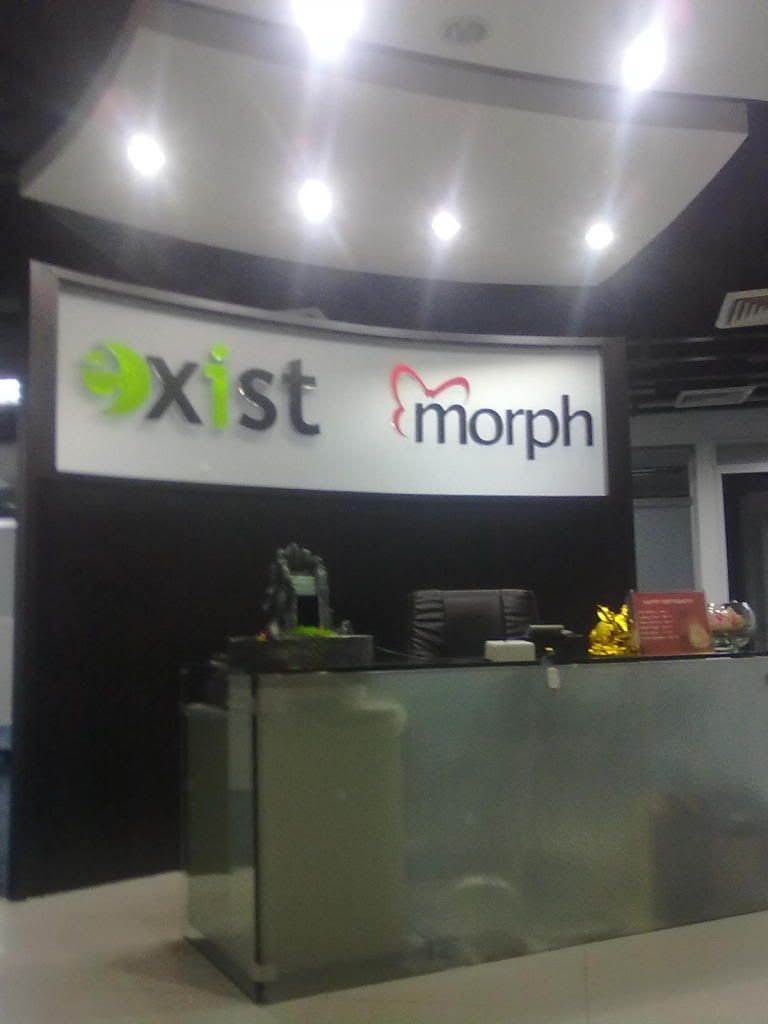 Exist Software Labs frontdesk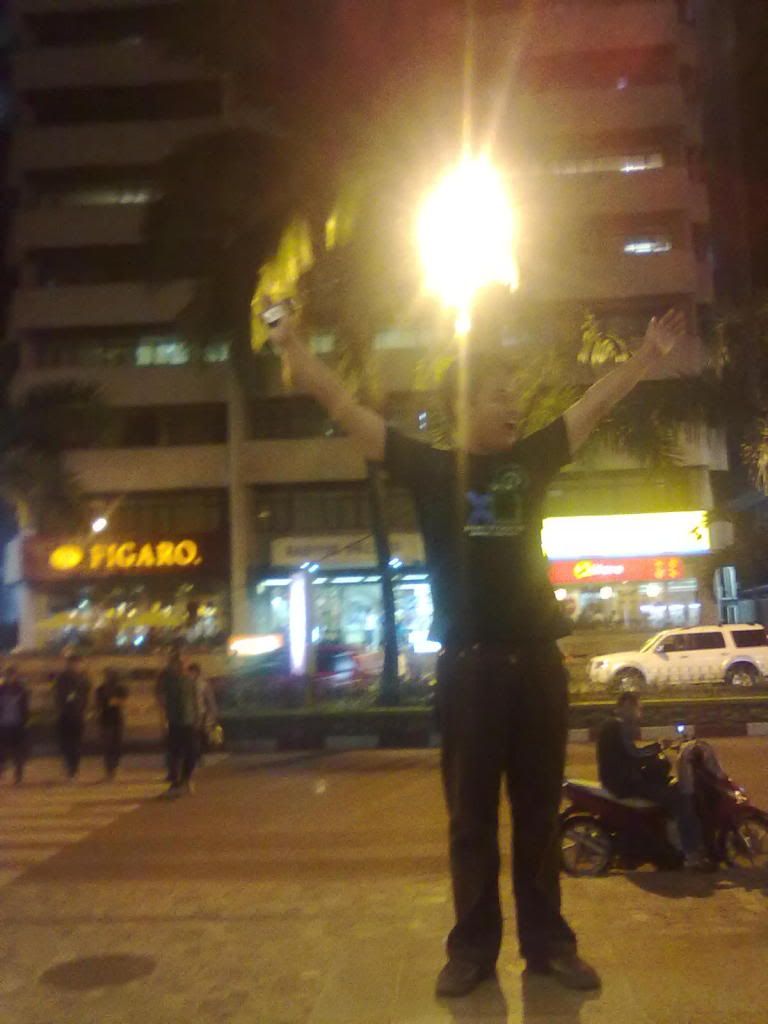 Lope also took the exam. We were waiting for Jamie.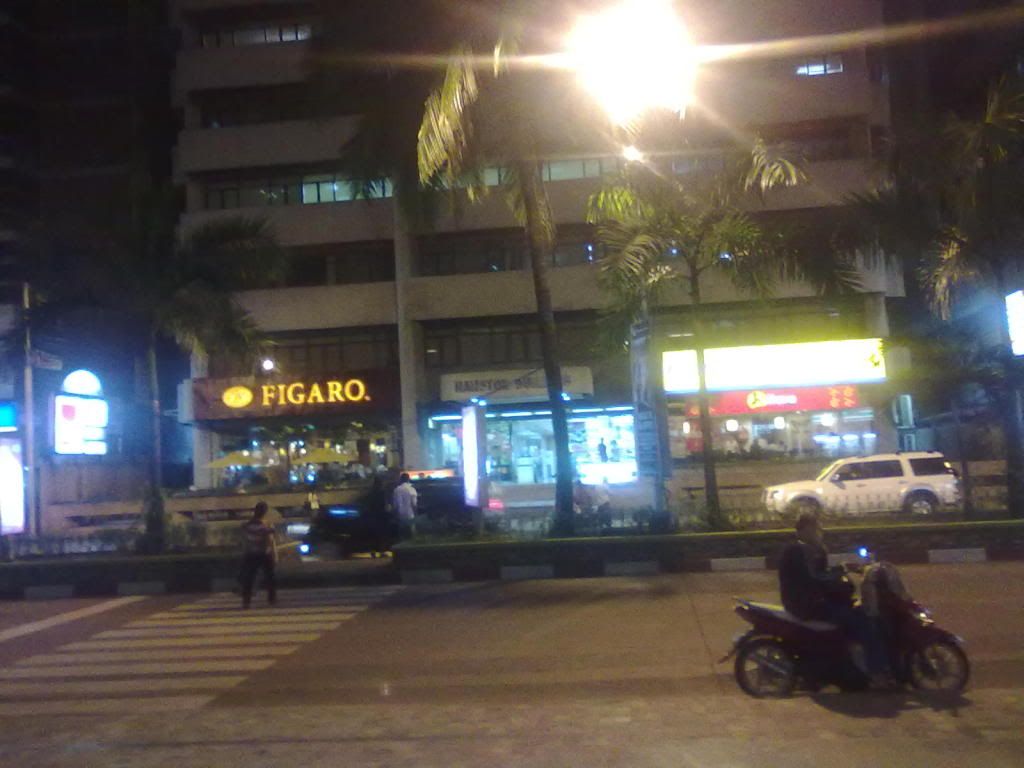 This is the view in front of Raffles Bldg., Ortigas.
Sunday, 27 March 2011 23:23
Today I left Cagayan de Oro City for Manila. As the song by Bruno Mars goes, today my life begiins. Although I inserted the word new that it makes real sense. XD
Here's a touching video Dave (Michael Dave Tan) made as a tribute for the seniors. Thank you so much Dave!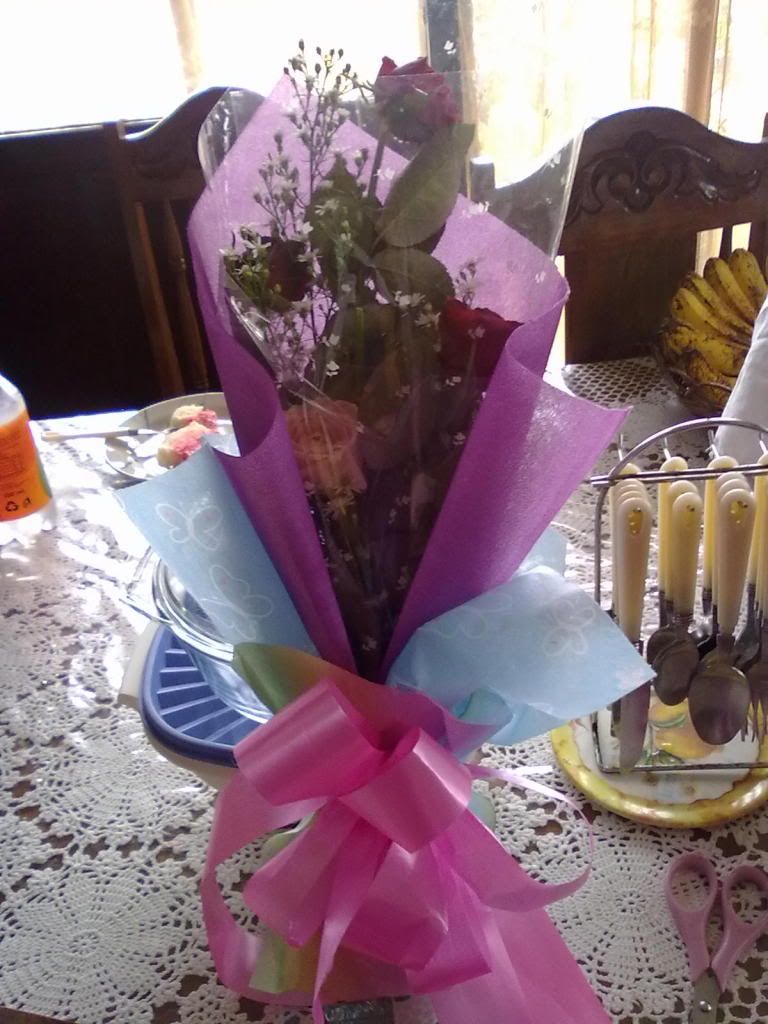 The bouquet my mommy bought me for graduation. I love pink!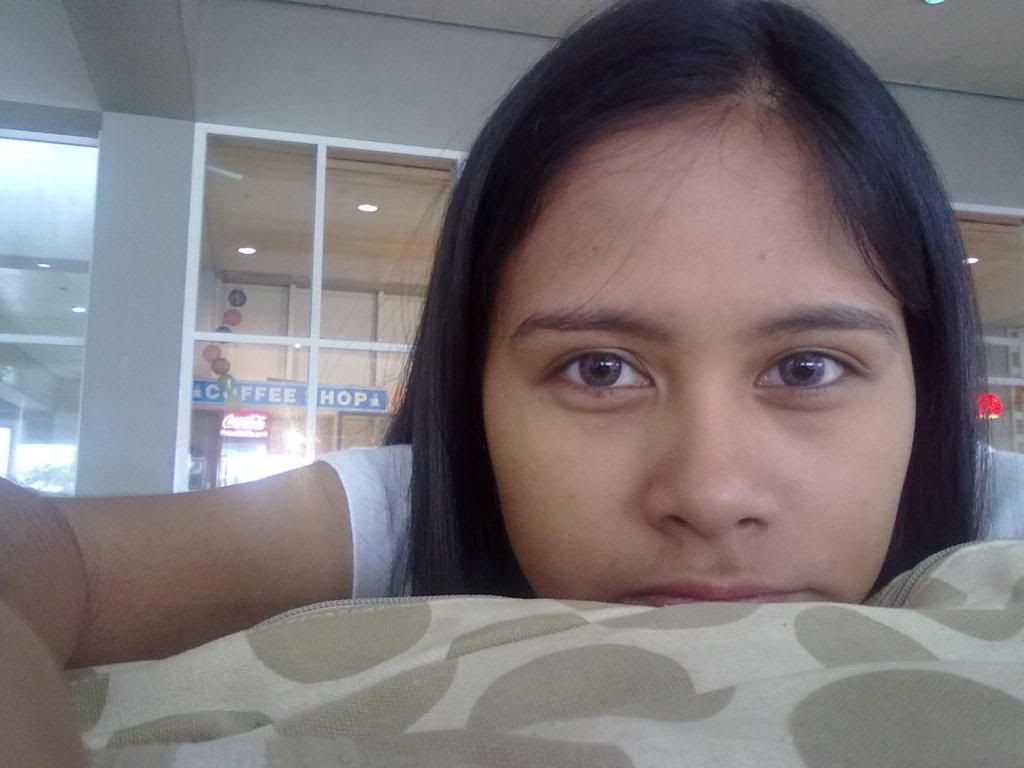 Bored. I was waiting for Popsi to pick me up at the airport.
My plane ticket.
Monday, 28 March 2011 22:34
It was lunch time when I met up with Lope at Megamall. He just arrived from his delayed flight. After lunch, we searched for the Exist Software Labs at Ortigas. Beautiful place. We'll have the Exist Code Camp examination tomorrow. Better get ourselves familiarized with the place then get lost on the day of the exam. After that, we went to see Jamie (Lope's girlfriend) at the building across the street. Sweet girl. Then we returned to Megamall to review then ate at Yoshinoya.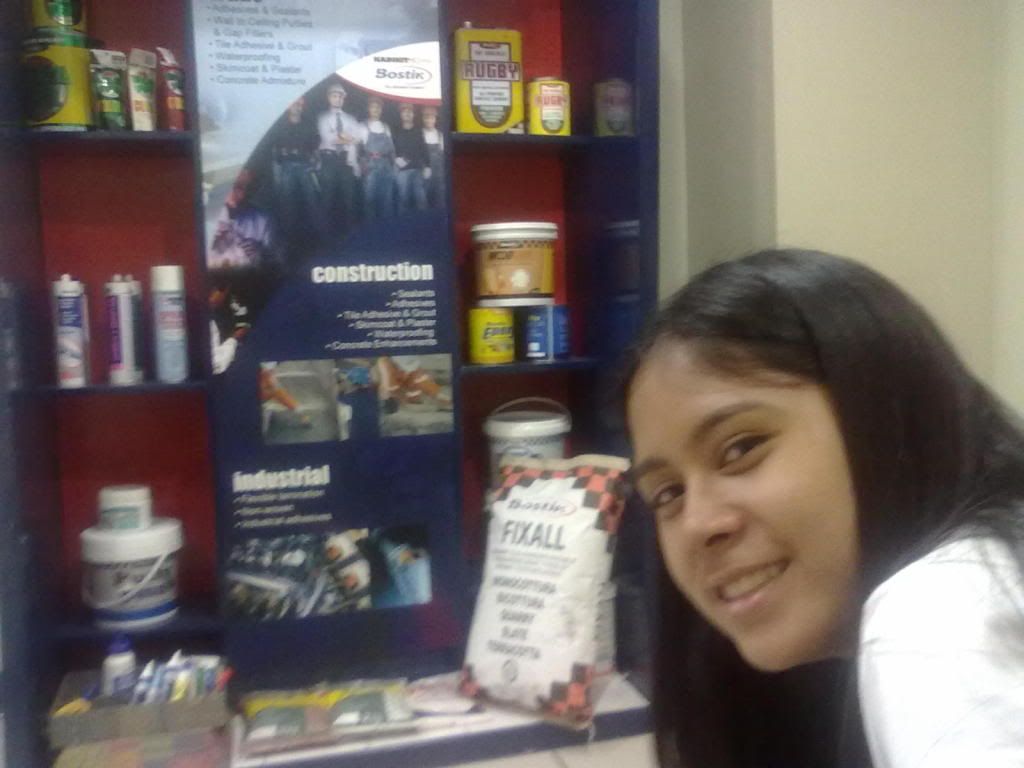 At Bostik waiting for Jamie
At Yoshinoya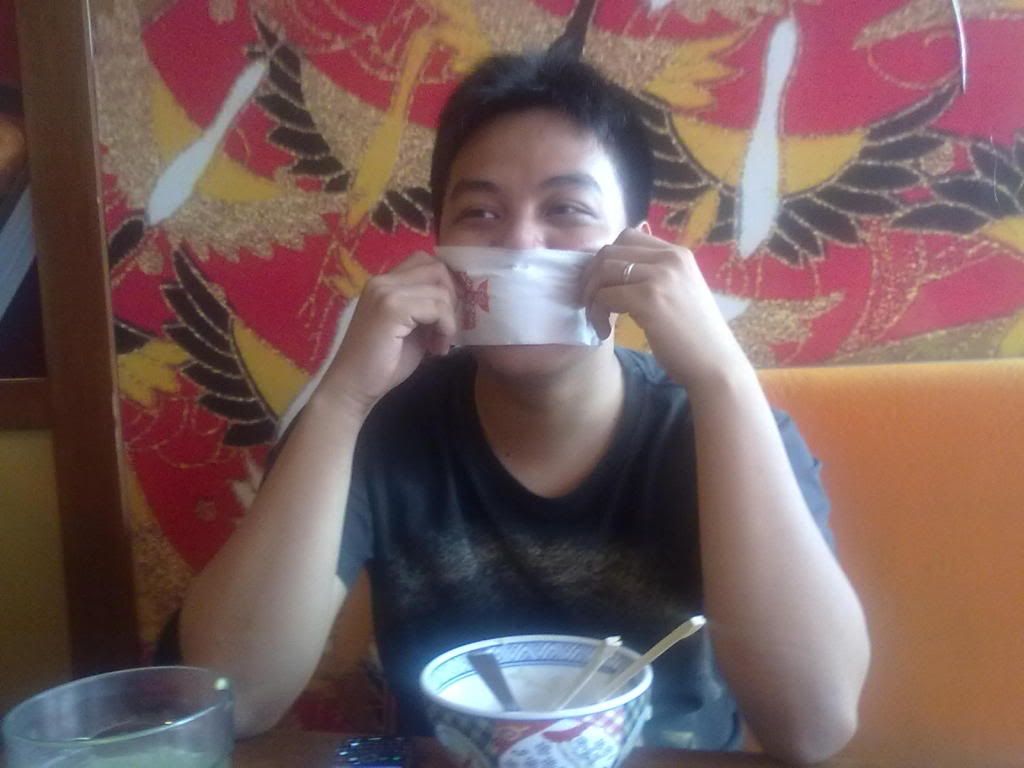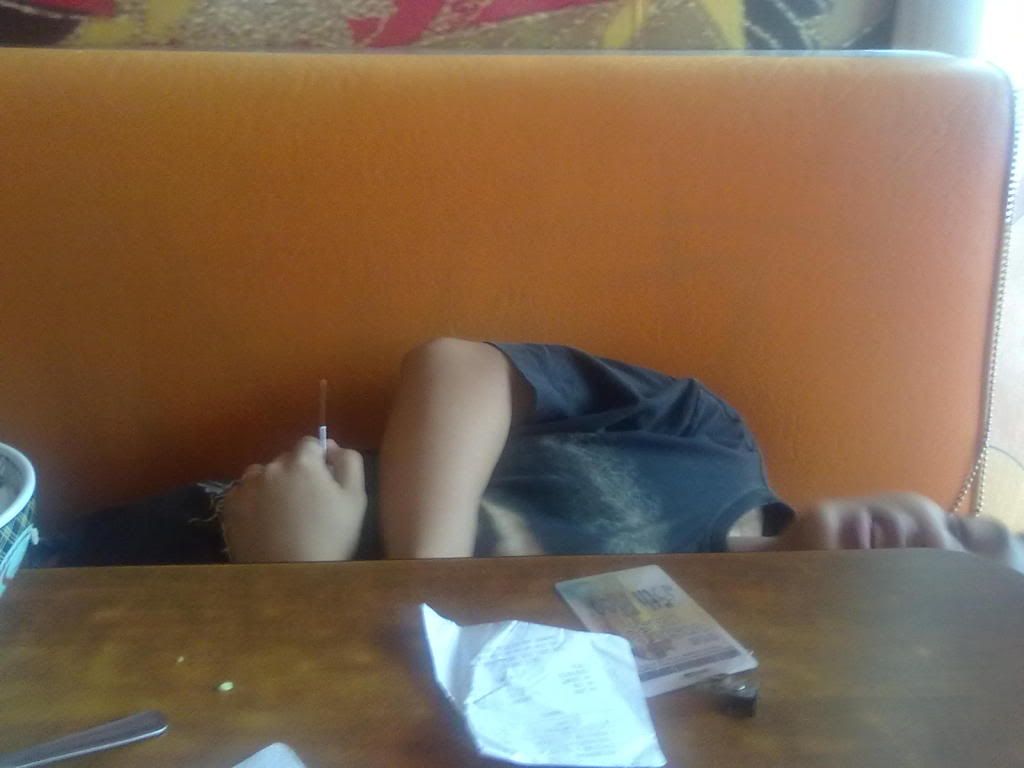 Sick and tired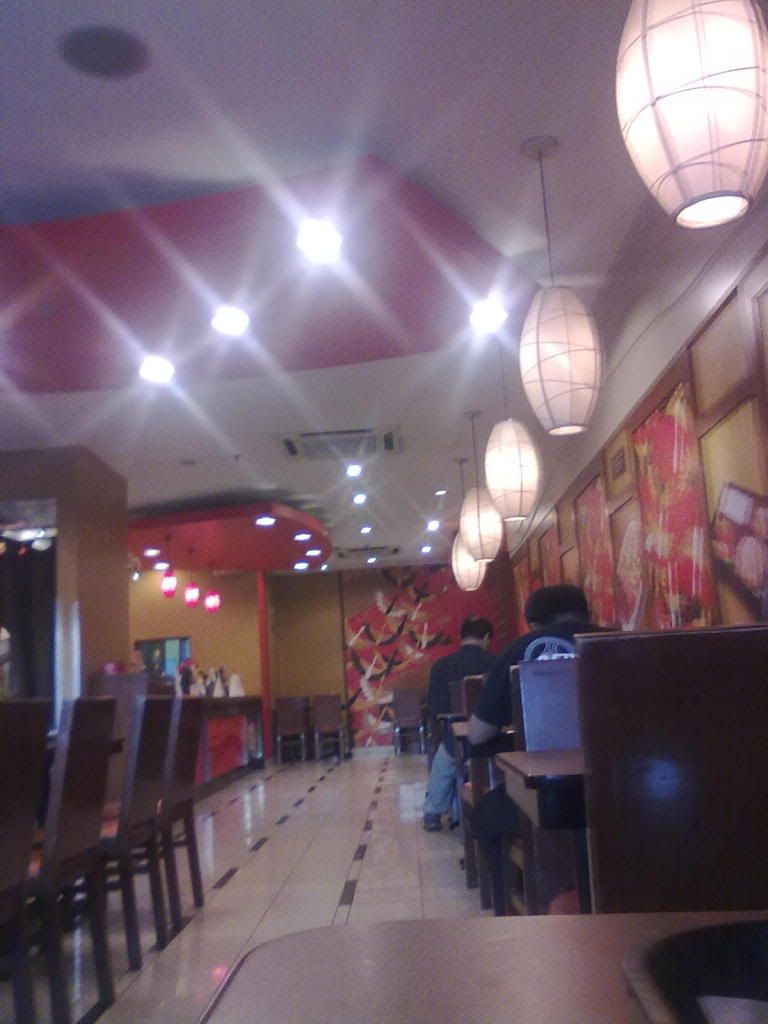 Saturday, 26 March 2011 20:06
Graduation Day has arrived! That fast!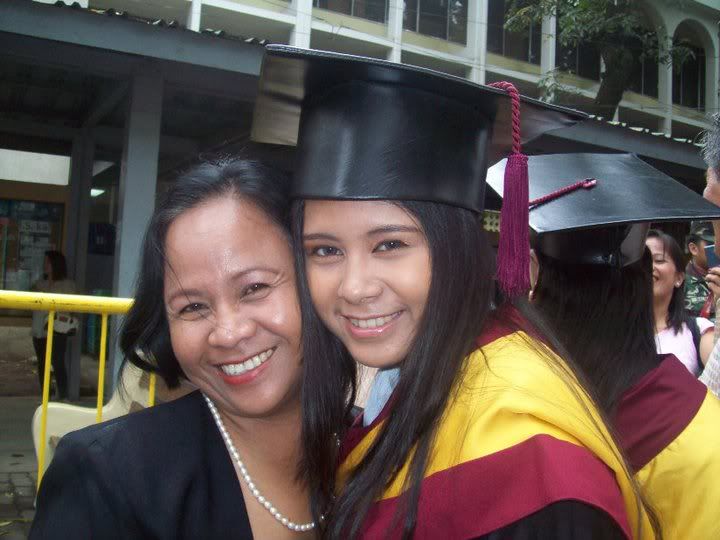 This is my dearest mommy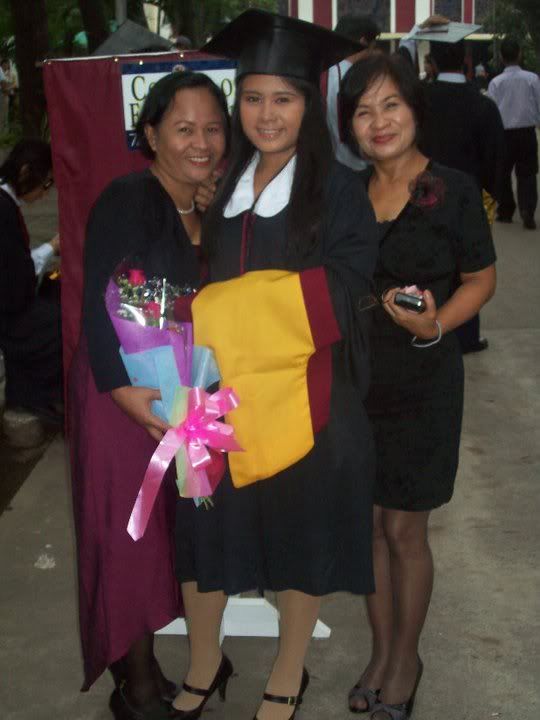 You gotta love having two mothers.. XD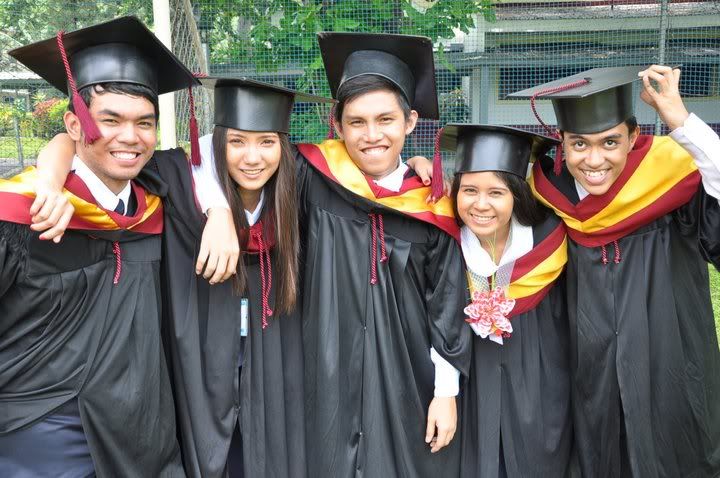 They spell the word FRIENDS to me.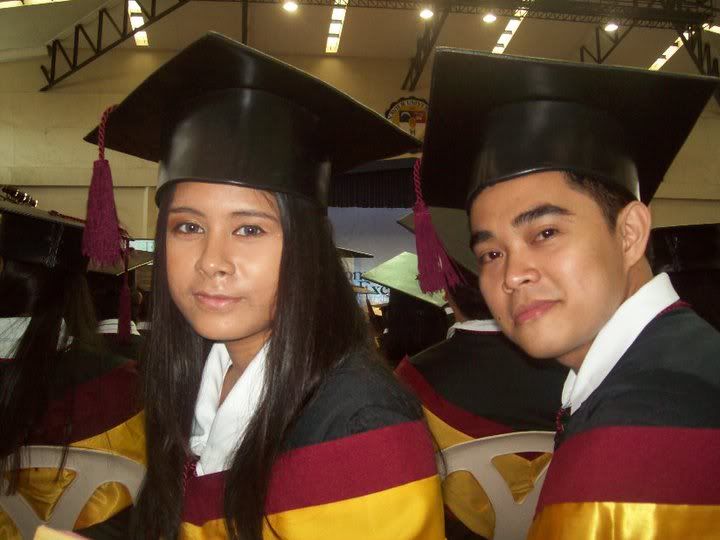 Then meet Bruce,my college crush. LOL
Now, the REAL WORLD BEGINS. XD XD
Thursday, 17 March 2011 03:10
Googling for programming exercises (3 hours ago) led me to Sphere Online Judge (SPOJ). They have got thousands of interesting programming problems ranging from easy to difficult. You can solve them at your preferred language! Great site really!
Now I'd like to share what happened to me while exploring the site.
I was browsing through the problems and tried to answer the problem with which most users have solved - Life, the Universe, and Everything. I was working on the code using my JCreator. The last time I programmed in Java was sooo looong ago. I was already in PHP since first semester last school year.  Anyway, I used JOptionPane from Swing components. It was easy. However, when I submitted my solution, it says 'Compile Error'. I found one suggestion somewhere on the screen implying I must run my code using ideone (online editor and compiler). So I did. Then, after a while of analyzing why I still keep on getting errors, I found another suggestion somewhere on the screen to see sample code. Bingo! I found the working code.
I copied and pasted the code. Sumbitted. Perfect! Code accepted. It's just sad that my code using JOptionPane diidn't work. I realized SPOJ follow a format for its input. That's fine. I think this is how IT SHOULD be anyway. I believe ACM or PCS or HP Code Wars follow the same format of reading input.
Great job for this new discovery! Now it's time to work. I have a goal to reach and I only have 12 days left. I miss you programming. <3 <3 <3
Wednesday, 16 March 2011 21:14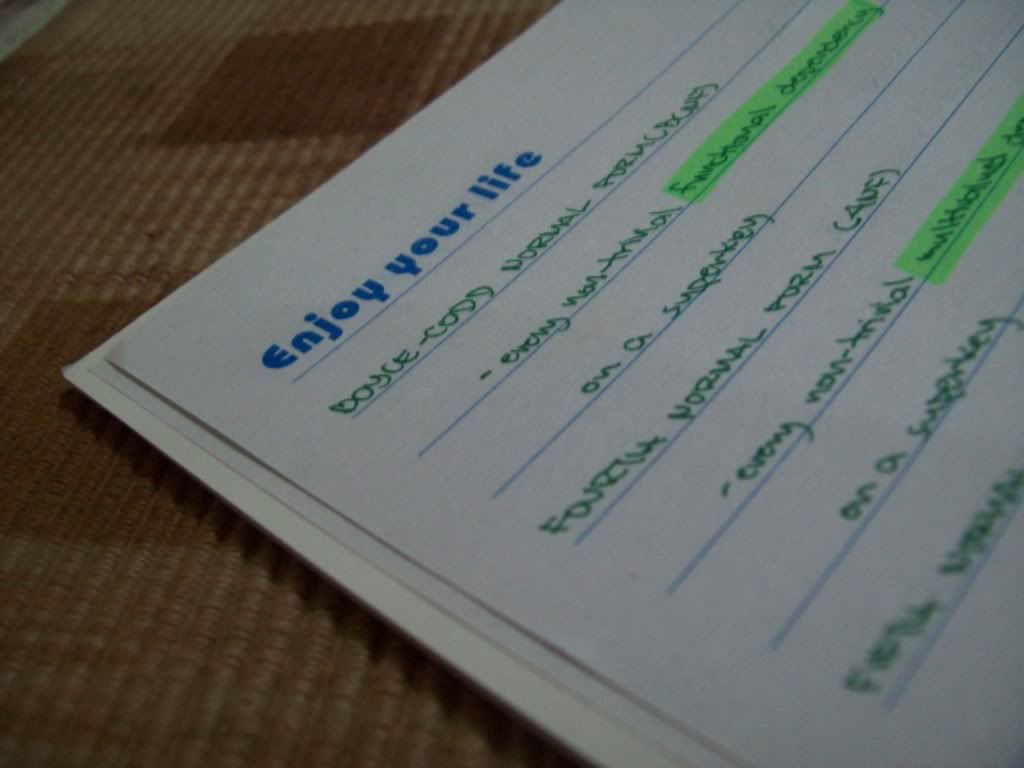 My nonsense little sister gave me this cute purple notebook weeks ago. It's not until today that I noticed its pretty message: ENJOY YOUR LIFE.

I AM AND WILL ALWAYS WILL! XD

I'm using it as my review notes for my upcoming Exist Code Camp (ECC) examination this March 29. I really really really want to get in this 6-week intensive training camp. I'd get to learn LOTS OF LOTS OF THINGS on Software Engineering. I have 13 days left to review. That's enough time. Here's one quote I love from their website:

"And when you work with the best, you move towards becoming one of the best."

For the upcoming days, here's how I enjoy my life:

March 22 - MAGIS AWARDS 2011
Congratulations to me and my team (XCEL) for being nominated for the Outstanding Co-curricular Organization Award. I did pretty well as Madame President, eh? :P nyahahaha

March 23 - PROM ONE MORE TIME: XCEL SENIOR'S TRIBUTE
This is the last XCEL activity I am to take part as a student. This is something to be really excited about. I will really enjoy this night!

March 26 - GRADUATION DAY AND DESPIDIDA PARTY
Yey! Celebrating the end of my 4 years in college! I'm guessing the ceremony will be long and boring. I must bring a book. haha. Anyway, mommy's organizing a little party for this event. I want Goldilock's brownies! XD

March 27 - FLY FLY TO MANILA
Yey! Say hello to my new world! I wonder what its like to be a full-time developer. Also, I must bring my rock shoes. Say hello to wall climbing again! yeeey!




Friday, 11 March 2011 02:57
Not sure if this is ethical. I just want to share it anyway. XD
12:09am today, I noticed 1 missed call of popsi from my phone. Then I texted him...
Me: Popsi.u may col n0w. :D
Popsi: mz col ra jud kai mgslip na ko. 
Me: Ai.halur. Popsi2x! Wn ta pabuk flyt? :D
Popsi: u kn0w, 8s up 2 u wat d8 u wanNa c0me 2 mNla ok? ok!
Me: Uki! March28! Arun mgtake q exam march30 daun. . Is dat okeh? Tapus we shud buk earli popsi bcuz tiket gets xpensiv ich passing day.. :D
Popsi: no nid 2 buk early, ur papc is rich u know.. ok? ok!
Me: Hallur. Pabook lng ta early popsi.. Me so xcitd. Also, my pren s waiting 4 my sked so dt we cn fly 2 manila 2geder on d 28th.. :D by d way, dpat jd ka magudluck saq pa. . last day sa exams njdd ugma! yey!
Popsi: ur frnd hu?
Me: **** s hs name. Kaubn nq a2ng competition na 14th place mi. Mgtake pd xa sa exam sa exist code camp.
Popsi: ****? wat an ugly name!
Me: Popsi, dats bad.nawayun jd ka pa! Hahaha
Popsi: am just xpRessing my opinion u kn0w
Me: Hallur! Anyho0, mgbuk nata flyt 2muru or nxt tumuru pa ha? :D
Popsi: ok, nxt wik, ok? ok!
Me: Uki! Nxt wik sunday! yey!
Popsi: but mar 28 is a monday, nob0dy will fEtch u at d airport.. n0body n0body but u at d airport. im a busy man u kn0w
Me: Ai. .cge sunday nlng. . u wil fetch me daun ha?
Popsi: ok il fetch u personly at d airport bcuz papc luvs u, u kn0w.. nyahahaha
Me: Opchorz i know! Nyahaha. XD Cge popsi! I shall go bak 2 studying nah. Labyu pa! Mwah!
Popsi: ok, gudnyt.. luv u luv u
~THE END~
How I love my father dear. It's never boring with him around to talk to. 
Monday, 07 March 2011 23:39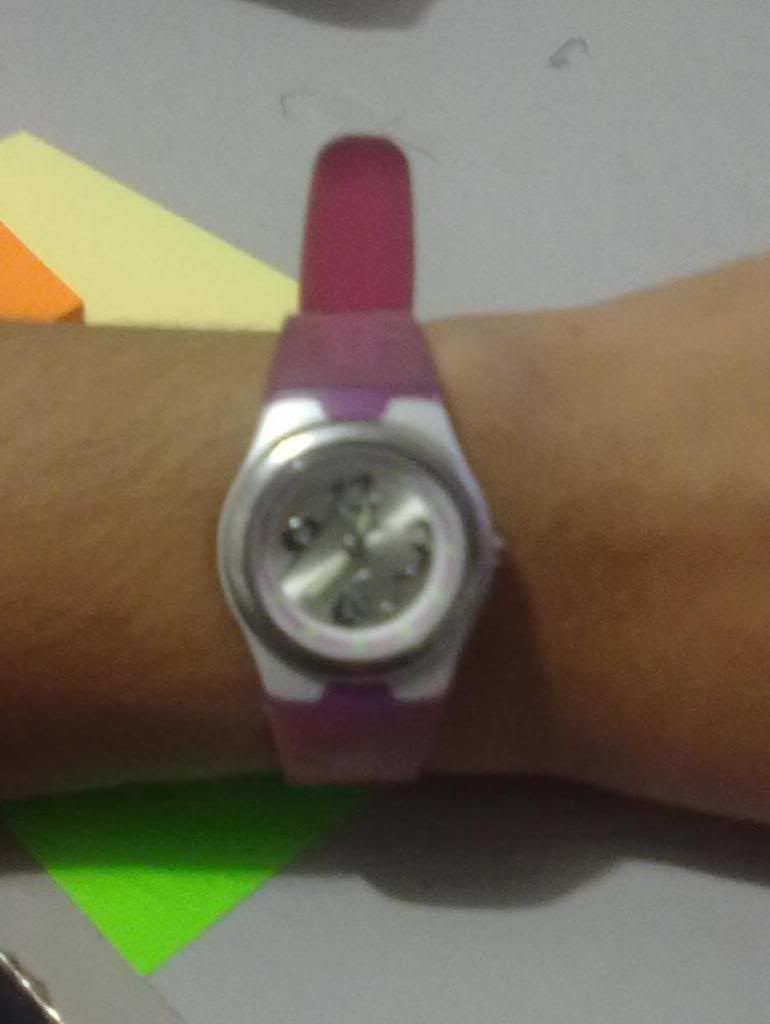 Interesting how a watchless day could get this happy.
I lost my watch early this morning. I was running late so after a minute of searching, I gave up. I wear my watch all day even when asleep. I take it off only when I take a bath. To substitute the same feeling on my left wrist, I wore a bracelet I took from a friend.
I glance at my watch most often when I'm running late. I can only laugh at myself during the day. I keep looking at my wrist and find a black bracelet with a dragon tablet - NO WATCH.
Anyhoo, the Philosophy exam, to which I was so excited to take, was postponed on Wednesday. I saw personC today. Inspired. Weee <3. Then, the Economics exam, it was fun! Calculating income tax that is. Then at the lib, an engineering guy who shared a table with me was another interesting part of the day. He said he'd rather cook than calculate.
My mood this day is light and happy. I'm not sure if it's because of the watch or because of personC. Whatever the cause is, I hope I'll have another of this kind tomorrow. By the way, I found the missing watch under the bed. Cheers!
Sunday, 06 March 2011 18:46
"You've made it this far, now it's time to finish strong. Don't rely just on your talents (or your charm) -- it's all about hard work and determination now. Just like in a race, now that the finish line's in sight, it's time to step up your game and make those last few meters matter."
I was scanning my planner (Total Girl Philippines School Planner 2010-2011) when I found this in the March calendar. Just the right words to be inspired. Bring it on finals. We will finish strong. Just watch us. XD
Saturday, 05 March 2011 23:50
She hopes for personA's happiness.

It was her third attempt. PersonA wants nothing that has to do with her anymore. Doors closed. Let her wildest dream be the agreement of good terms before her fast approaching flight. This is (still) war. Numb, she was named. She sees no one but herself. Let the door slamming dawn the truth on her. She was the Demon's best friend since the beginning. No more drama. Bring out the pretense of no affection. Closer to the edge. Bid no more. Bury the past and move on. No regrets.
Wednesday, 02 March 2011 23:26
When you're in the middle of final projects and examinations, you're gonna need PLENTY OF BREAKS TO KEEP GOING. For last night's break, I watched 3 Idiots. This night, for curiosity reasons (everyone seems to be talking about this movie), I watched First Love (Crazy Little Thing Called Love). Two interesting and entertaining movies back-to-back!
3 Idiots
I watched this movie because I wanted to laugh. Didn't thought this could be a one hell of a tearjerker. Lucky I was watching the movie alone, I could just cry as hard as I can. I want to be as brilliant and interesting as Rancho! Could there be really someone more or less exactly like him out there? I'd love to meet him!
You need enlightenment on what path to take in your life? Watch this movie. Laughter is just the bonus.
First Love (Crazy Little Thing Called Love)

Five days ago during our overnight here at TH, my CSIT groupmates tried to watch this movie through Youtube. We stopped watching after Kim accidentally pressed the restart button.
More or less, everyone can relate to this movie. KILIG. DRAMA. STUPIDITY.
I (along with, if not all, most girls) find the guy REALLY CUTE. I also find his best friend cute. He looks like Carlo, one of my wall climbing buddies back then. As for the girl, she's VERY PRETTY after she transformed. Overall, it's a CUTE MOVIE.
I highly recommend YOU (yes, YOU!) watch both these movies. I can assure you won't regret. ^^
<< Start < Prev 1 2 3 4 5 6 7

8

9 Next > End >>


Page 8 of 9