About Haifa Carina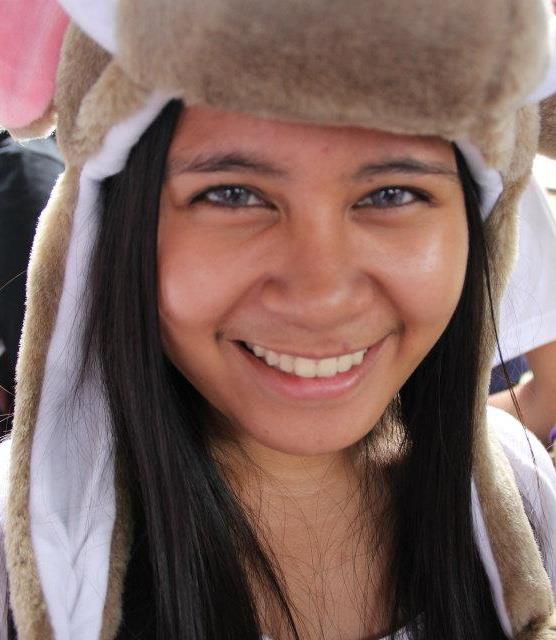 Hi! I'm Haifa Carina
from the Philippines.
iOS developer. Events Organizer.
Adventurer. Ponderer. Dreamer.
I am real.
I like green!
I give hugs!
I love challenge.
I hate leeches.
I want to travel the world!
I wish I could teleport.
I need you to be real.
I will build my underground house.
I was always impulsive.
I feel restless inside.
I think I can do anything.
I say "Life is short, enjoy all the way!"
Email Me: haifa@baluyos.net
Facebook: haifacarina
Twitter: @haifacarina
Instagram: @haifacarina
Are you a developer in the Philippines? Join us at Developers Connect (DevCon)!
http://devcon.ph/

Events
Friday, 08 November 2013 01:05
Developers Connect (DevCon) Philippines is holding DevCon Summit 2013: Mobile Development and Beyond  - The Biggest Mobile Developer Conference in the Philippines happening on November 30, 2013 (Saturday) at Cinema 4, SM Megamall. The event is a whole day conference that aims to bring together over 800 Information Technology professionals, students and educators from all over the Philippines to showcase the latest trends and opportunities in the mobile development industry.
The summit features the prominent individuals from the international and local mobile development scene: John Britton of GitHub Inc., Micael Diaz de Rivera of Sulit.com.ph, Howard Go of Mochibits, Ramon Pastor of Numlock Solutions, Inc., Jon Limjap of Readify and more. Topics include Opportunities in Mobile Development in the Philippines, Solving Real World Problems with Mobile Apps, Essentials on Mobile User Experience, Trends in Android and iOS Development, and Cross Platform Solutions. Then a Show and Tell of proud chart topping Filipino Mobile Apps in the Play Store and App Store will follow.
To register visit http://summit2013.devcon.ph/. Ticket price is PHP1,500 for Professionals and PHP1,200 for students. Ticket price includes t-shirts, event kit, meals, certificate of participation, more freebies from sponsors and a day full of fun learning!
DevCon Summit 2013 #MobileDevNBeyond is co-presented by Globe Labs, Smart DevNet, GitHub Inc., and Orange and Bronze Software Labs. This event is supported by Deltek Philippines as Gold Sponsor, Microsoft Philippines and FIT Academy as Silver Sponsors, and Mozilla Philippines, StackOverflow and WhenInManila.com, TechTalks.ph as Technology and Media Partners.
About DevCon Philippines
DevCon or Developers Connect Philippines is a non-profit organization that aims to empower Filipino developers and promote the "IT Pinoy Talent" by providing venues for IT students, educators, professionals and enthusiasts to sync, support and succeed. DevCon regularly conducts Code Camps, a workshop on different development tools, and Campus DevCon events which are school partnered events that aims to augment the academic learnings of students with up-to-date trends in the IT industry. With chapters in Metro Manila (main), Cebu, Davao and Cagayan de Oro chapters, DevCon has reached 20,000 participants since its founding in June 2009.
Sunday, 18 November 2012 16:45
Last Friday (November 16), I originally planned to drop by the Eden Hackathon at College of Saint Benilde (CSB) after lunch to claim Smart's Gold Sponsorship for Rails Girls event then return back to work immediately. Then when I arrived there, Paul told me to stay and be a judge. Boom!

So I stayed there for 3 hours. I was really glad Terence (DevCon member and also one of the judges) brought his MacBook Pro. I was able to do some of my tasks there while waiting for the judging time. Once in awhile, I'd go around checking on my friends from Openovate Labs, Dan and Erwin. We play badminton every Sunday.

So judging time! And here are the winning teams!
3rd Place: POST-A-CODE
2nd Place: GOSSIP GIRL
1st Place: iSearch
Judges Alvin Chan, Terence Ponce and yours truly
Paul and me!
For more of the event details, see this link.
Photos from my instagram and Paul's.
Thursday, 13 September 2012 22:58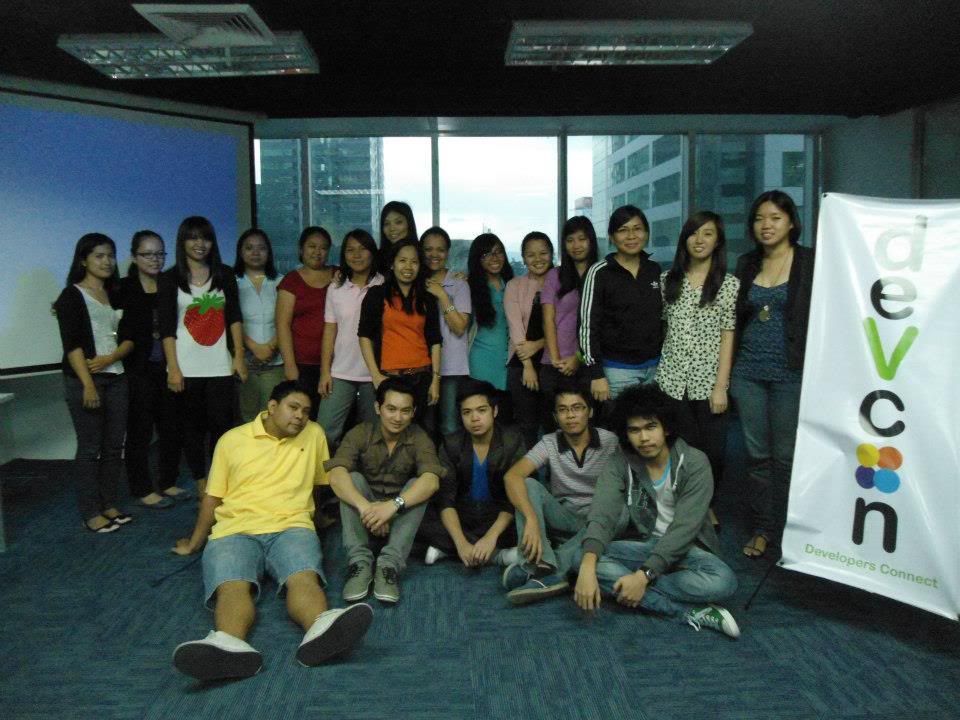 First DevCon Girl Camp class
Seasoned PHP girls filled the Exist TechBar last September 8, 2012 to take part of the first Developers Connect (DevCon) Girl Camp Series entitled "Rapid Prototyping in PHP for Internet Platsforms and APIs" in partnership with Openovate Labs.
Bryan Bibat, DevCon's VP for Technology, started the program with a short introduction of DevCon. Chris Blanquera, Founder of Openovate Labs shared facts about their company and some interesting stories about their team. Paul Pajo of Smart Developer Network gave an inspiring message to use and support our own technology as our way of improving our country.
The camp introduced the girls to Eden PHP Library for rapid prototyping using Twitter, MySQL, Facebook, Google+ and Google Drive. Clark Galgo showed how to integrate the Twitter API from scratch with Eden. Dan Molina discussed the library's MySQL implementation while Erwin Seribo on Facebook integration.  Symon Buenavista, the guy who developed most part of the library gave a talk on how to work with Eden in Google+ and Google Drive. Chris also inserted some games to add more fun.
After the lecture was the coding session where girls were divided into 4 teams of 4 members to develop their own applications using Eden PHP Library. Each team has its own mentor from Openovate Labs.
The camp concluded with wrap ups by team. Then networking and picture taking followed.
Thank you so much Paul Pajo of Smart Developer Network and Nick Wilwayco of Smart Communications for sponsoring the food and sharing your precious time in gracing the event! Big thanks to Terence Ponce, Jossie Resma, Bryan Bibat of the DevCon team and Michael Marin of WebGeek Philippines for helping organize the camp. Then most importantly, all hail to Sir Jonathan Yap for pushing and making the event possible!
Words from Christian Blanquera, Openovate Labs Founder:
"I want to thank JR for pushing this, DevCon for organizing this, Smart and Ideaspace for supporting this, and Exist for hosting this. Looks like it was a total success. What would normally take a couple days to teach, facebook, twitter, google etc, we taught it all in one day with 30 minutes to spare. We spent the extra 30 minutes taking pictures :)
So success case proven, Eden taught to all females, some were beginners. By the end of our talk about Facebook, Twitter, MySQL, Google+ and Google Drive, all participants were already creating social media apps in 2 hours."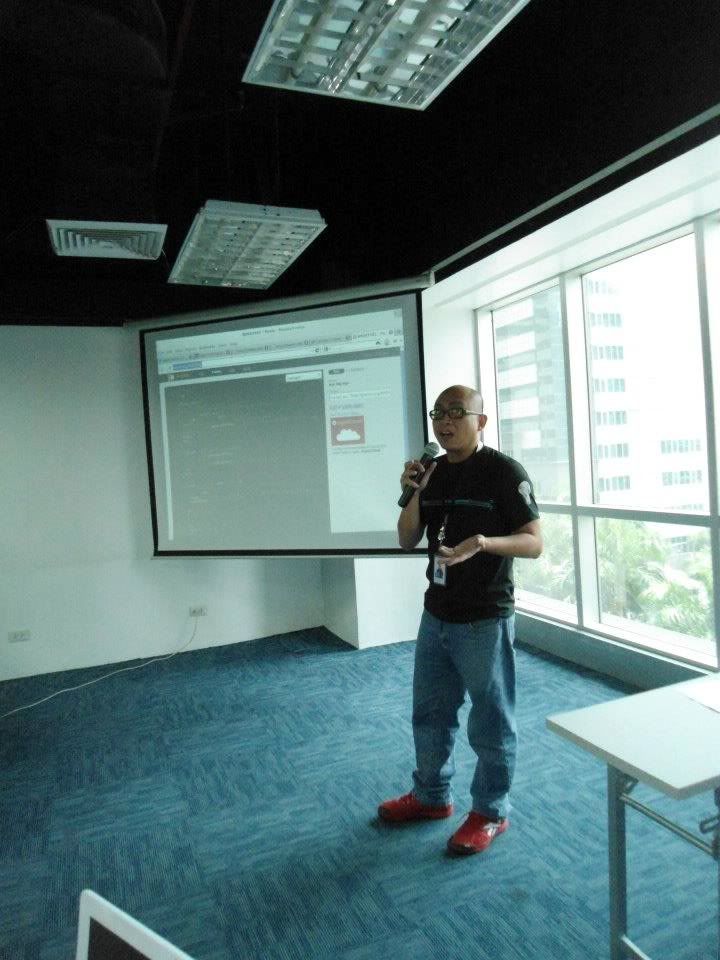 Paul Pajo of Smart Developer Network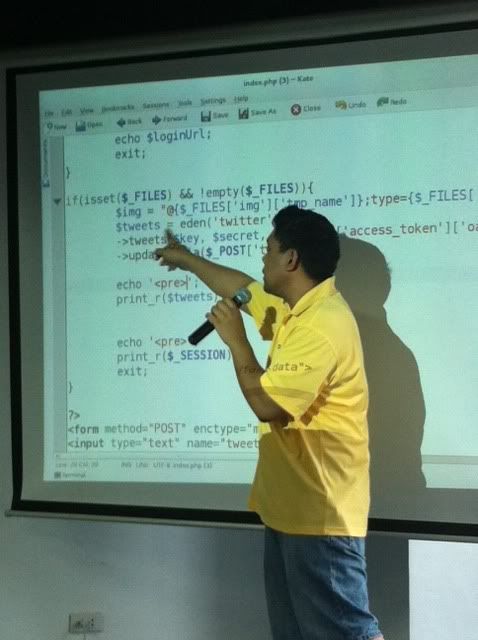 Openovate Labs Founder, Chris Blanquera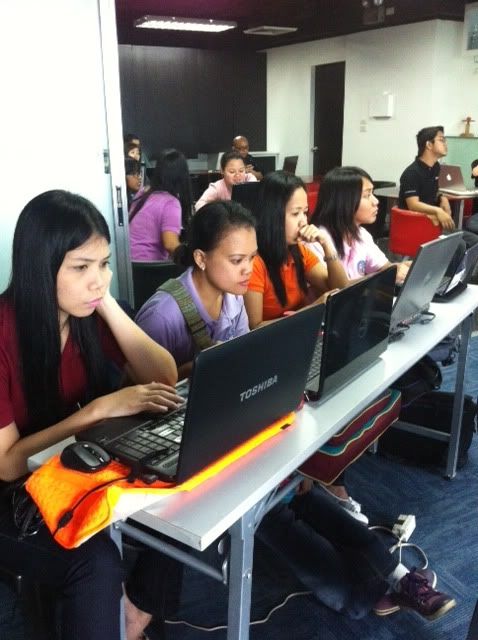 Gordon College Girls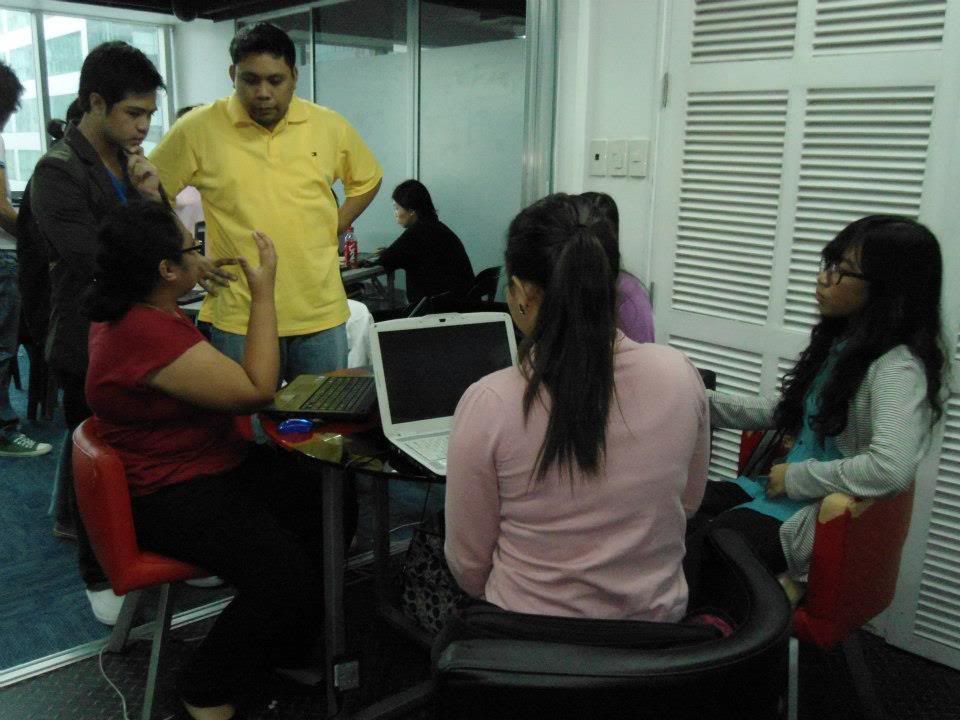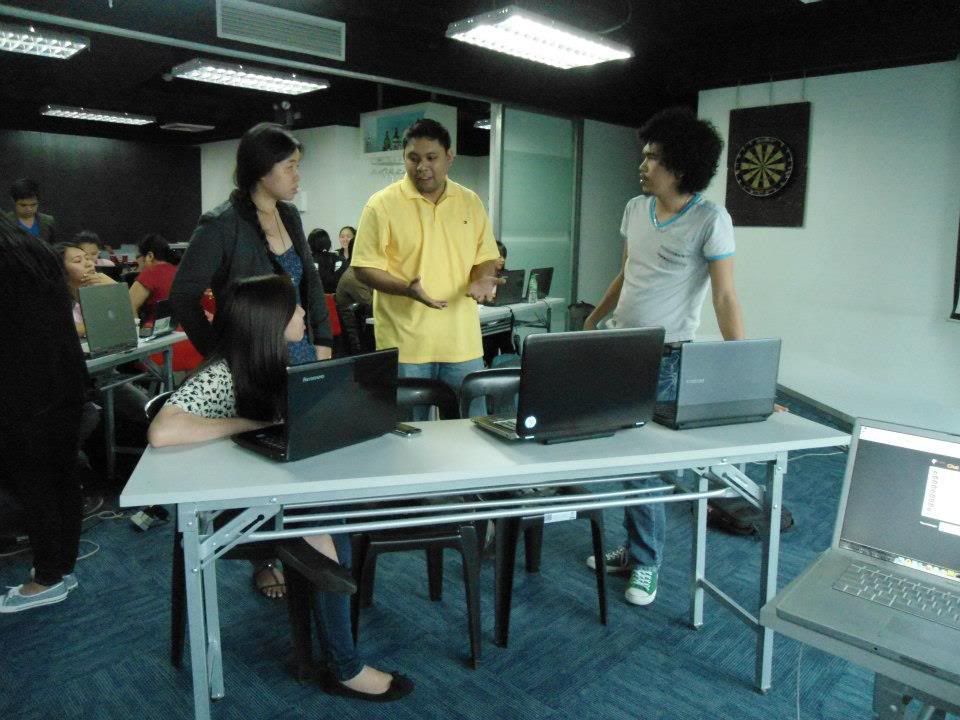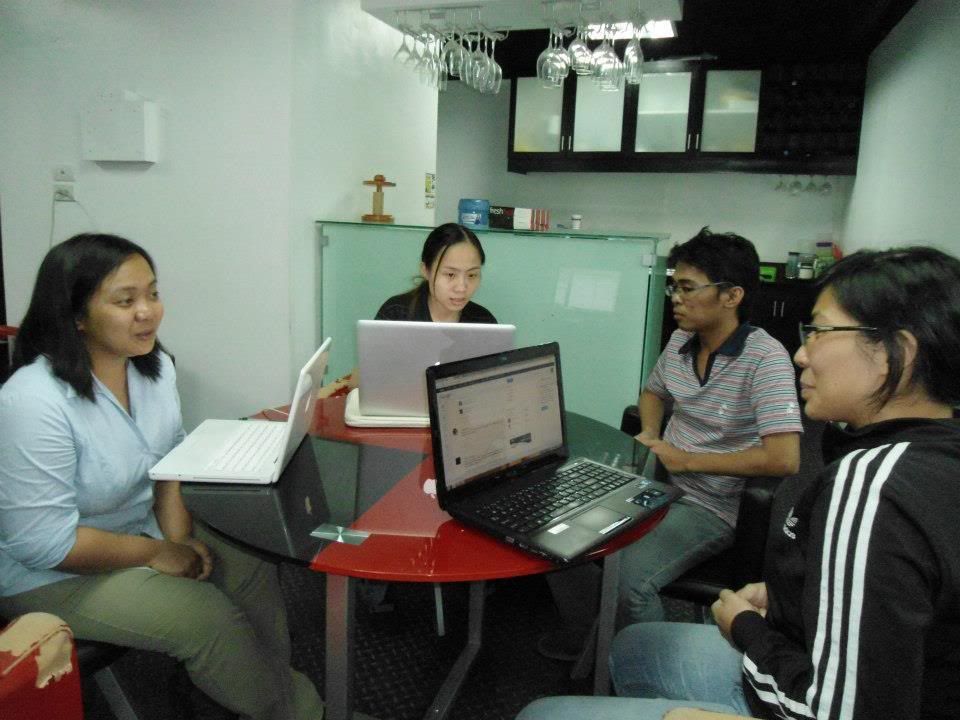 Photo credits to Jossie Resma and Dan Molina. More photos in this Facebook album. :)
Tuesday, 24 July 2012 23:54
Do you have the creative ingenuity and patience under pressure to create an amazing application in just six hours? If yes, then WebGeek DevCup wants you to show what you've got!
Brace yourselves, WebGeeks! On August 25, 2012, WebGeekPH will be hosting the WebGeek DevCup, an all-day hackathon extravaganza from 11 AM to 11 PM at the Meralco Mutli-Purpose Hall, Meralco Compound, Ortigas Center.
Participants will be given six hours to develop a web application based on the prescribed theme to be given on the event itself. At the end of the allotted time, the finished web apps will be presented to the panel of judges that consist of seasoned gurus in the fields of web application development. Those who emerge victorious will win fantastic prizes!
Who are qualified to join WebGeek DevCup, you ask? As long as you have the knowledge and the skills to create a fully-functional web application, then you are welcome to take part in the hackathon! We encourage all web developers, web designers, graphic designers, UI/UX designers, programmers, app enthusiasts, hobbyists, and yes, all you cheerleaders and moral supporters to take part in this exciting event!
Just bring your own laptop, development tools (pre-packaged libraries, widgets, and frameworks) and you're good to go. The organizers will be providing the internet connection, power, food, and drinks. Sweet deal, right?
You can go solo, form a duo or trio, and register until August 15, 2012. A registration fee of Php250 (individual), Php500 (2 team members), or Php750 (3 team members) will be collected through Eventbrite.
So, what are you waiting for? We encourage all ye emboldened enthusiasts to put forth your best ideas and turn them into reality.
To register, visit http://webgeek.ph/devcup/ and sign up now!
Monday, 16 July 2012 08:03
A super late post but never late than never. :P
So last June 16-17, 2012, the DevCon and IGDA-Manila teams traveled to Baguio to conduct Game Development Camp-Baguio at University of the Cordilleras, Baguio City.
On the first day (June 16), the program started 1PM at the university auditorium with full 250 participants. Dr. Ricardo P. Pama, UC President graced the event with his insightful opening remarks. It was followed by a background talk on DevCon and International Game Developers Association (IGDA). The rest of the program were presentations from IGDA: Mark on Getting Started With Game Development, Paul Gadi (IGDA-Manila Chapter Coordinator) on Making Art for Games,  Alvin Chan on Game Development Patterns, Sony Valdez (also a UC Instructor) on Programming Games With Pygame. Bryan Bibat, DevCon VP for Technology hosted the afternoon program.
On the second day(June 17) was the technical session on how to develop a game using Flash/Unity3D. To accommodate the unexpected number of interested participants, we decided to divide them to morning and afternoon sessions.
Big thanks to GDC Baguio participants for joining the camp! Hope you had great learning and fun! Also thanks to UC being our awesome host and campus partner for the event! Special thanks to Ma'am Nancy Flores, Dean of CITCS for the super warm accommodation and assistance all throughout the event. She even gave each of us (DevCon-IGDA team) Baguio Country Club Raisin Bread!
To Marica, Bryan, Paul, Alvin and Mark, you guys were awesome! Until the next event!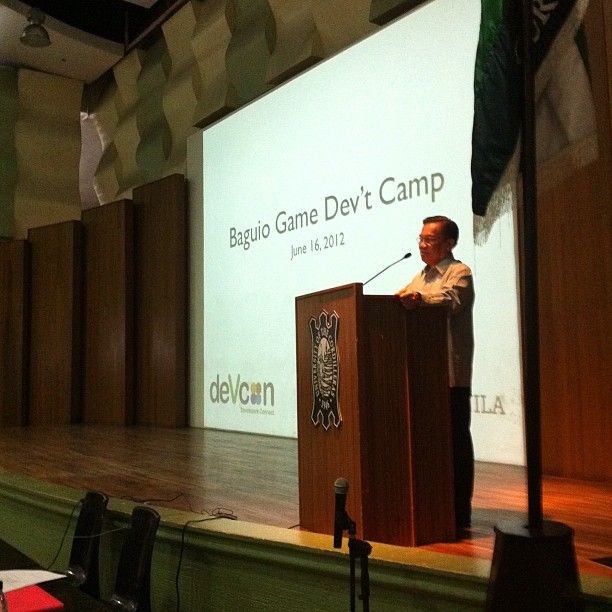 Dr. Ricardo P. Pama, UC President for Opening Remarks
Game Development Camp - Baguio Participants
Marica Uchida, DevCon VP for Programs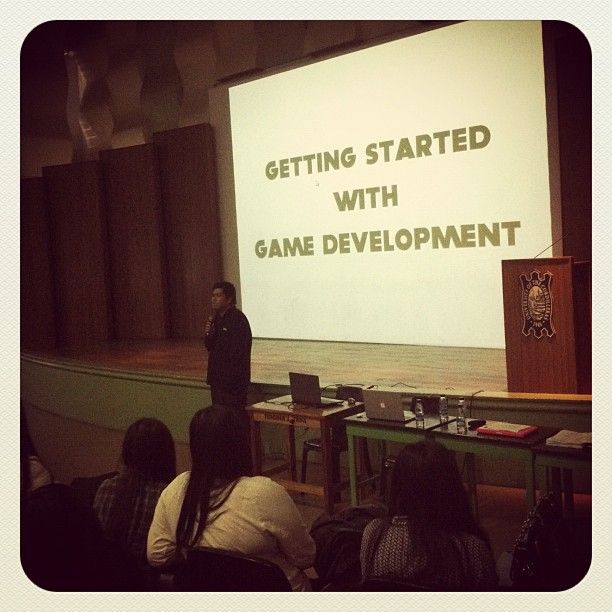 Mark of IGDA on Getting Started With Game Development
Alvin Chan of IGDA on Game Development Patterns
Paul Gadi of IGDA on Making Art for Games
Sony Valdez of IGDA/UC Instructor on Programming Games With Pygame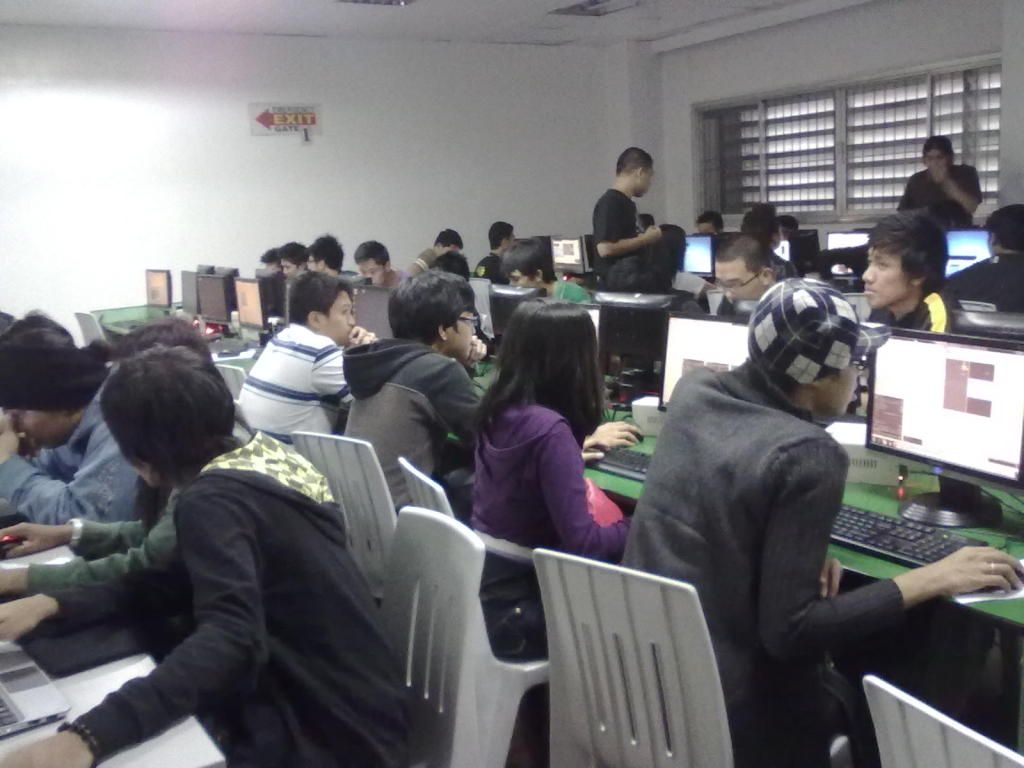 Unity 3D particpants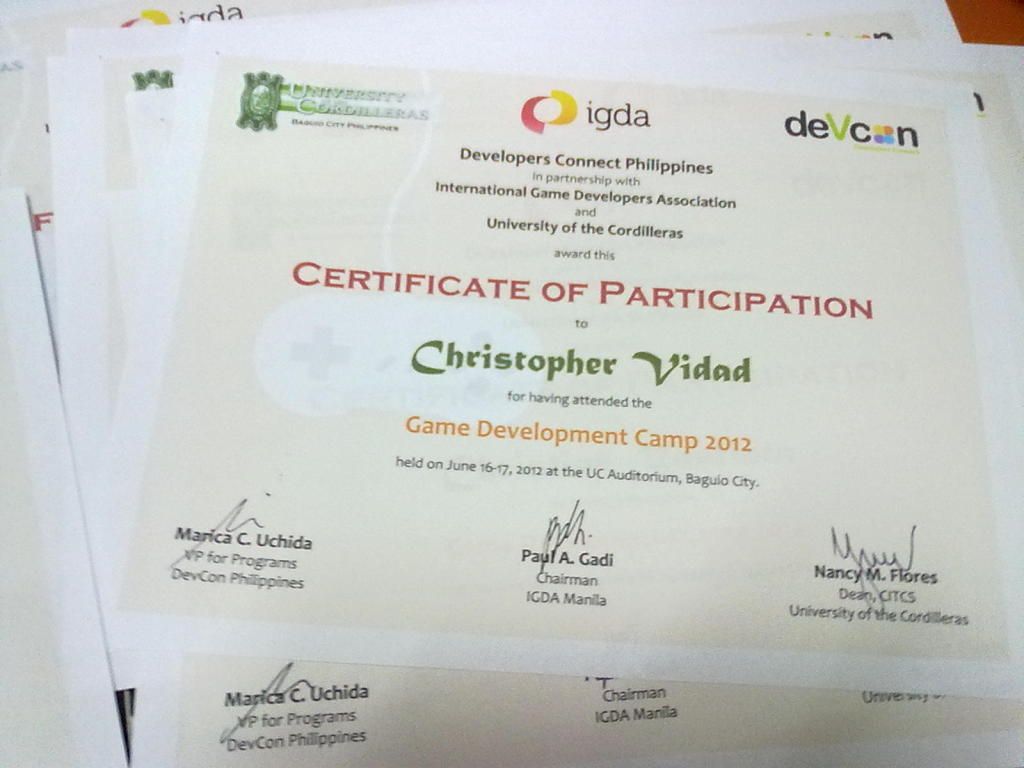 Certificates
Saturday, 09 June 2012 00:44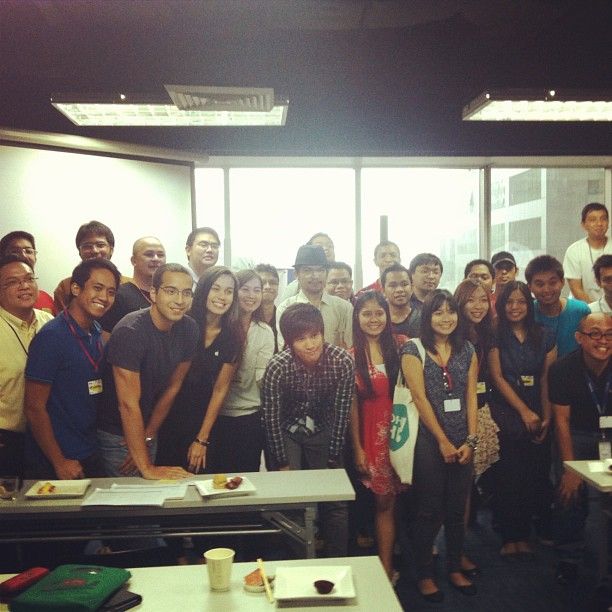 Awesome Twitter Teatime Manila attendees! Photo by John Arce
Last June 7, 2012, I assisted Sir Yappie in coordinating the Twitter Developer Teatime - Manila at Exist Tech Bar.
Anne Michelle Santos of Globe Labs gave a presentation on Twitter API while Javier Olives of Smart Communications on Mobile and Twitter. Jan Michael Ibanez of Code Flux, Kurt Silvano of Wunderman, Patrick of Traffic Dito and Bing Bryan Tan of Brewed Concepts gave short talks of what they are doing with Twitter API. Lastly, the visual teleconference through Skype with Twitter's Jason Costas.
The event was a great venue to learn, socialize and eat! haha. Kidding! It was fun!
Michael Angelo, Jonathan Richie Yap (Sir Yappie) and Radge Falcis spearheaded the event.
Thanks big time to the event partners Developers Connect, Exist Software Labs, Inc., The APP Consortium, WebGeek PH, Wunderman, IdeaSpace, Smart and Globe.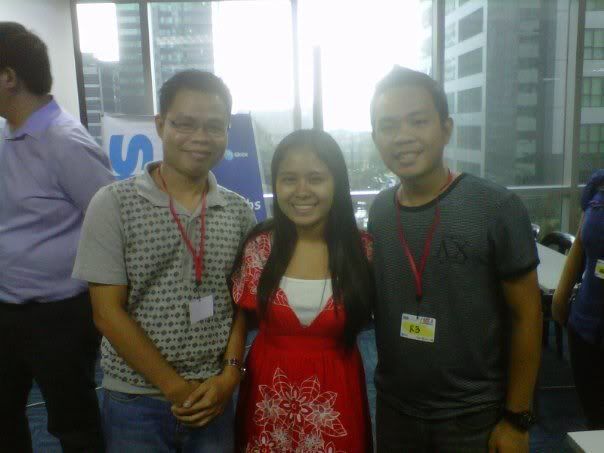 Successfully convinced my two brothers to join the event. Thanks Terence for taking the photo!
Wednesday, 30 May 2012 11:13
John and me with iPad 3. Photo by Alexei Rivera
Tattoo powered by Globe officially launched the Apple iPad 3 last May 29, 2012 at the Exchange Plaza, Ayala Triangle. Tattoo Brand Ambassadors Georgina Wilson, Tim Yap and Miggy Chavez were there to grace the event. John Arce, WebGeek Founder, got a VIP pass and tagged me along. Thanks John! Interesting night!
Photo by John Arce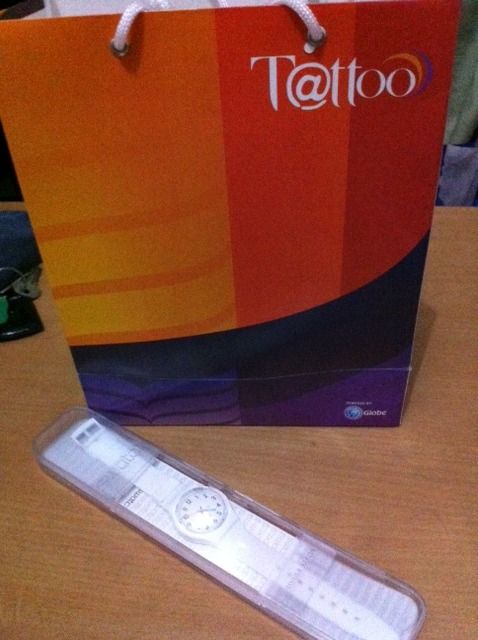 Swatch watch for souvenir
Saturday, 28 April 2012 00:12
I love DevCon. I've been posting a lot about DevCon events but I haven't really shared what DevCon is about. So here's a post dedicated for it. I got all this information from a brochure I found in my files.
DevCon events are gatherings designed to facilitate collaboration, interaction and mentoring among the leading practitioners of the Philippine Software Industry.
Designed to be a premier gathering of all Filipino software engineers, DevCon facilitates collaboration, interaction and mentoring among the leading practitioners of the Philippine Software Industry. DevCon adapts the global best practices for skills improvement and professional advancement. DevCon "unconferences" feature three main activities that have proven to be successful formats in international technology gatherings.
Mission
Promote and propagate the software engineering profession in the Philippines
What is DevCon?
A registered non-stock, non-profit organization founded in June 2009, DevCon provides a relaxed venue for individuals to socialize with fellow geeks, mentors, employers and the rest of the IT community.
Interaction
Our events have evolved from unconferences (composed of Lightning Talks, Birds of a Feather and Hackathon) to focus-group driven Geekups and Code Camps that envision the bridging of the academe-IT industry divide.
Lightning Talks
Lightning talks are very quick presentations delivered with or without auxiliary visual materials. Each speakers has a maximum of 10 minutes to present his idea, including preparation time, self, introduction, Q&A, etc.
Birds of a Feather (BoF)
BoF topics needs to have a broad appeal to be successful. It is very important for the moderator to create quick summaries of the debater's answers and quote snippets to keep the audience stimulated because they will decide later on who the winners are.
Hackathon
The hackathon is usually a one-hour competition that requires a team to execute a programming or web activity that results in a work product that can be judged. Participants will be provided with the tool or platform site.
Campus DevCon
In partnership with the Philippine Society of IT Educators (PSITE), each campus DevCon converges an average of 200 students taking up Computer Science and other IT-related courses. We total to about 30 schools nationwide in a year.
DevCon Geekup
As prelude to another DevCon event, the geekup was tailored to accommodate inquiries about DevCon itself and the foundation. You tell us how we can help you via small group sessions.
DevCon Code Camp
A technical session that seeks to build up the technology capabilities of our IT professionals, this can cover any specific type of development: from web and mobile to game and cloud, from Java and Ruby to .NET and project management. We are working on collaborating with a number of technology user groups as well as corporate partners which can act as the backbone of this activity.
DevCon Summit
This is the main event of the year composed of a geekup and code camps meant to showcase the IT Pinoy Talent.
Don't forget to visit the DevCon website! www.devcon.ph
Saturday, 28 January 2012 23:00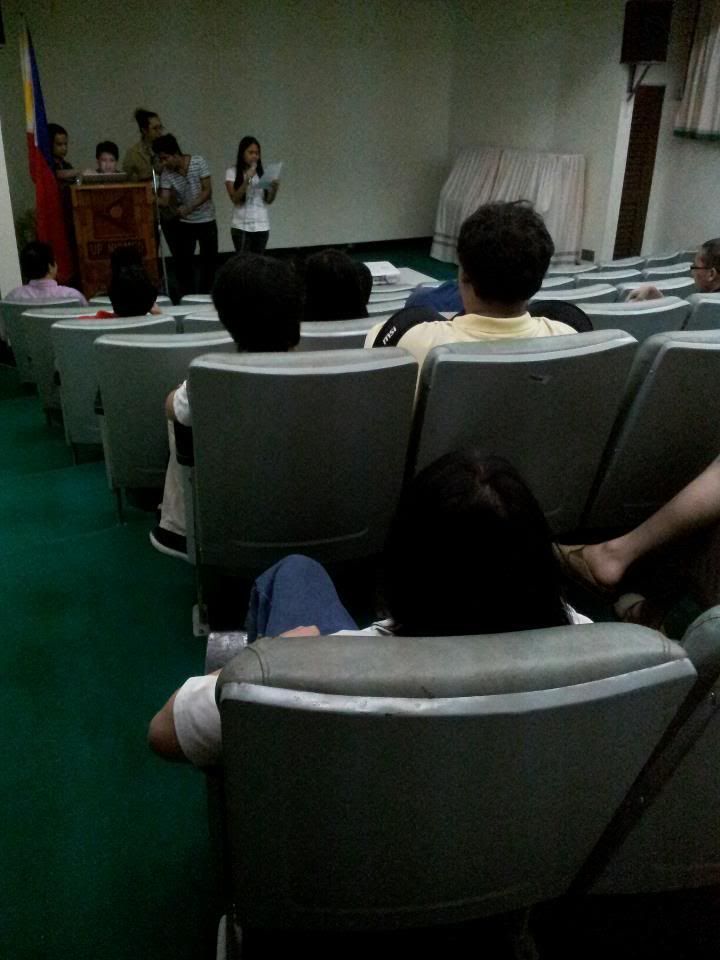 Hosted the opening of Manila Game Jam 2012 - UP ITTC. Bucket list #7: COMPLETE!
With around 30 participants at Manila Game Jam (MGJ) 2012 - University of the Philippines Information Technology Training Center (UP ITTC), we proceeded with the opening program by 5PM last January 27, 2012 at the audiovisual room.
The original plan was to stream the program from MGJ - College of St. Benilde from the opening remarks of Paul Gadi, the International Game Developers Assocation (IGDA) Chapter Coordinator, until the keynotes. However, the connection sucked. We continued with the program with Marnielle Estrada giving the opening remarks. While trying to buff the Youtube video for the keynotes, we bought some time through a getting-to-know-you activity. Share your name, your company and your games. Then we gave out sponsor shirts to the guy (Mr. Sony Valdez) who could name five names (must not their colleague), the guy (Mr. Levi Tan Ong) who could share his expectation of the event, and the guy (forgot the name) who could name the current person giving the keynote message. That was fun!
Photo by Florida Ortiz
Monday, 23 January 2012 01:15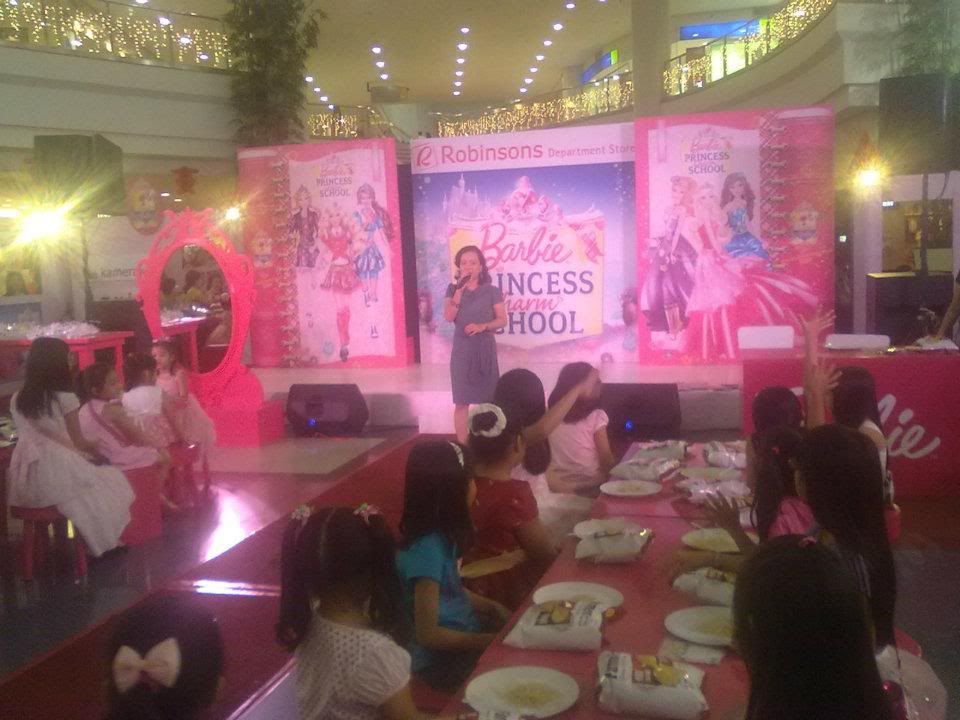 The Barbie Princess Charm Teacher Mai and her cute girls
Got the chance coordination with Ate Mai and team for the Barbie Princess Charm School at Robinsons Place Manila last January 21, 2011. Cute little girls were being taught the proper table etiquette and how to act princess-like on other different situations. The girls were also tasked to design their own tiara, wear it and ramp on stage.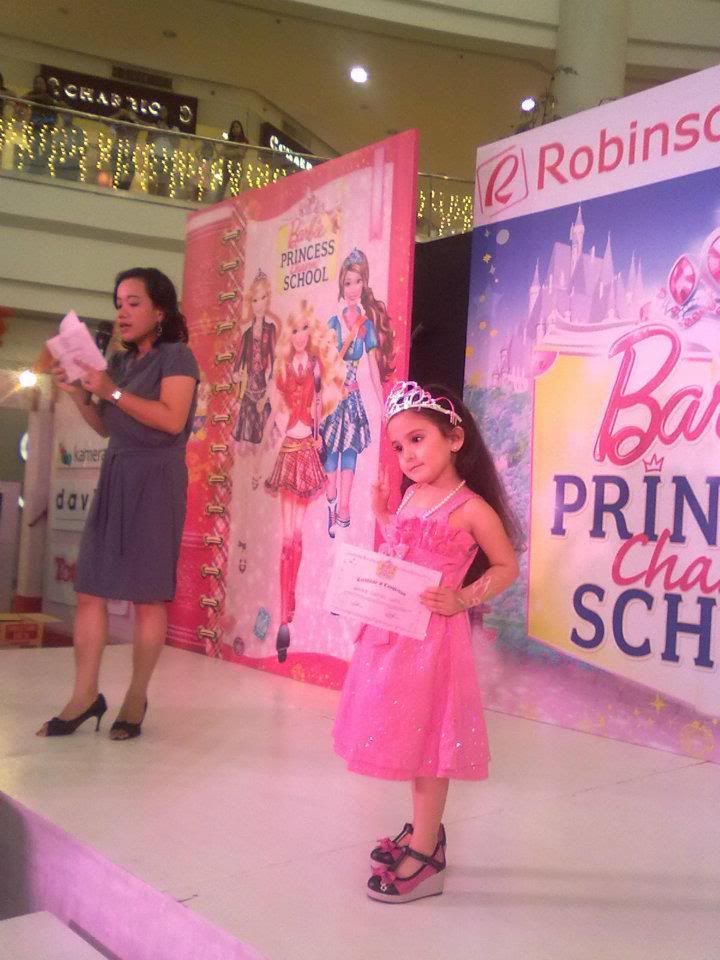 Meet Nathalie, the cutest girl evuuurr!
Barbie girls busy designing their tiaras
Meet Evie! I helped her design her tiara. :3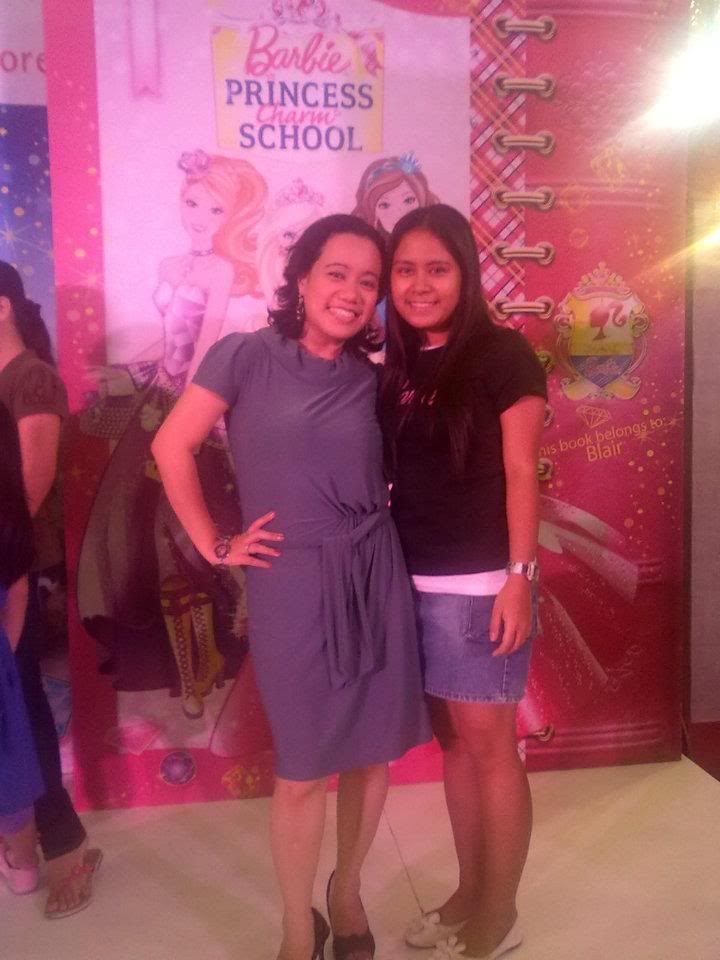 Ate Mai and yours truly
Monday, 26 December 2011 01:52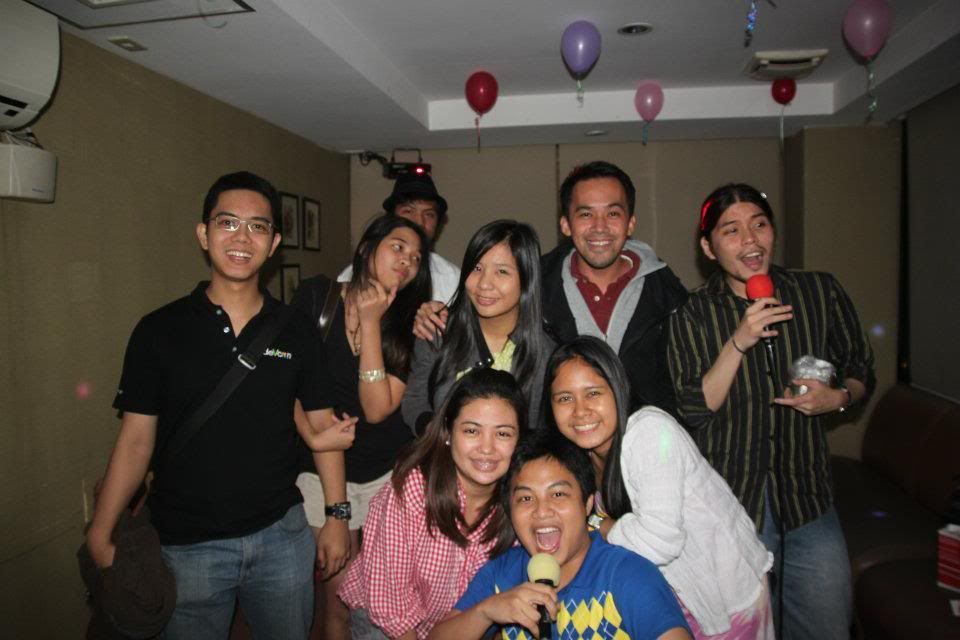 I had another fun night last December 17, 2011 with my favorite crowd! This time it's the DevCon Christmas Party for members and volunteers. We had dinner at Gerry's Grill at Greenbelt 3 then proceeded to Centerstage, Makati for videoke.

The guys present during dinner were Ms. Joed, Franz, Sir Jonathan, Bryan, Nelvin, Jeric and his girlfriend, Lope, Jodi, Marica, Terence, John and Mina. Paul and Ernie catched up at Centerstage.

Consider me a newbie at alcoholic beverages that's why I'd like to take note of these stuffs. We had San Mig Pale Pilsen (too bitter, not moi type) at Gerry's Grill then Screw Driver (weird name), Tequila Sunrise, Margarita Frozen (+1!) and San Mig Light at Centerstage.

I arrived home past 3AM already. Going home late is okay as long as I'm with them because it will always be more than worth it. Saya much nila kasama. Naks naman. HAHAHA.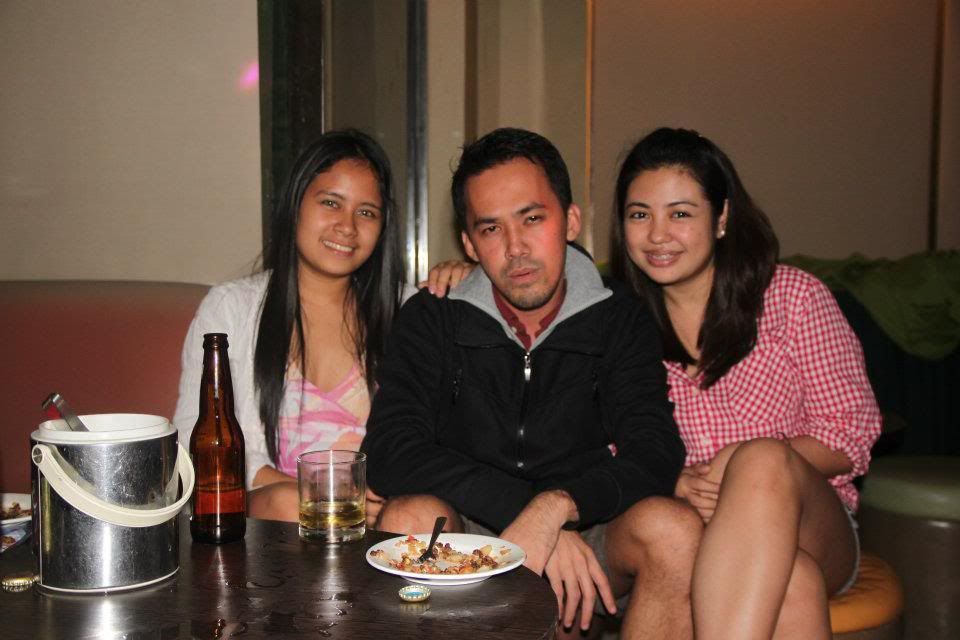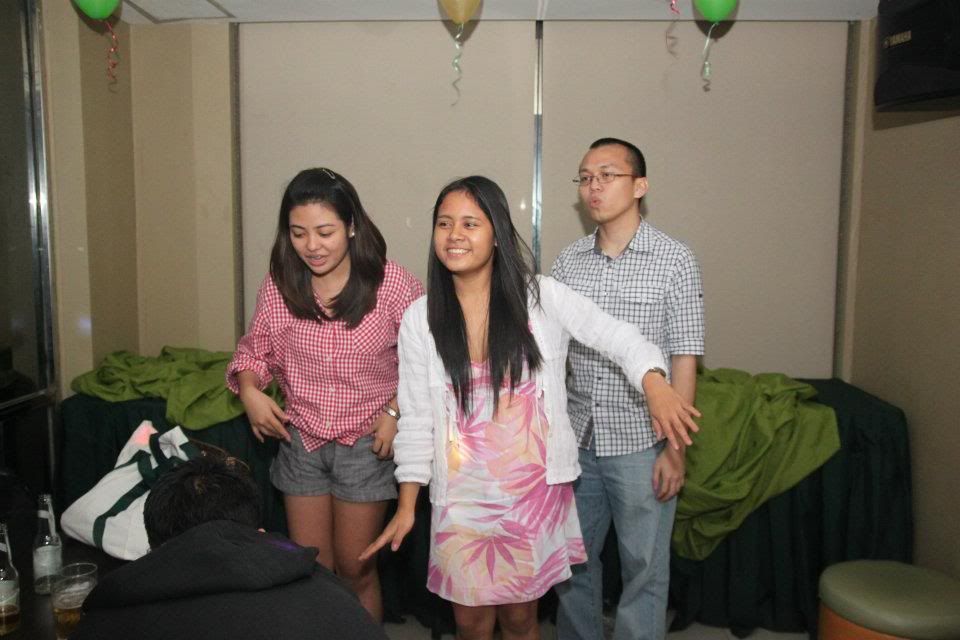 DevCon guys are awesome. Amen! :P
Photos by Jodi Herrera
<<

Start

<

Prev

1

2 Next > End >>


Page 1 of 2