About Haifa Carina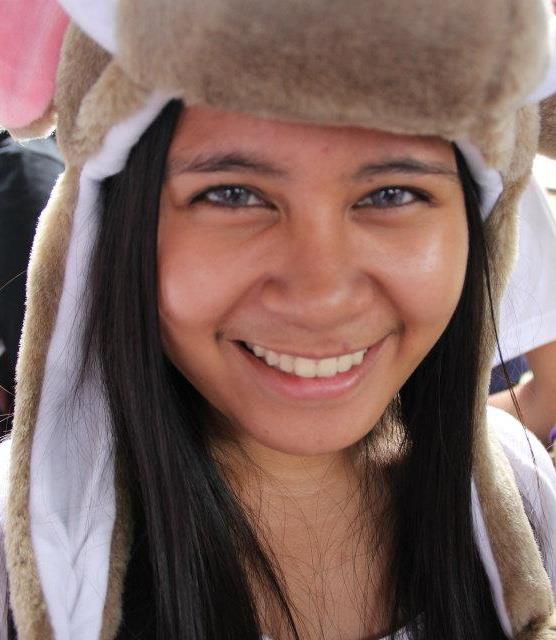 Hi! I'm Haifa Carina
from the Philippines.
iOS developer. Events Organizer.
Adventurer. Ponderer. Dreamer.
I am real.
I like green!
I give hugs!
I love challenge.
I hate leeches.
I want to travel the world!
I wish I could teleport.
I need you to be real.
I will build my underground house.
I was always impulsive.
I feel restless inside.
I think I can do anything.
I say "Life is short, enjoy all the way!"
Email Me: haifa@baluyos.net
Facebook: haifacarina
Twitter: @haifacarina
Instagram: @haifacarina
Are you a developer in the Philippines? Join us at Developers Connect (DevCon)!
http://devcon.ph/

Travel
Saturday, 05 May 2012 13:31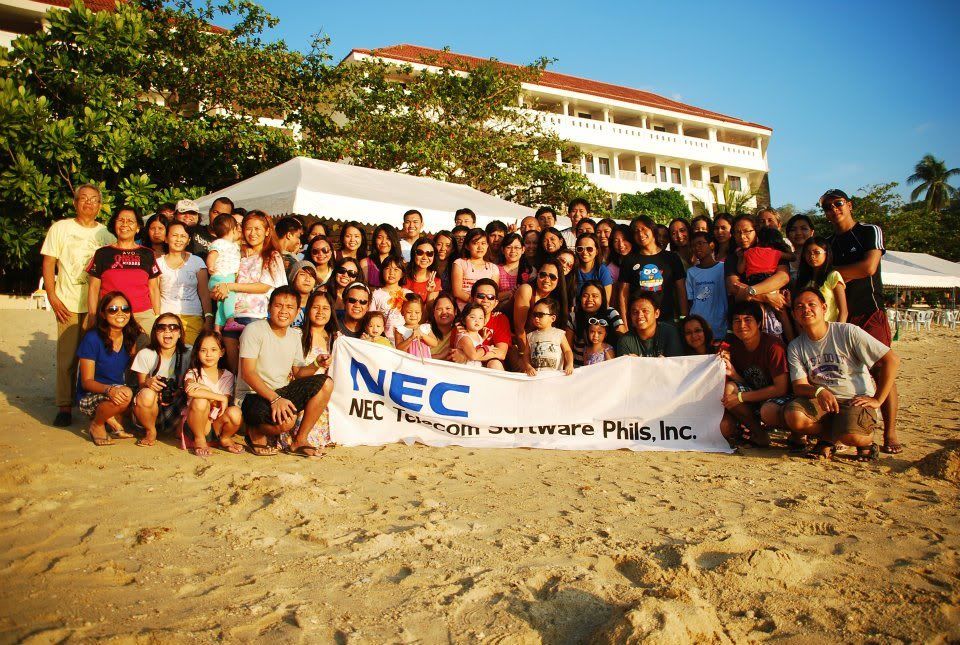 The NEC folks and their plus ones
I got lucky my big brother, Labe, invited me to join their company (NEC Telecom Software Philippines, Inc.) outing at Canyon Cove Resort, Nasugbu, Batangas last 21 April 2012 with their theme "Extra Fun with Plus One!". Uh-huh! I'm his plus one! Even got luckier because he found a way to have me bring another friend with me, Kor.
Call time was 4AM at Shell near SM Makati. During the four hours travel by bus, Kor and I had a long crazy chika galore session. Labe texted during the ride that the two of us are so noisy he could hear our conversations from his seat which is three rows away. When we arrived there, the resort staff gave away wrist stubs. For our group, we got yellow! I was amazed how many company outings were held there that day. There were labels in each tents. The place was jam-packed! We had games, frisbees, guitars, photobooth and my favorite, FOOOOOD!
Many started to get wet in the beach. Kor and I waited a little while after lunch then went to the pool. It's interesting how the coconut trees were stationed inside the pool area. You can use them as covers to avoid the sun. Many times, people would swarm at one shaded portion of the pool and stay there until the sun will again be covered with cloud then people will disperse. Another thing to note, the life guards seem to enjoy watching girls removing their top covers (usually girls). haha. They don't allow swimming with shirts on.  Oh, well. Rules are rules.
Overall, I had a blast! Thanks Labe for tagging me and Kor!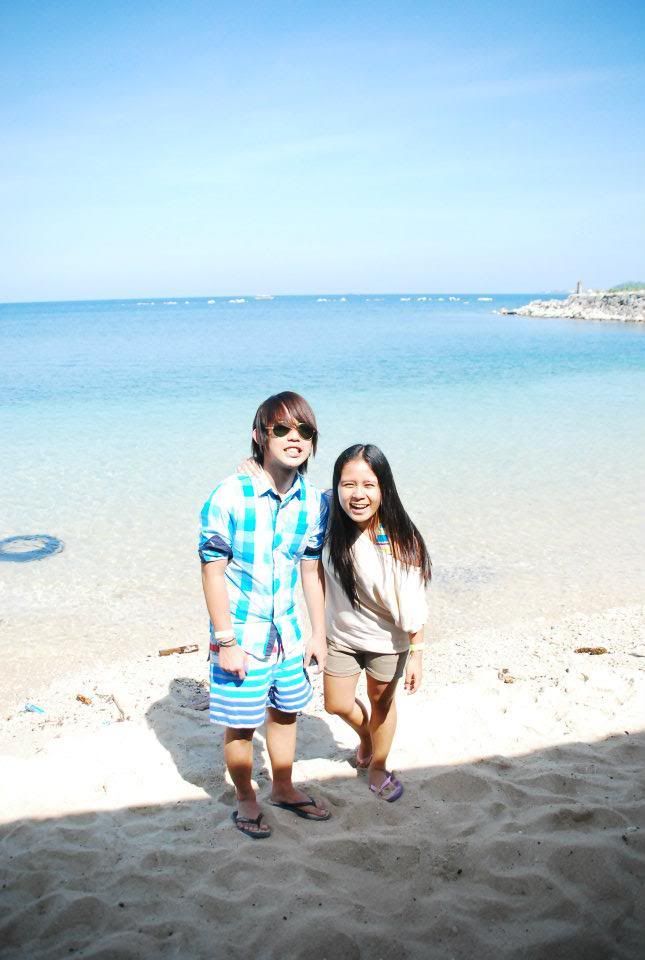 Kor and Haifa
Big brother (Ridvan) and his girlfriend (Jen)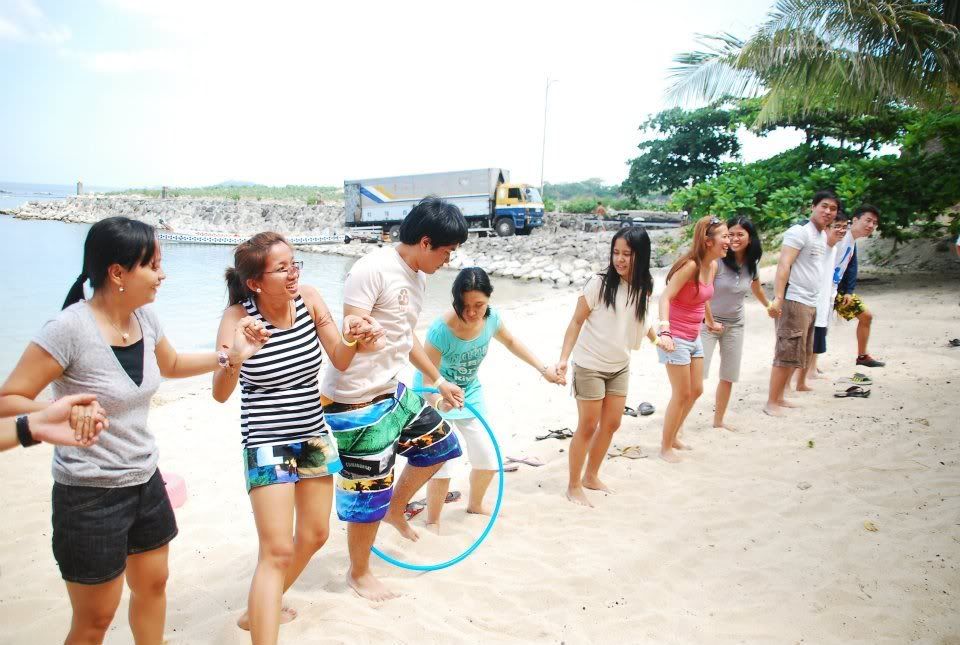 Hula hoop relay game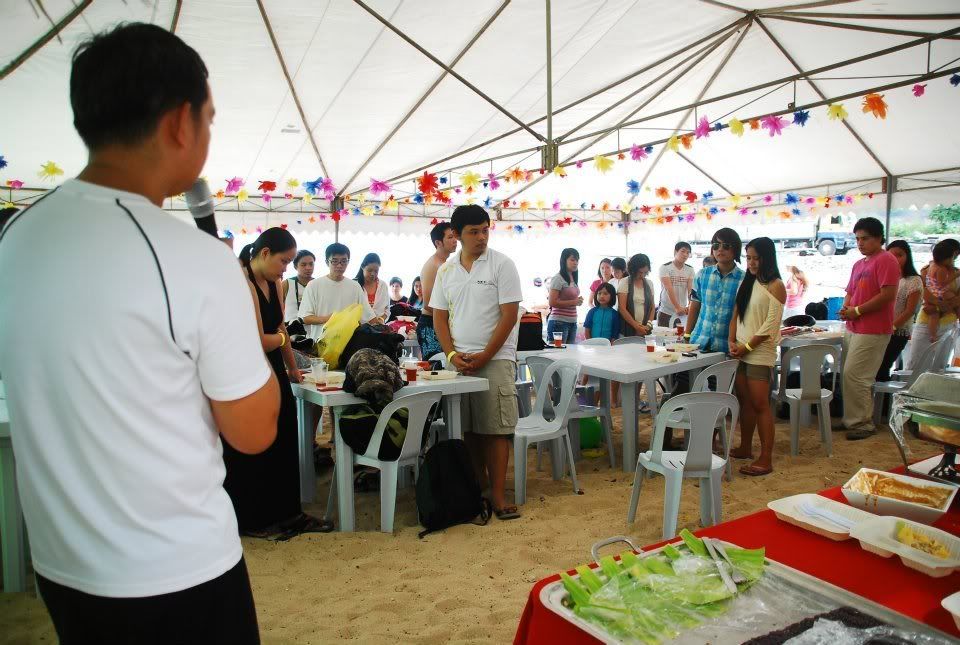 Thanking God for the food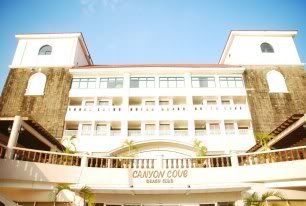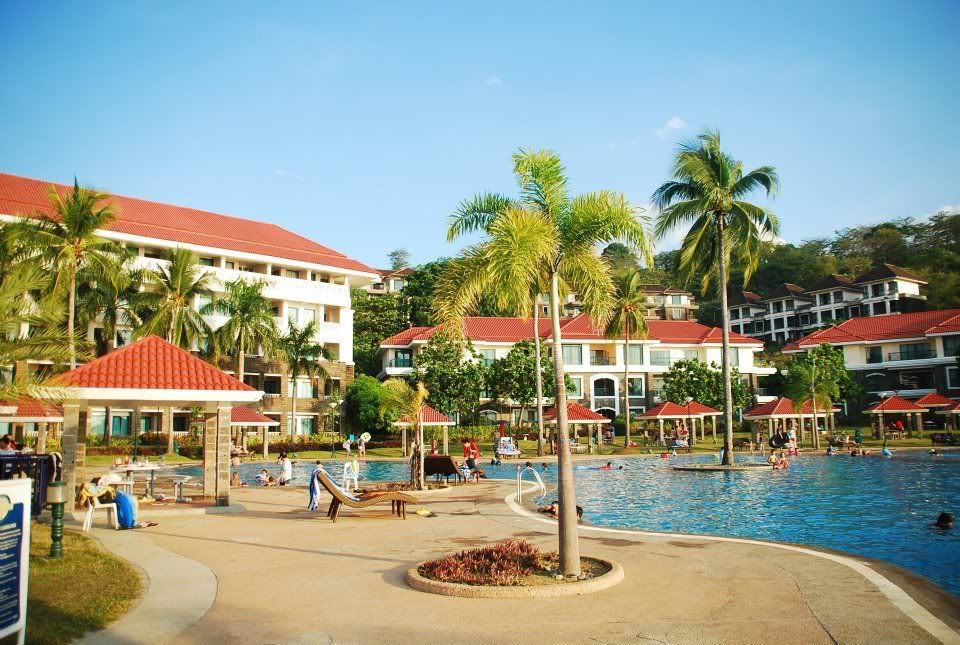 Photos by Ridvan and Haifa
Saturday, 31 December 2011 15:00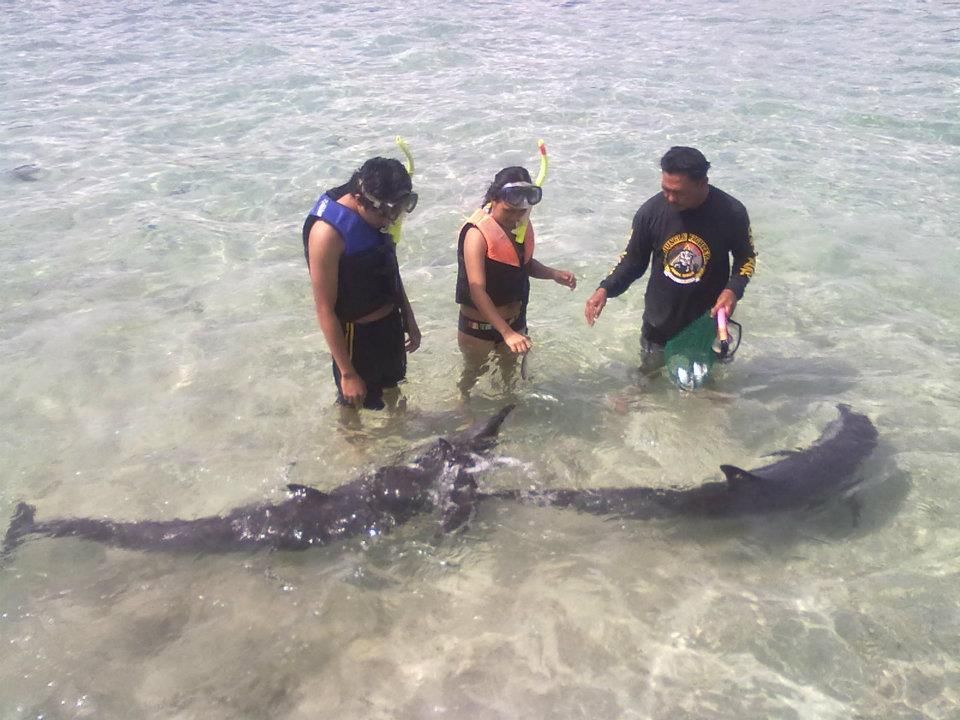 Feeding the dolphins
30 December 2011, Franz and I went to see, swim, feed and play with dolphins at Dolphin Island - Misamis Occidental Aquamarine Park (MOAP). This is no doubt my best trip of 2011!

MOAP is located Sinacaban, Misamis Occidental. Entrance fee was only PhP 10.00. There were also plenty of guests when we arrived. We then headed straight to the part where we would ride a boat to Dolphin Island.  Roundtrip fare and entrance fee to Dolphin Island is only PhP 300. We paid another PhP 300 to swim and play with dolphins then PhP 100 for the lifevest.

Since we arrived with many other guests, Kuya Dario suggested we start with snorkeling first since there were still plenty wanting to swim with dolphins. He introduced Kuya Fernando as our guide. The scene underwater was like paradise! The different schools of fishes were busy going to different directions. They're so colorful and beautiful! I felt like watching Finding Nemo live. Then there were giant clams I want to hold but I still don't know how to swim. Then, Kuya Fernando gave us dead fishes to feed the fishes. As Franz called it, cannibalism.  I think the fish we were feeding them were the small fishes we see in the market. The snorkeling experience was just too awesome I want to do it again!

Then the most awaited part, SWIMMING WITH THE DOLPHINS! Weee! Just as others say, dolphins are very playful creatures. We just walked in the water and there they were surrounding us already. At the part where the water level is deeper, we were able to swim and play with them, laugh with them, fed them, hug them, and listen to the dolphin sound (more like a dolphin squeek) I only hear at movies. Oh, Dolphins.. i so love you already. >.<

After the swimming with the dolphins, Kuya Dario said we could swim at the mini white island just few meters away from the dolphin pen. We ran, roll, spin and lay. For a moment, we even played Survivor. Franz and I played there like we owned the island because no one else went there. Most of them stayed near the cottage. There were also a portion in the island where waves crash against each other from different directions and we stayed there to see how tough we were sitting still against the fighting waves. We went back after feeling a sort of sunburn already.

We stayed at their cafeteria, ate and waited for the our boat ride. When we were about to leave, Franz noticed the dolphins went near the two of us as if to say goodbye. Awwww.. T____T Dolphins, you're so sweet. I'll miss you all so much! >.<
Water is murky due to last night's rain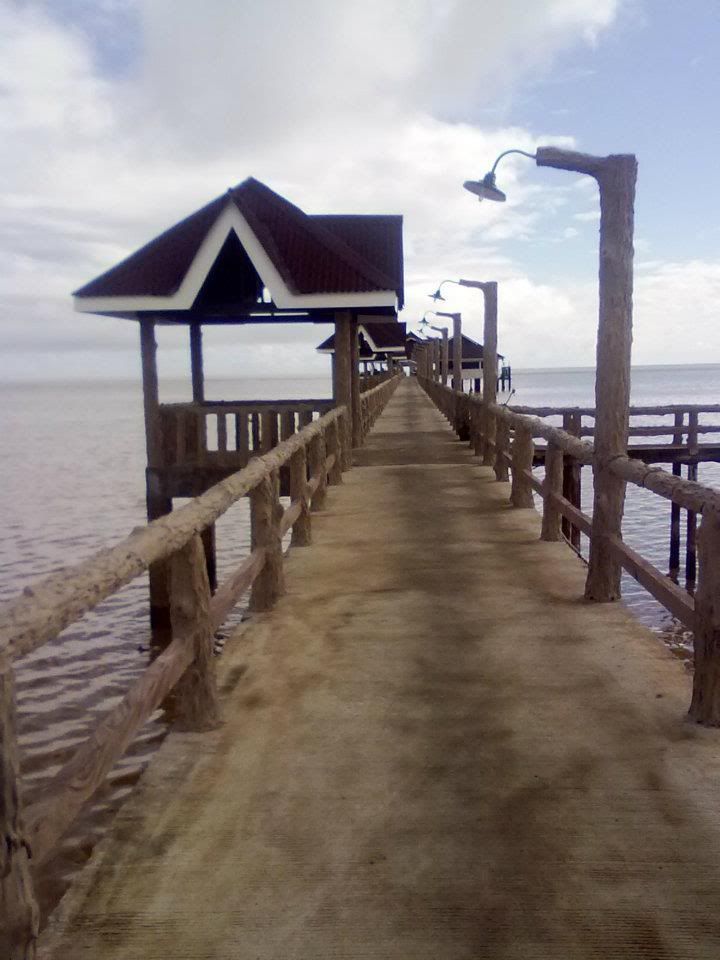 At the boat with other Dolphin island guests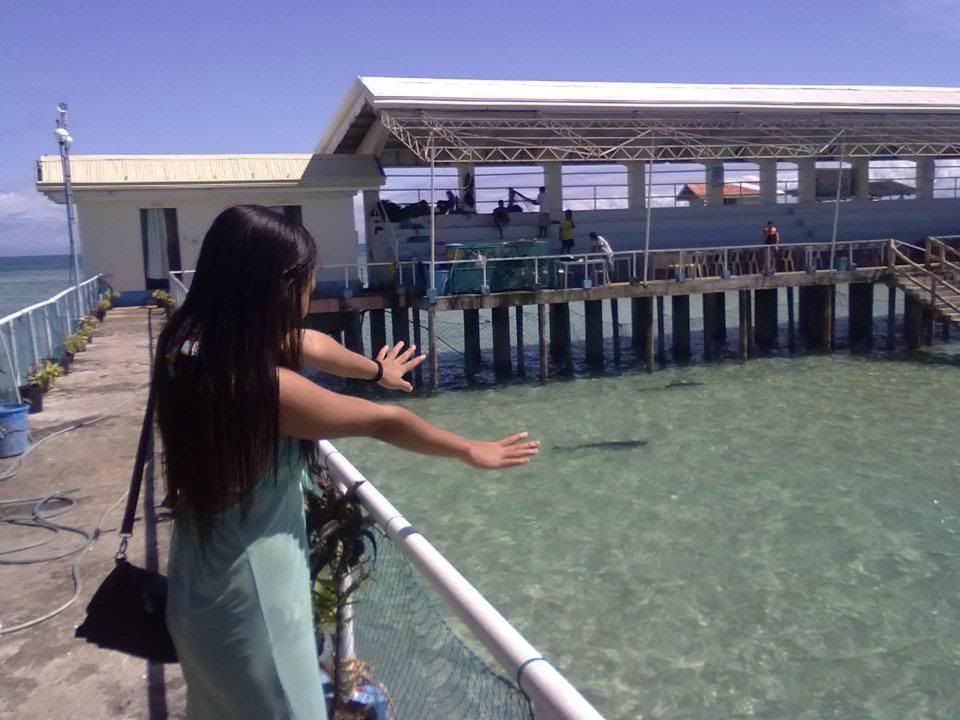 Dolphins! I'm coming!!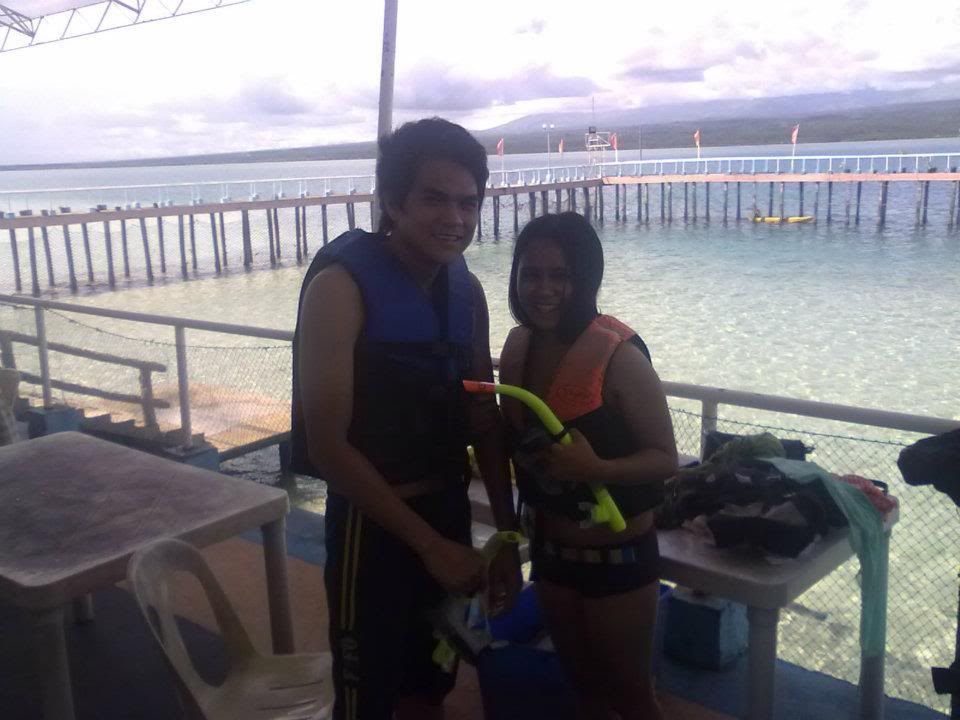 Meet moi bibi :P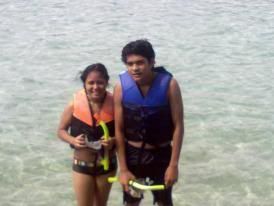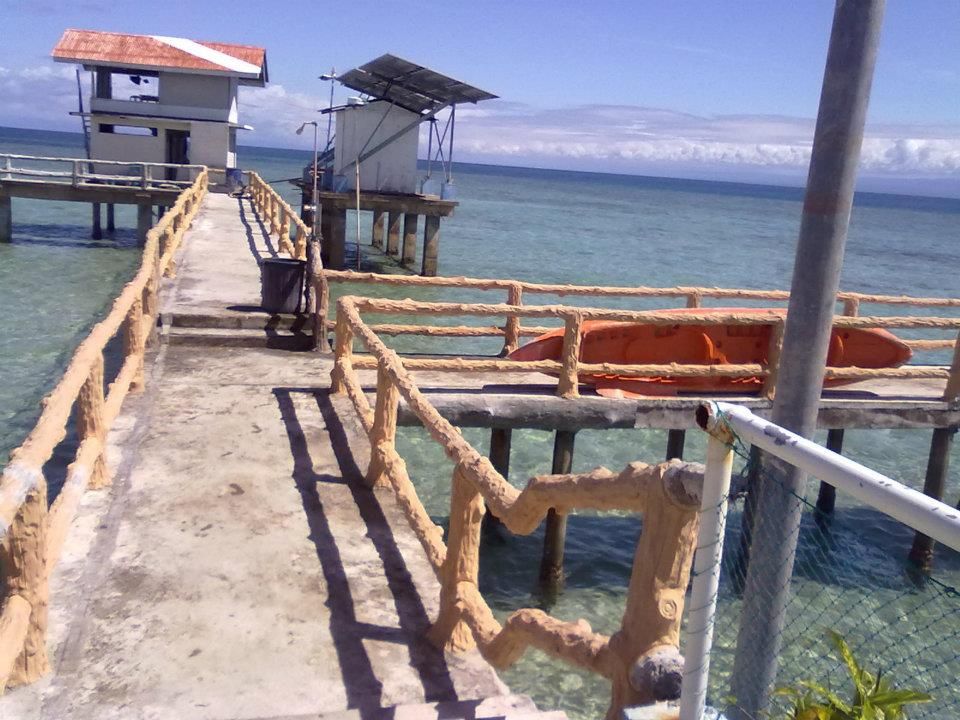 The mini white island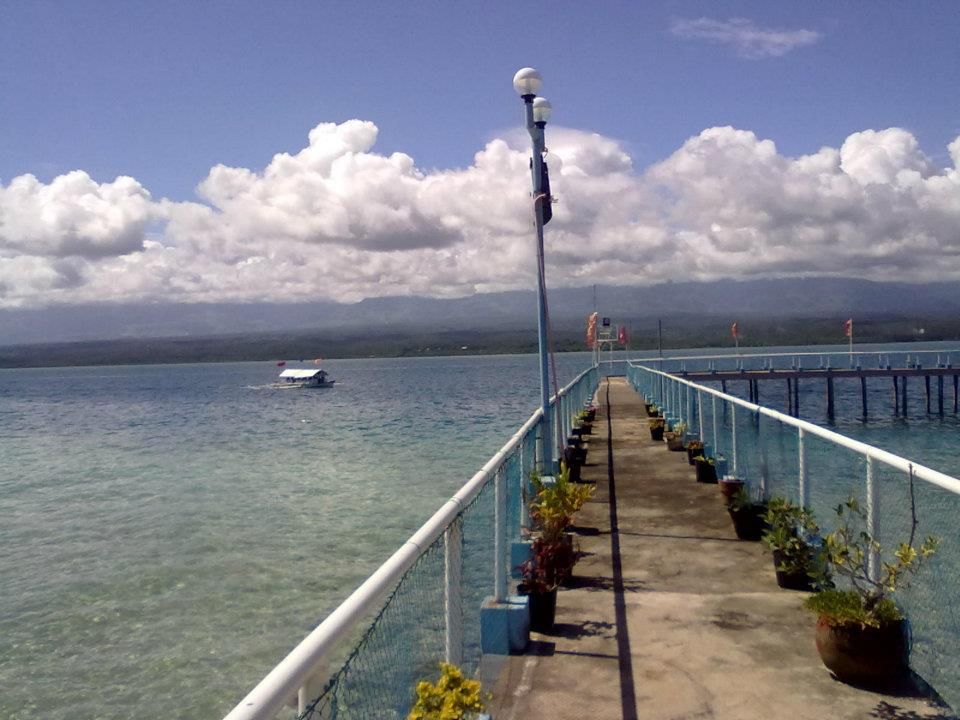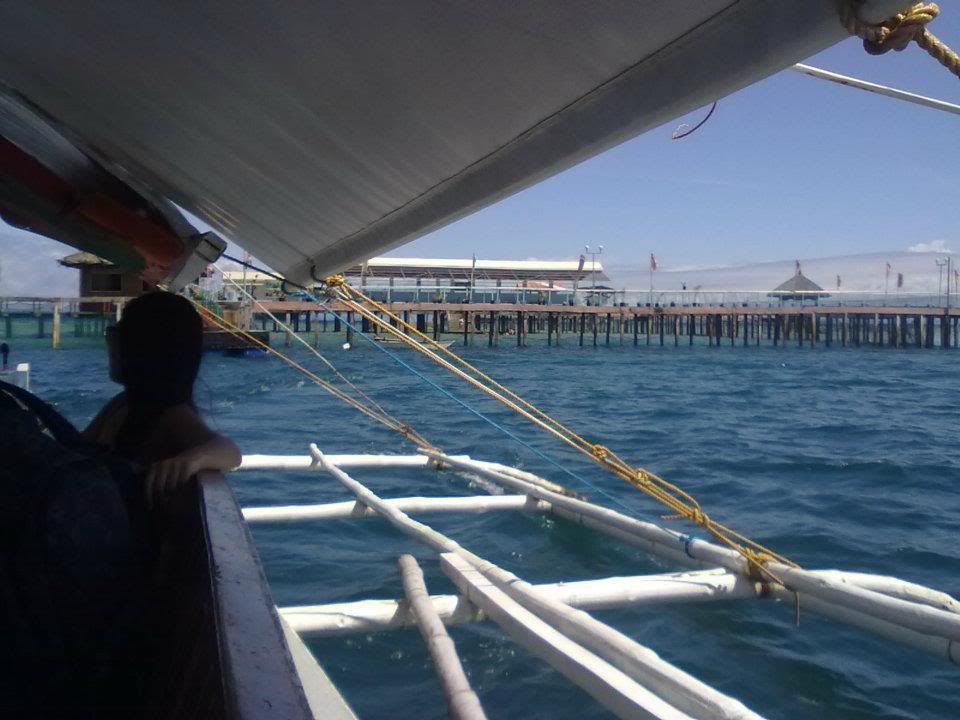 Bye bye Dolphin Island
P.S. For more detailed and informative blog on the Dolphin Island experience, I recommend Sir Jojo Ayson's blog post about it.
Saturday, 31 December 2011 11:30
Two days before the 2011 Christmas, my adventurer feet took me to Waig Resort at Maramag Bukidnon! I was super excited with the spiral slides but when we got there, they were not operational. Too bad. But I still had fun jumping at the diving platform and their sisig was delicious! Waig Resort was still a nice place to unwind with the fresh air and the mountain view.
Friday, 04 November 2011 01:18
My Cousin Kc and me at Baclayon, Bohol ;)
I went to Cebu on Oct 29 without informing my family because I was sure they won't allow me. Bad girl! LOL. But they all knew I was bound for Bohol to visit my daddy's grave at Baclayon. Franz adopted me in their house during my stay in Cebu. Auntie Juvy adopted me and Franz in our stay in Bohol. This is the best travel experience of my year!
Here's a summary of my strangeland adventures:
Oct 29. Welcome to Cebu! Sunflower.
Oct 30. Magellan's Cross. Basilica de Santo Niño. TOPS Skyline Garden. Awesome Shrine (Colon Monument). Timezone at Ayala Mall.
Oct 31. Lunch with Uncle Leo at Park Mall. Reunited with Shorod. Puss In Boots 3D. Praybeyt Benjamin.
Nov 1. Welcome to Bohol. Auntie Juvy. KC. Cemetery. Panglao Beach (Dumaloan). Road Trip. Hamsters (Shaunty & Tyler/Rio/Pikachu).
Nov 2. Office work at Bohol. Literally dragged someone to take a bath. BQ Mall. I love you Bohol. I SHALL RETURN!
Mactan-Cebu International Airport
Magellan's Cross
One view of the Colon Monument. Franz calls it "Awesome Shrine".
Optical illusion of the awesome shrine ;)
Now off the SuperCat ship at Tagbilaran, Bohol
Monday, 12 September 2011 01:40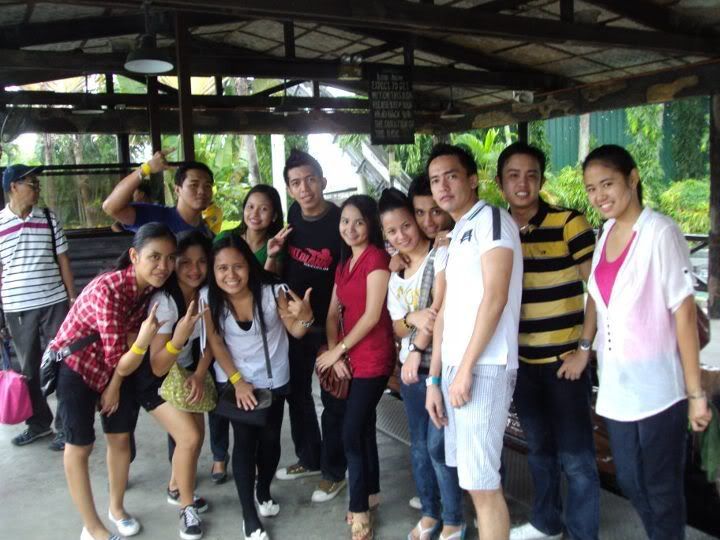 Wet Looks after Jungle Log Jam Ride
Saturday spent wisely at Enchanted Kingdom! I won't forget September 10, 2011 when I actually felt dizzy and about to vomit after the Space Shuttle ride. haha. Thank you Ensogo for existing! We only paid PhP 300 instead of PhP 500 (regular pass) on a pre-anniversary enchanting treat at Enchanted Kingdom.
Our rendezvous point was at Wendy's, Park Square, Makati. We walked our way to the fx/van terminal just below Ayala MRT Station. The van fare was PHP 360 per person roundtrip. We left past 10AM and our pick-up time was 9PM.
Our first ride was Flying Fiesta. Then we went to experience Rialto, the movie theater with moving chairs. We watched Happy Feet, the dancing and chasing part. That was a moving movie, literally. lol. We had lunch at Amazon Grill. We also went to experience Space Shuttle (Roller Coaster), Anchor's Away, Roller Skate (Mini-roller coaster? XD), Wheel of Fate (Ferris Wheel), Anchor's Away, Carousel, Bump N' Splash, Rio Grande and Jungle Log Jam.
Saturday, 03 September 2011 18:05
Taal Volcano on the background
I had my first long weekend since I started working last May. Days before that, I was pretty jealous of my officemates who were sharing their plans and I got none. Then an idea came up to spend my long weekend with Ate Mai. Funny, she was also thinking of the same thing. Ate Mai lives in Obando, Bulacan.  So for my August long weekend, I was able visit Obando (Bulacan), Pandi (Bulacan) and Tagaytay.
Saturday, 13 March 2010 08:00
I was born and raised in the City of Golden Friendship, Cagayan de Oro. The place is also known as the City of White Water Rafting deeming the said recreational activity as one of its major tourist attractions. Here's a thought: Kagayanons (the city's inhabitants) are proud of this tourist attraction but many of them still haven't tried it. And I belonged in that category until the IT folks from RAMCAR came over to try it. Kim and I agreed and requested to join them in their adventure.
On an early Saturday morning (13th March 2010), Kim and I went to UCCP (rendezvous point). We dropped by the 1st Rafting Adventure office before setting off to the starting point of the white water rafting. Kim and I sat at the front seat of the jeepney, as usual, and had a little chitchat with the driver (also a rafting staff). He advised us to really put on sunblock. Thanks to Kuya driver for the advice!