About Haifa Carina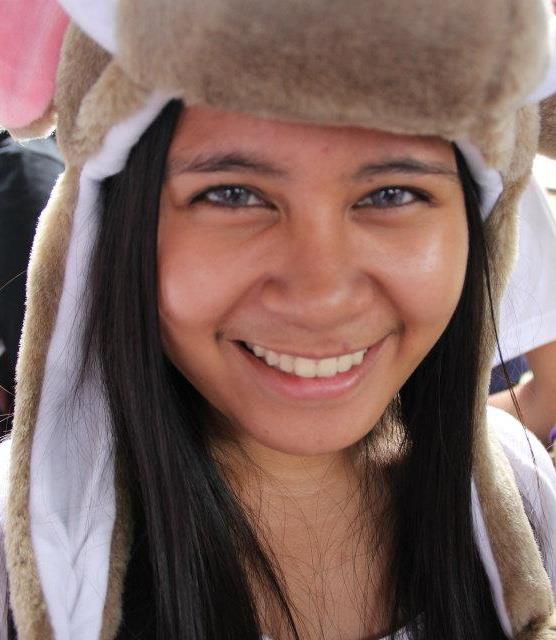 Hi! I'm Haifa Carina
from the Philippines.
iOS developer. Events Organizer.
Adventurer. Ponderer. Dreamer.
I am real.
I like green!
I give hugs!
I love challenge.
I hate leeches.
I want to travel the world!
I wish I could teleport.
I need you to be real.
I will build my underground house.
I was always impulsive.
I feel restless inside.
I think I can do anything.
I say "Life is short, enjoy all the way!"
Email Me: haifa@baluyos.net
Facebook: haifacarina
Twitter: @haifacarina
Instagram: @haifacarina
Are you a developer in the Philippines? Join us at Developers Connect (DevCon)!
http://devcon.ph/

Sunday, 24 June 2012 03:13
I've been really busy lately. Tonight is no exception. But I felt I needed something to inspire my spirit so I took out from my bookshelf John Maxwell's Maximize Your Day. My best friend, Kim, gave me this book on my 19th birthday.
June 24: Make the Most Of Your Gifts And Opportunities
The most striking idea in this entry for me is the quote "My potential is God's gift to me. What I do with my potential is my gift to Him".
I think it's been a productive week for me but I'm pretty sure many of them were a product of mediocrity. I compromised the quality of work because of messed up time management and spending much of my time on useless activities like social media then rush on the tasks when it's due. Can you relate? haha. I'm much better than that. I had to practice efficient time management and spend less time in social media. This way I can deliver better results in what I do. You agree? God happy. Boss happy. Client happy. DevCon happy. Community happy. Family happy. Friends Happy. Me happy. Everyone happy! Now, my gears are oiled! Rakenrol!
Sunday, 27 May 2012 18:33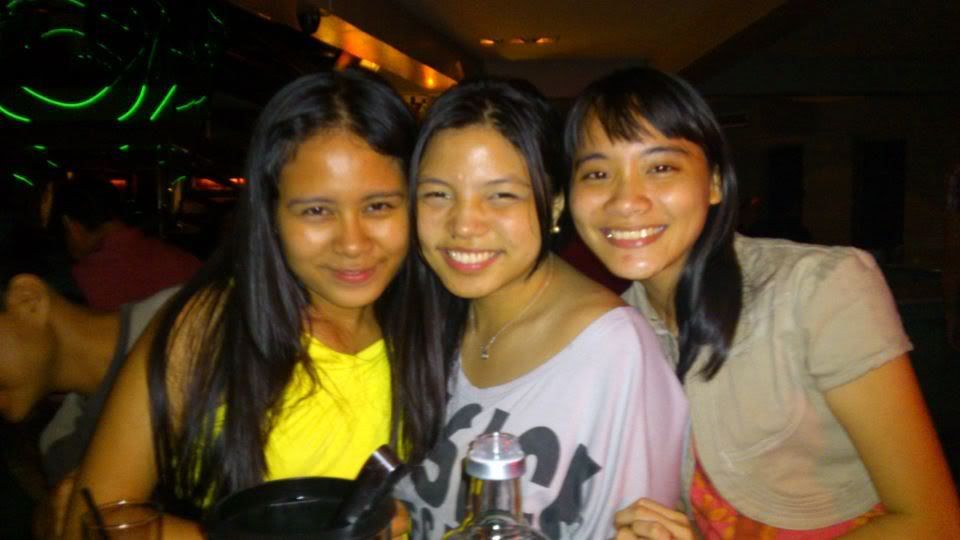 Haifa, Josan and Jossie
It has been awhile since the last time I hang out with Josan and Bryan. So last May 25, 2012, we decided to go night out. We were with Jossie, Hans, Rodel (Han's officemate) and Franz.
We met at Starbucks Greenbelt 3. It was almost 12 midnight when we left for Jupiter Street. We parked near School of Fashion and the Arts (SoFA). Then at Fiamma, we got a table worth PHP 4,000 all consumable. Bryan ordered two bottles of Absolut Vodka, Sprite and cherries. Rodel ordered Kamikazee.
A glass of pure vodka, Rodel was out for his girl hunt… starting at our table with Jossie. I had to admit, I was twitterpated watching Jossie and Rodel talk closely. HAHAHAHA. Then with Rodel away, Hans and Jossie accompanied each other all night! Uuuuyy. I wonder if this pair could do wonders. LOL.
It was fun observing people.. drunk and tipsy people that is. We partied all night until we noticed we were the only group left in the bar then left. To ease down the influence of alcohol, we stopped by Sinangag Express near Buendia-Chino Roces. The sun was half-risen when we all parted ways.
One hell of a night!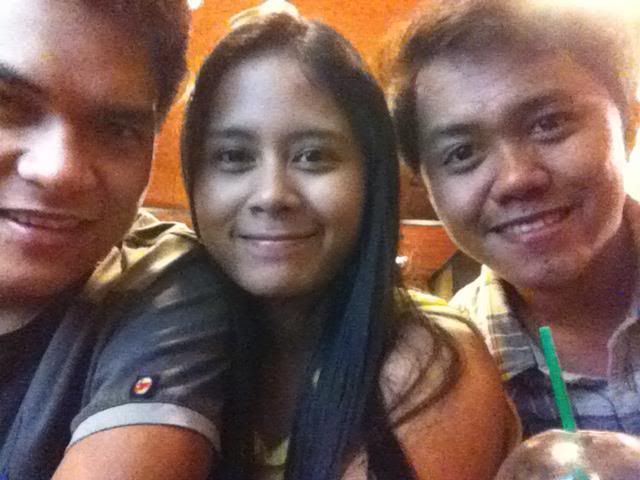 While waiting for the others at Starbucks
Sunday, 20 May 2012 22:56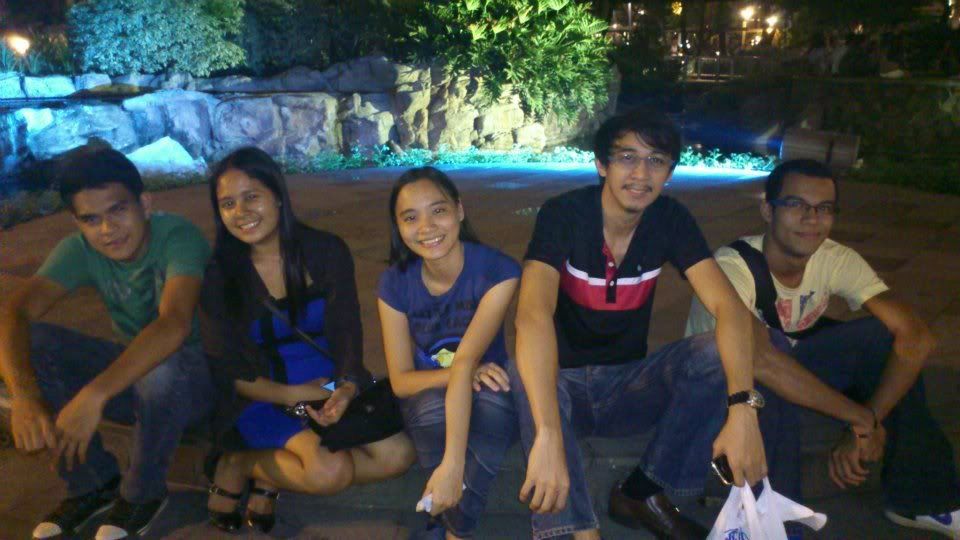 At Greenbelt Park
My last two weekends were filled with night outs like there's no tomorrow.
11 May (Friday)
A friend mentioned about Dilingers in Greenbelt so I suggested to meetup there with college friends Lope, Jossie, Ren, David and my favorite import, Franz. Great place and I love their huge sofa! We had few beers and talked nonstop of random things but mostly of the experiences we have at work. After that, we stayed a little while at the GB park before finally heading home.
12 May (Saturday)
In the morning, I volunteered with Franz and Hans for Couch Surfing Manila Summer Scramble 2012. We were assigned at Quiapo Church. The task at that station was that each member of the team will take one card from a deck. The one with the highest card (King) will be given a tarot reading. After all teams have passed our station, I couldn't let the chance pass and I must have my own tarot reading too! LOL.
Then at night, college friends David, Lope, Hans, Jossie, Ren and Jossie gathered at Ren's place at GA Tower. We had one game of David Game (dunno what the game is called really..haha). The deck of the cards will be distributed evenly among players. Then one by one, each card will be revealed. Each card has a corresponding consequence. For example, I got Card 2. I will take one shot and choose a person who will also take one shot. If I get a 3, I will choose someone to take one shot. If I get a King, everyone will take a shot. if the card is 4, everyone must touch the floor and the last person to touch the floor will take one shot. Stuffs like that. Super interesting game! After one game, we spent the rest of the night talking and debating about ideas on love life.
13 May (Sunday)
It was around 3PM when Julian asked to accompany him watch The Avengers for the 7:55PM show at Greenbelt. I had nothing else to do for the night so, game! I brought Franz with us too.
18 May (Friday)
Franz, Hans and I had dinner first before going to Timezone GB3, the meet up place. I'm not much of a fan of arcades but that night I really had fun. Why? It was because of the two broken basketball machine that we had unlimited shots! haha. After a while, Hans had to go somewhere else then came David, Julian and Lope. We ate McDo and stayed there until midnight before going to Distillery at Jupiter Street. And then, dance dance all night! After Distillery, we stopped by the nearest Starbucks before going home.
19 May (Saturday)
Night out with DevCon peeps! Went videoke at Centerstage with Terence, Yhan (Terence's girlfriend), Andrei, John, Jodi and Lope. Lovesongs ang trip ng tao. BTW, I really love Yhan's voice. Sang our hearts out until 12:30PM then went to TopGrill for more buckets of beer. We also made some plans on what to do for our next night out next weekend. With Lope, John and me left, we stopped by at McDo for some lonely love talks then went home past 4AM.
This is bad. So much alcohol the past weekends. Oh, well.. Nothing beats the crazy experience! ;)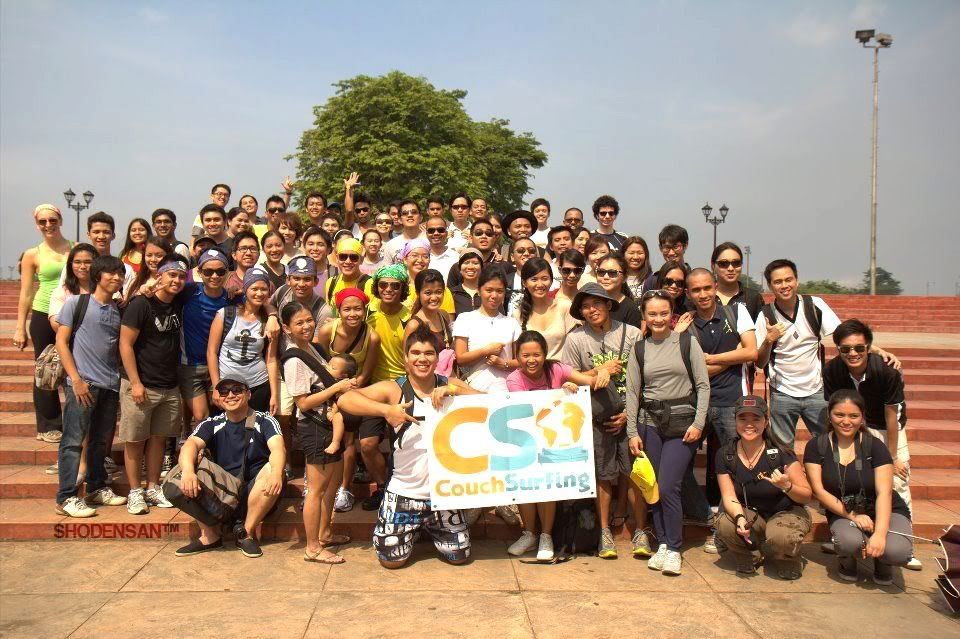 0KM
At Distillery
Kulitan with Jodi and Lope
Wednesday, 25 January 2012 00:59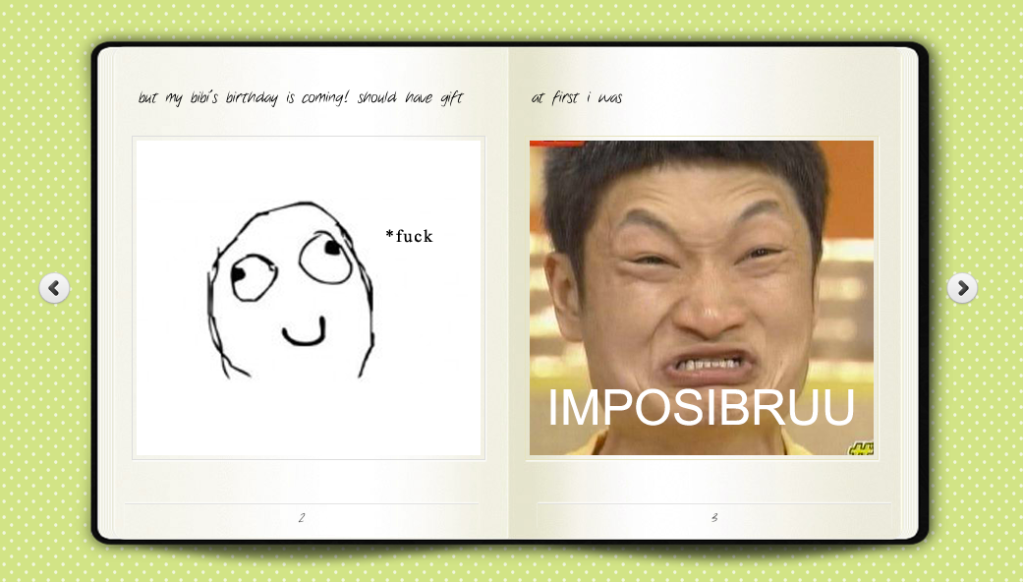 To the very special guy who is thousand miles away but still managed to give me the sweetest birthday gift ever... I'm still wearing the big smile I had an hour ago. haha. Thank you so much bi! :3
Here is the link of the web scrap book he made. :)
Monday, 23 January 2012 01:31
Hans, Kor, me, Julian and Josan
Kim and I decided to have our birthday celebration on January 20 (Friday) with college friends. Kim's birthday is on the 16th. Mine is on the 25th. We had dinner at National Sports Grill, Greenbelt 3 and shared so much catch-up stories from 7PM-10PM.
With me were Kim, Kor, Hans, Josan and Julian. Kim had to leave early but we stayed there until we decided to go to Metrowalk. By the way, I love NSG's steak! Yumm!
At Metrowalk, we seated first at an open area were the band was visible. However, the short drizzle came. So we raised our glasses, cheered Happy Birthday, bottoms up then moved inside. By the way, the center of our conversation was *drum roll* LOVE LIFE! haha. It's ups and down and more.
Another awesome night with great friends. What more now that Kor is here, the more the merrier! FRIENDS. MORE FUN IN THE PHILIPPINES!
Sunday, 22 January 2012 18:56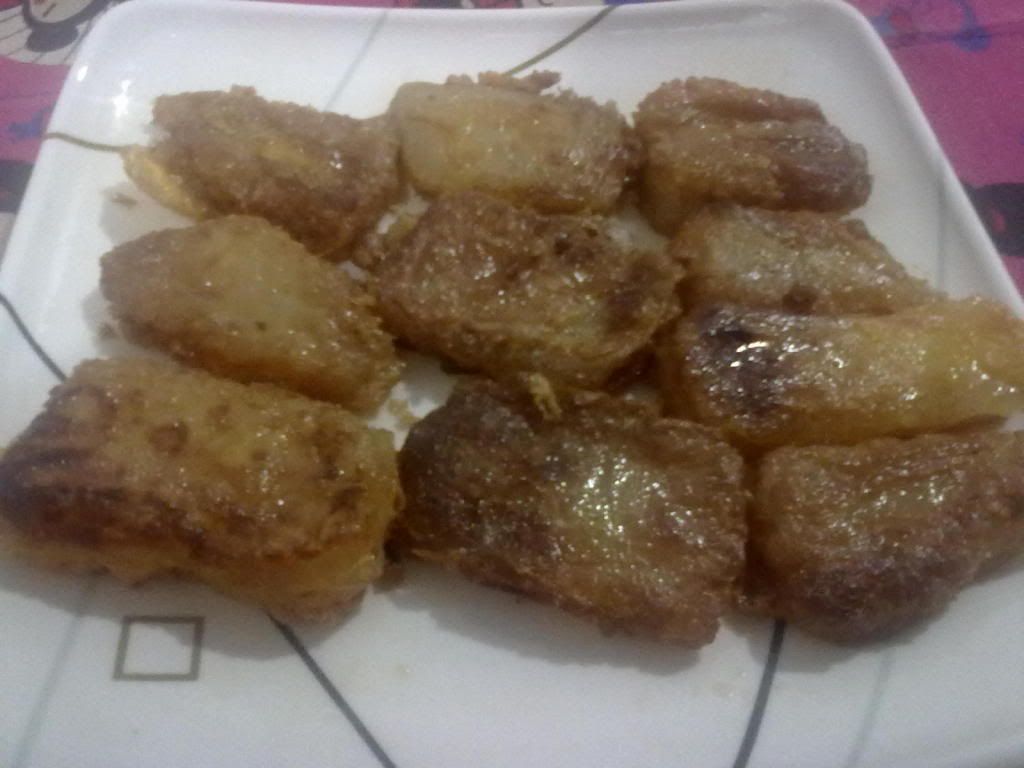 I'm so proud to share that I was able to cook my first tikoy today! yey!
What I did was dip the sliced tikoy to a bowl of beaten egg yolks then fried until golden brown. Love it! Sweet and crispy. :3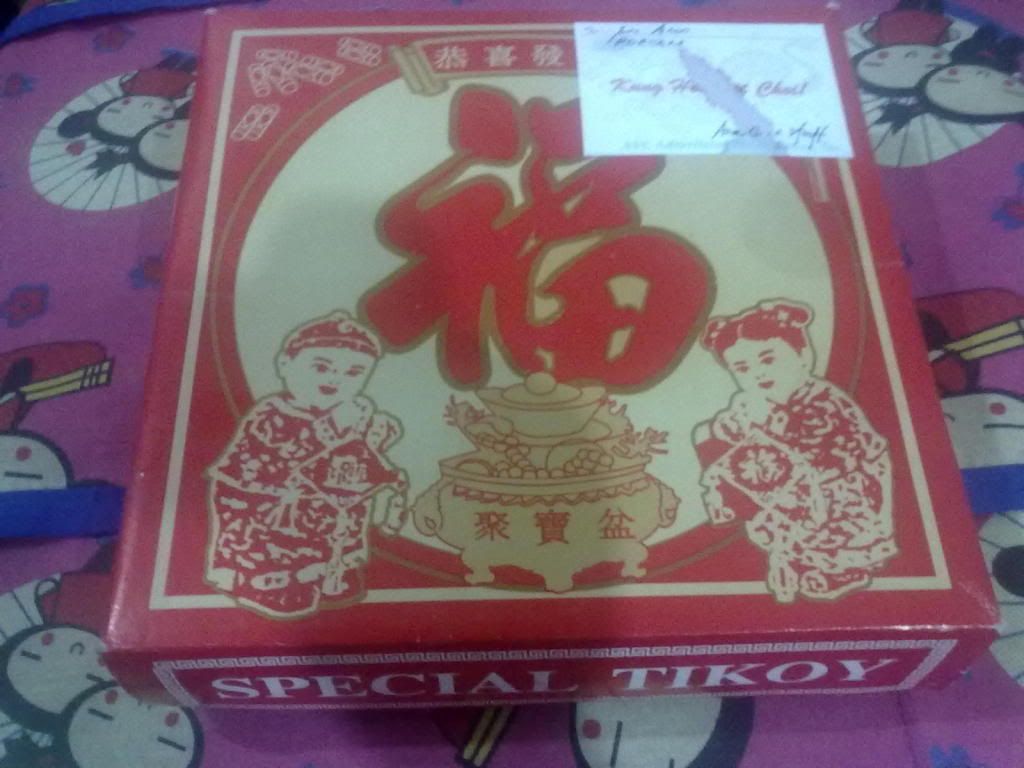 Sunday, 15 January 2012 01:43
I wake up each morning hoping that one day I'll be back in your arms living our lives together...forever.
Sunday, 01 January 2012 12:04
Thank you 2011 for giving me the most ironic year of my life. While the first half of my year focused on moving forward from the life of a student to that of a young professional, the second half highlighted my drive to know the story of my late biological father. You were an amazing year!

Bye, bye 2011! Hello 2012!
Thursday, 15 December 2011 16:09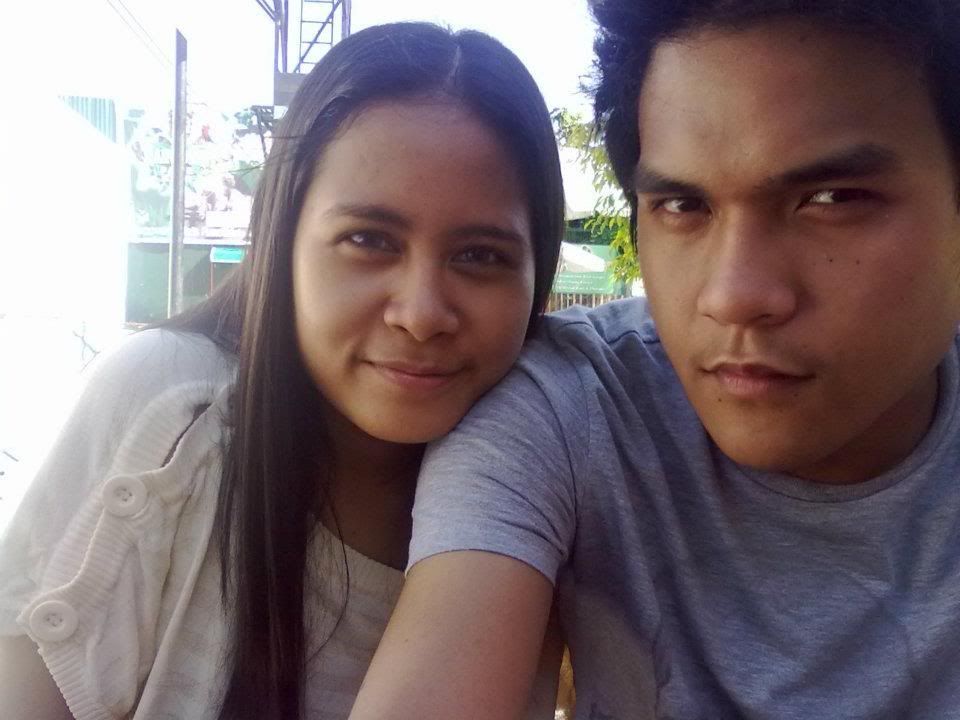 Awesome birthday celebration is awesome! We have conquered the 8 obstacles of Jungle Adventure of Rainforest Park Cebu! I flew the first flight to Cebu last December 14, 2011 to celebrate Franz's 20th birthday. Then flew back the last flight the same day back to Manila. A friend said the person must be very special to have me fly miles away then back for a birthday occasion. Indeed, he is very special.

I brought Decadence cake from Goodies N' Sweets then we celebrated the traditional way. Placed the birthday candle on the birthday cake. Lit the birthday candle. Sang the classic birthday song (like retards). Blew the birthday candle for a birthday wish. Ate the birthday cake. The end!

LOL. Glad the celebration didn't end that way. We forgot to take a picture of him, the cake and the candle. Lucky, we only ate half of the mini cake. So we did the blowing of the candle scene again. He lit the candle. He blew the candle. Lit the candle. Blew the candle. It was repeated again and again until we got a decent shot. HAHAHA.   

We went to Asiatown IT Park to find a place to eat. Beautiful place. Then we went to another place because he said he wants to eat pizza. Across the street where we landed was the Rainforest Park Cebu. He said his friend said its nice there. So we checked the place. Then, we found the… *drumroll* the awesome Jungle Adventure obstacles!

Can't contain the excitement after watching the breathtaking challenges. A must try. It was now or never! Franz was also very game so there we go! Trying to win over height scare at the same time walking along ropes was really really fun! The challenges we conquered were Cargo Net, Zip Zag, Burma Bridge, Earthquake Bridge, Deep Bucket, Wall Climbing, Catwalk Bridge and the Vines (the scariest).

We took a rest for awhile then did walked our way to show me where his office was located. We went back home to rest. Cha and Nikko were sleeping. Later on, Robert arrived. We all had dinner together. But before that, while Cha and Nikko left to buy food, Franz and Robert were having a hilarious argument on how to cook rice. After dinner, Franz accompanied me to the airport for my flight back to Manila.

Awesome and fun birthday celebration. XD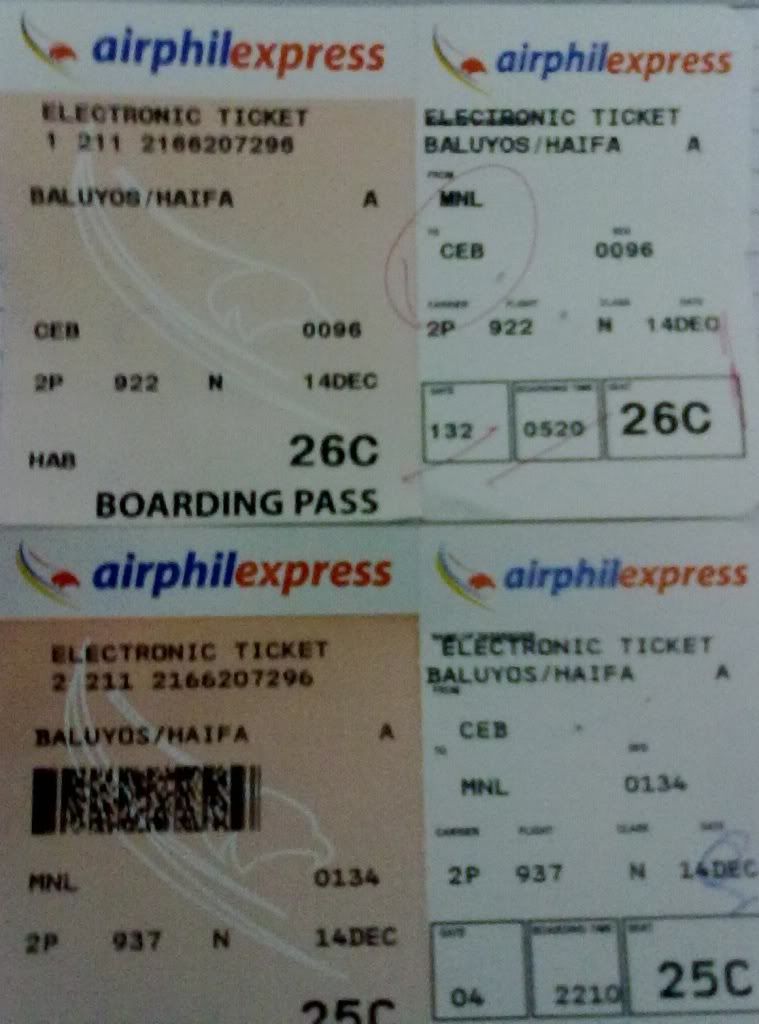 Boarding Pass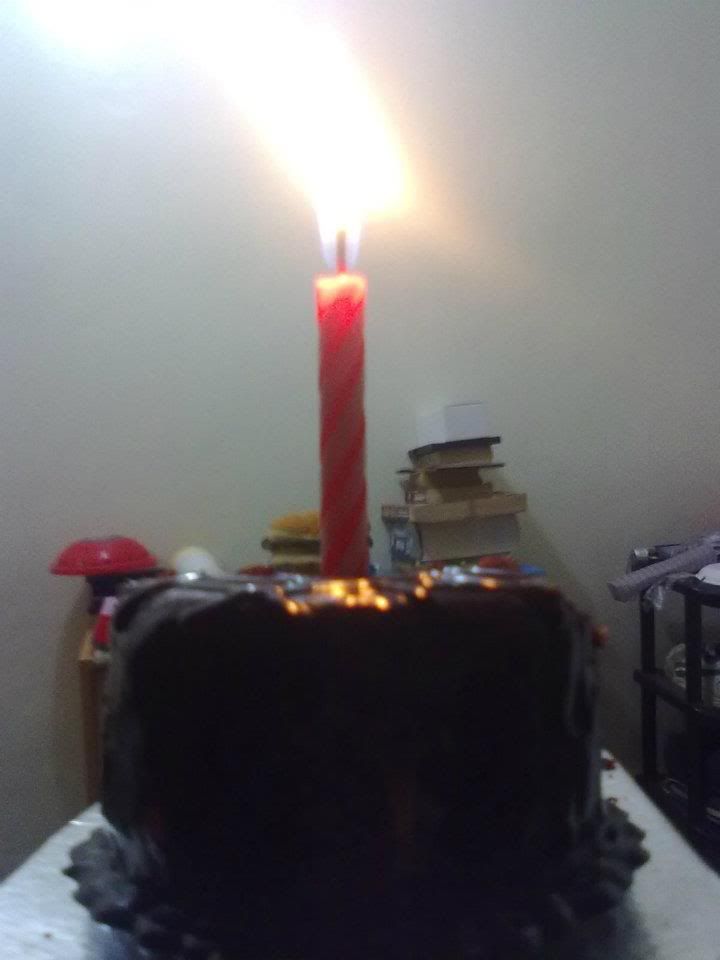 Ze Birthday Cake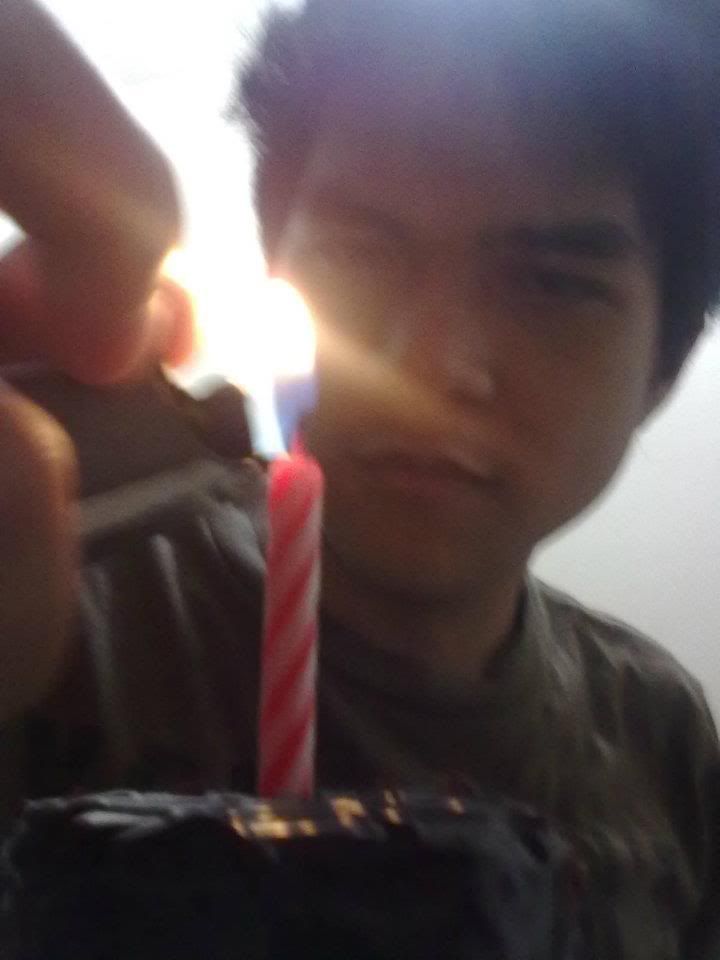 Lights his birthday candle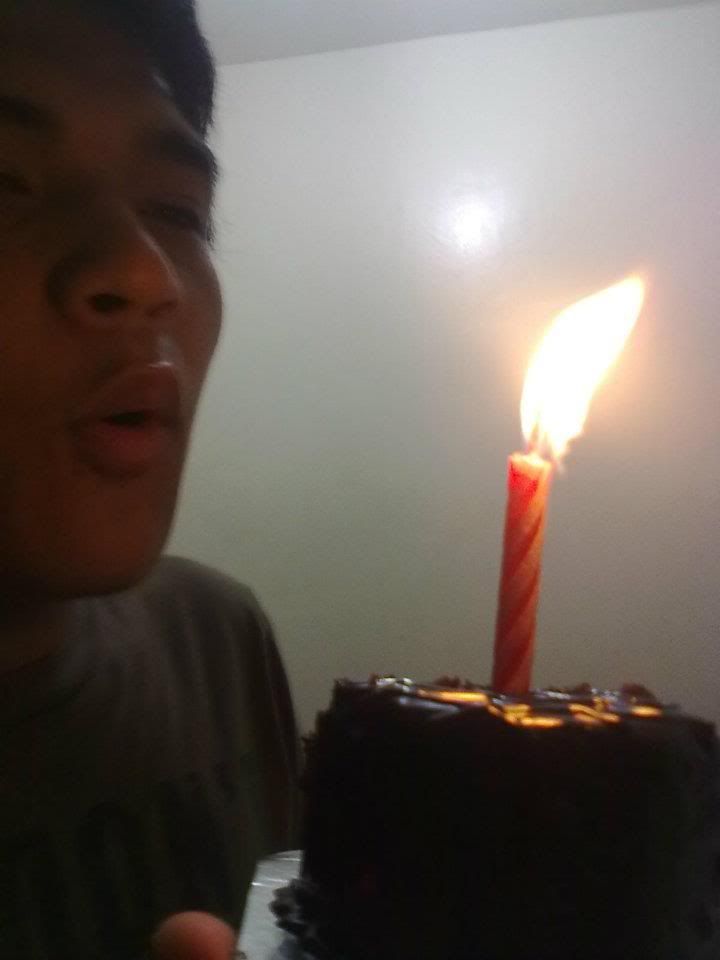 Blows his birthday candle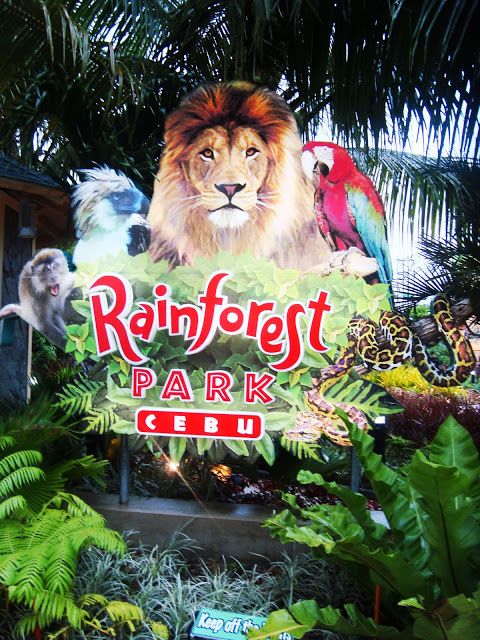 Photo taken from Rainforest Park Cebu
Before the Jungle Adventure Challenges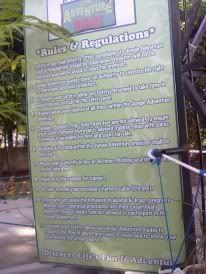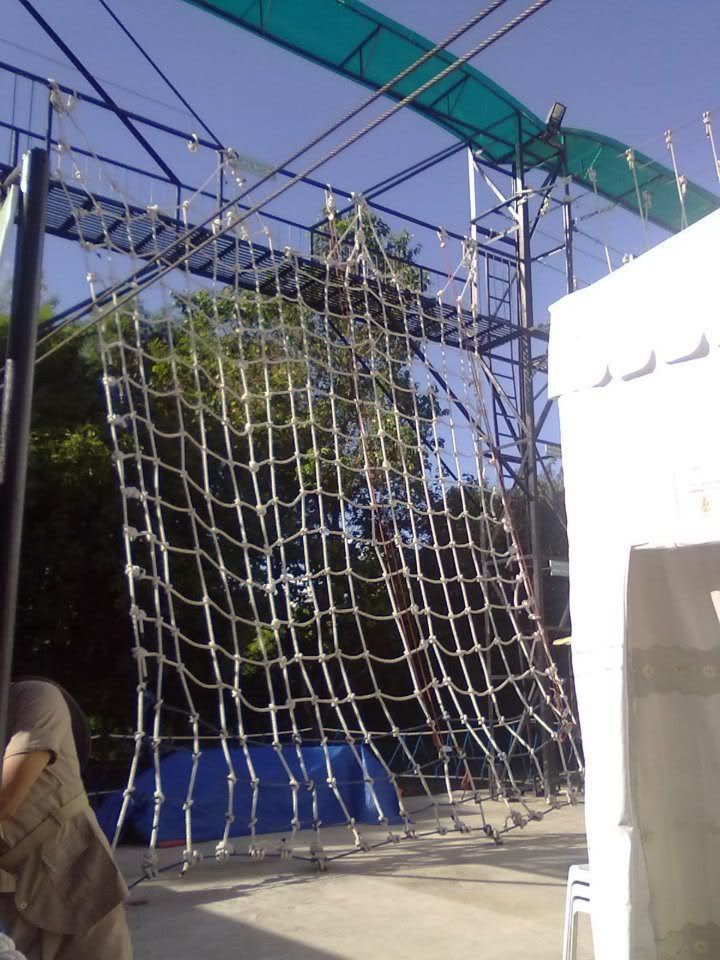 Cargo Net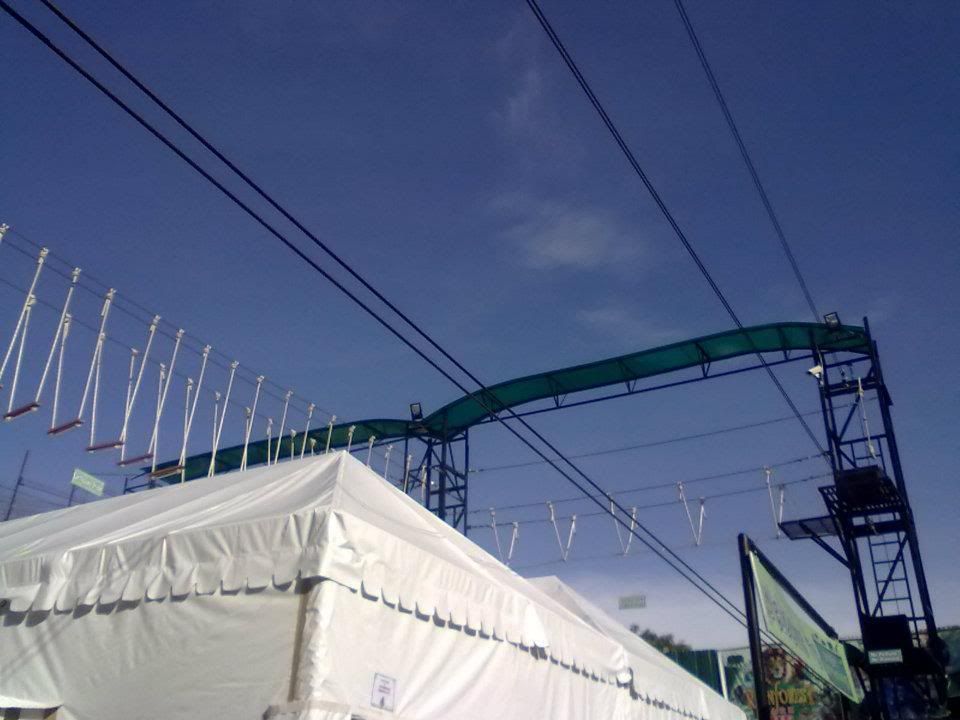 Burma Bridge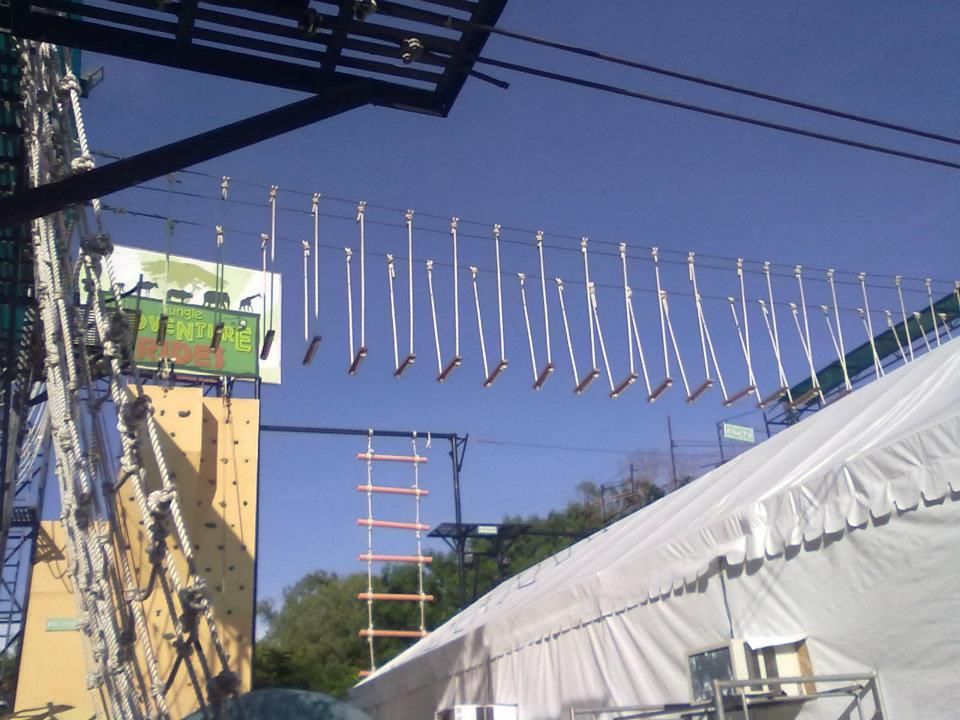 Earthquake Bridge and Wall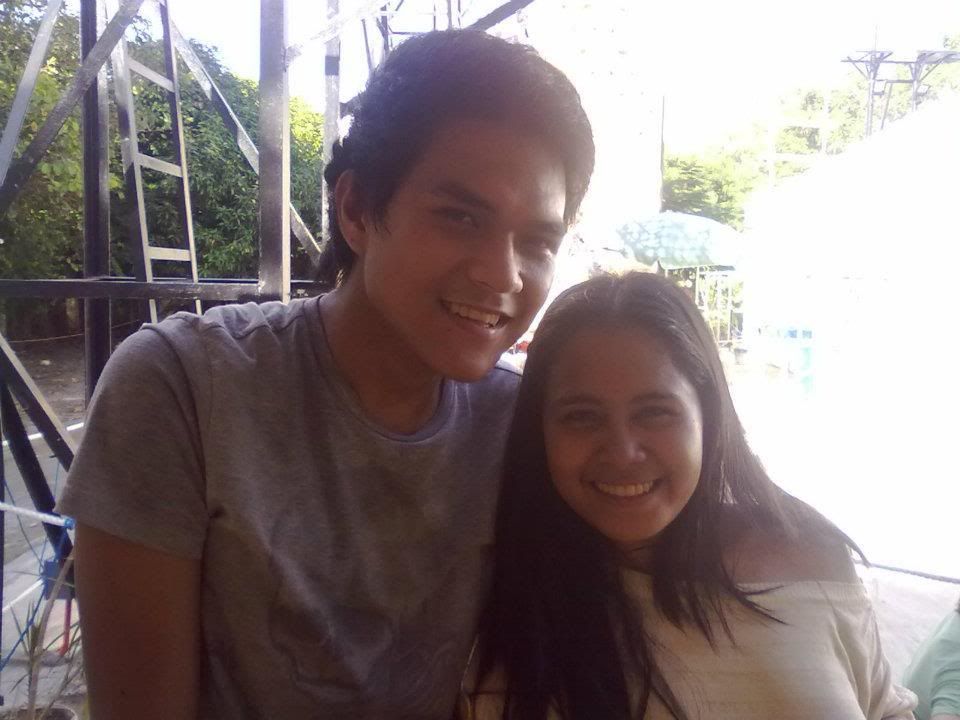 Haggard Look After Completing the Obstacles
Tuesday, 13 December 2011 14:15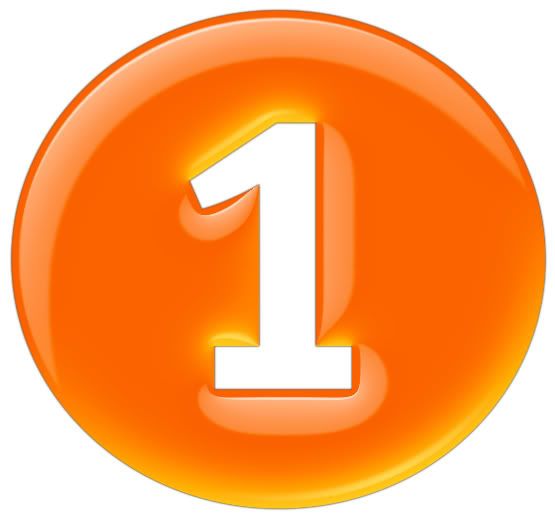 I may be able to enumerate a lot of special things about you but everything seems to be senseless now because all that really matters to me is that I love you. I choose to believe that I own nothing in this world but my time.  And with the time given with us being together, I hope you feel special because you are.
<< Start < Prev 1

2

3 4 5 6 7 8 9 Next > End >>


Page 2 of 9